Gear Review: Inesca Gurka 30 Daypack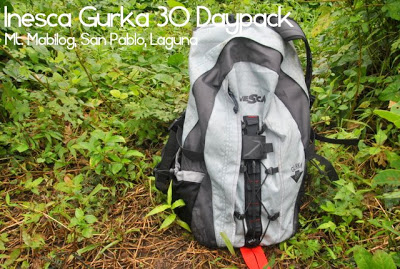 The Spanish outdoor products brand Inesca has arrived in the Philippines, and I have been getting feedback and inquiries from blog readers asking what I think about this newcomer. Lately, I had the opportunity to check out one of its bags, the Inesca Gurka 30 Daypack, which I brought on a dayhike up Mt. Mabilog in my hometown of San Pablo, Laguna.
Weighing just 1.6 pounds, the Gurka 30 feels light, and easy to use. It has a padded back, giving just enough support for the demands of a regular dayhike. Side nets provide space for the usual water bottles, and there is a strap in the middle, supposedly for an ice axe – aesthetically nice but challenging to find a use for, in the Philippines.
I think the design is decent enough, and the materials seem to be okay, not magnetic to dirt and stains. The only weakness of the bag, in my opinion, is that the shoulder strap looks a bit puny compared to the more sturdy-looking constructions of its competitors. The vertical zippers at the back also make the bag somewhat vulnerable to accidental unzipping, though on the other hand, it makes for easy access for items such as a poncho, or a Scooby snack.
But for the reasonable price of this newcomer and its , I am willing to forego this reservation. My initial verdict: I like it and I'm looking forward to seeing more Inesca products in the future.
INESCA GURKA 30 DAYPACK SPECS
Size: 28 x 47 x 21 cm
Material: Ripstop 600D Polyester Weight: 0.73kg
Capacity: 30L
Color: Anthracite/Grey