Kilimanjaro Gear Review: Black Diamond Trail Back Trekking Poles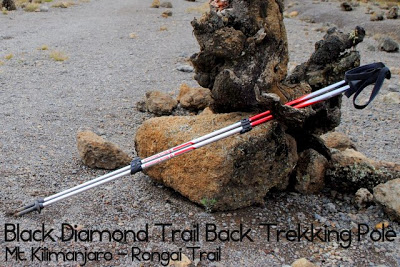 I have always held the opinion of my hiking buddy, the Iron Lady Jo Steven, when she said of trekking poles: "Some people swear by them; others wouldn't have anything to do with them." I've always belonged to the latter, but just like Andrew Skurka, who, recounts trading tree branches for a $100 pair of trekking poles in his great gear guide, I also realized the need for trekking poles as I began embarking on longer treks. Skurka puts in succinctly: "the primary benefit of trekking poles…is to give arms an opportunity to assist legs in propelling me orward and upward and to help with braking on descents."
For my Kilimanjaro and Holy Ridge treks, my best friends were a pair of Black Diamond Trail Back Trekking Poles.
The Black Diamond trekking poles gained recent fame for adopting the innovative 'Flick Lock' technology that locked the pole into place in a much more secure way than the conventional trekking poles that use a twisting, screw-type system that makes adjusting difficult in dire situations (such as subzero temperatures where you have thick gloves in your hands), among others. When I got my pair of poles (as a support of ROX Philippines for my expedition), this was the first thing that I appreciated.
In the Kilimanjaro climb, the poles proved dependable. The important considerations I look at when I appraise trekking poles are fourfold: (1) convenient grip; (2) structural integrity; (3) easy adjustability; and (4) weight. Skurka (whose book I use a lot as a handy reference) also discusses poles in terms of these considerations, emphasizing durability, stiffness, weight, and lock reliability (pp 126-127).
Using my own criteria, I could say that the BD poles had a very convenient grip, whether with my bare hands, or with gloves. I was still able to maintain a firm grip even with the two-layered glove setup I employed (a Gore-tex outer, and a merino wool inner) while ascending the final leg of Mt. Kilimanjaro up to Uhuru Peak.
As for structural integrity, I have high marks for the Trail Back. It is rigid, durable, and reinforced by the Flick Lock system which I found very helpful. As I've explained earlier, this is an outstanding innovation. This also enhances my third consideration, adjustability.
The only drawback of the BD poles is its weight, which is heavy relative to the newer carbon fiber poles. Prior to using the BD poles, I had utilized Exel Nordic Walking Poles which were amazingly lightweight. On the other hand, while Black Diamond also has carbon fiber poles, they are much more expensive than the Trail Back. This financial dimension thus considered, the Trail Back with all its aforementioned benefits is still a great buy.
I normally don't use trekking poles for dayhikes, but whenever there is a multi-day trek planned, I usually bring them as a safety measure for my knees, especially during descents. I am planning longer treks in the future and for now, I am very content with using the BD Trail Backs.