Gear Review: Bushnell Powerview Roof Prisms binoculars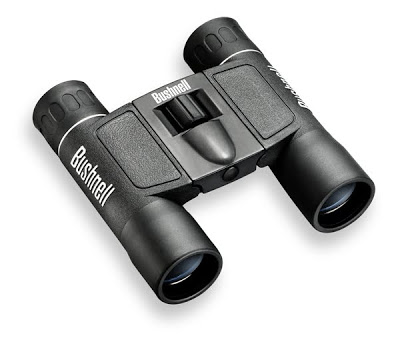 Gear review by Cecil Morella (AMCI)
Equipment Adviser, PinoyMountaineer.com
PinoyMountaineer.com is honored to have Sir Cecil Morella of AMCI as its equipment adviser starting May 2009, providing insights on camping gear and equipment in the website's "Climb Gear" section.
They happen at unexpected moments at mountain trails. Sometimes you would flush a colourful wild fowl or bird out of hiding, at other times you would like to check out how your friends are doing as they crawl like ants up a bare ridge across the narrow valley. Or perhaps you see a road, a cliff face or a river or waterfall in the distance and you wished you could examine it in detail. How you wished you had a large telescope, or even just a telephoto camera lens, minus their heavy weight riding on your backpack.
I found the perfect solution while climbing with friends in the Ilocos mountains early this year, when one of them whipped out a tiny pair of Bushnell Powerview Roof Prims binoculars, not much larger than the palm of my hand, to observe a Brahminy kite, a kind of red eagle, perched on a dead tree near the mountaintop. We later used the same pair to watch giant bees visiting a lone flowering tree on a bare ridgetop. The images are stunningly clear and crisp in the abundant light, and focussing them was easy. Since then, I have been packing a similar pair on all my climbs.
The thin string straps that come with the compacts of this brand look flimsy and do not expect these binoculars to perform as well in the fading light of dusk as their regular-sized cousins. But for their price and portability and weight, there is little else not to like. In my experience, there is little opportunity to use the glasses in between your campsite duties at the end of the day and while striking camp in the morning, so these are just perfect on the trail, when the sun is high on the horizon.
There are several versions available in Manila chain of outdoor shops and I chose a 10 x 25 roof-prism Bushnell Powerview, which weighs under 300 grams. The first number in the equation means an object in the distance is magnified 10 times. The second indicates the size of the objective glass where light is captured and funneled into the eyepiece at the other end of the twin barrels. Full-size binoculars have objective lenses that are 40 millimeters or larger, but they weigh at least twice as much as the compacts and cost a lot more. My friend uses 8 x 21s, where images are magnified eight times. Because they are of the modern roof-prism rather than the older porro design, both are compact enough to fit into a small Lock N' Lock plastic box. They also fit in a shirt pocket. I am not sure how water-proof they are though. Just like cameras, I do not use them in the rain.