Hiking matters #325: Mt. Batolusong in Tanay, Rizal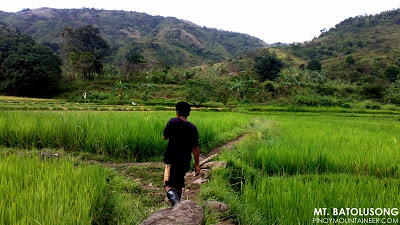 The Sierra Madre is actually the mountain range closest to Manila, and yet it is not well-explored, and this is due to security concerns through several decades. However, the situation is becoming increasingly peaceful in many parts of the range, opening up the possibility of more explorations. Particularly, the towns of Rizal hold promise as gateways to the range.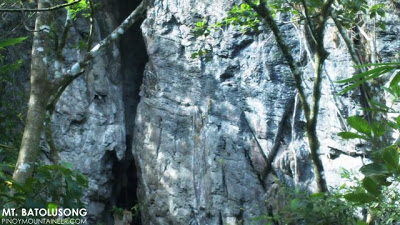 In Tanay, Rizal, for instance, there are a number of hike spots that are getting discovered. For a long time, there has been Mt. Irid with its famed river crossings (which I have yet to try) and of late I have been hearing of
Mt. Batolusong
, which seemed to be in the same area. So on February 2, 2013, I decided to check it out with Mayan, AJ, and Lee.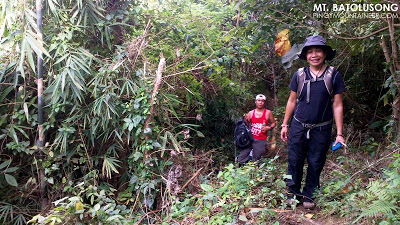 We had a somewhat bad start at first, when we were told that the Sitio Kay-ibon jumpoff is closed as ordered by the authorities. Fortunately we were advised by some friendly locals that there is an alternate way via Brgy. San Andres, just a few kilometers away. So we decided to go there instead, parking at the 'Batangas junction' and taking habal-habals to the barangay. From there, we were guided by Boboy and Michael, who were seconded to us by a barangay tanod.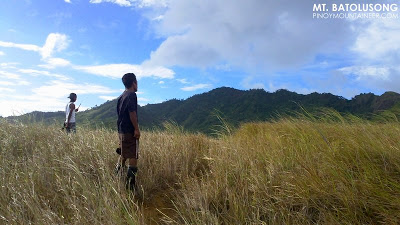 So we went up the mountain, initially passing through some rice fields, before starting a relatively sleep trail through some woods, and seeing some nice rock formations along the way. It was a very short ascent, taking just an hour or so before reaching the grassland, which were reminiscent of Mt. Sembrano. Fortunately, there was some wind and it was already late afternoon so we had a pleasant experience. Mapatag Plateau, which is the common endpoint of the hike, was a very refreshing place: imagine a windy Gulugod Baboy.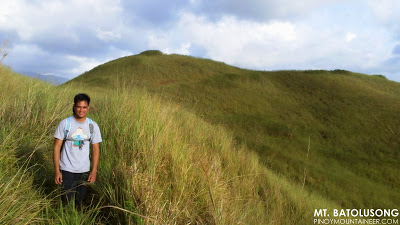 According to some online resources, like this
informative post by Ser Mountaineer
, Banahaw and Cristobal are visible in the higher reaches of the mountain. It sure looks like it. Unfortunately, it was very cloudy when we were there so we didn't see it. Still, the near-vicinity views were very pleasant and I enjoyed the rolling hills. Moreover, to the east lay the higher Mt. Susong Dalaga which looks very promising as a future destination. I should definitely go back to the area!