Invitation to Ilocos #8: Mt. Bullagao, the Sleeping Beauty of Ilocos Sur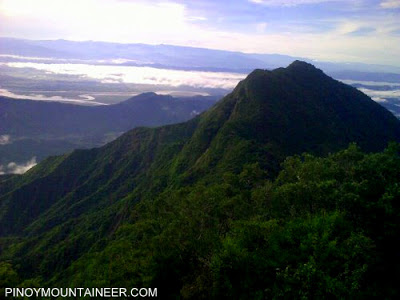 PinoyMountaineer presents "Invitation to Ilocos", featuring the newly-documented mountaineering destinations of Ilocandia. This column is by Agnes Fidelis Gloria-Pinzon, PinoyMountaineer correspondent for Northern Luzon and the One Degree Mountaineering Group.
The name, Mt. Bullagao – called the Sleeping Beauty – has intrigued us since around the start of the year when it was mentioned in passing by friends in Abra. At the same time, a mountain's profile we always caught a glimpse of whenever we passed through Ilocos Sur caught our attention and would have us looking up with more longing than the casual glance. We would soon find out that this peak was indeed, THE Mt. Bullagao we've been hearing about. If the goddess Makiling in the south lay on her side, her shoulder and hip seemingly outlined across the sky, our sleeping beauty in the north lay prostrate on her back with her breasts sharply contoured and her head reclined facing up toward the sky. From Bangued Abra, the lady looks heavy with child but nonetheless intriguing. Local lore tells of an enchantress enticing unwary travelers to her deep caves to forever roam her lands, perpetually lost. Our friend Bishop Utleg shared another legend surrounding this mountain; one that had Mother Mary resting on its peak before she was taken up to heaven. All these gave the mountain an aura of mystery that heightened our excitement to climb it even more.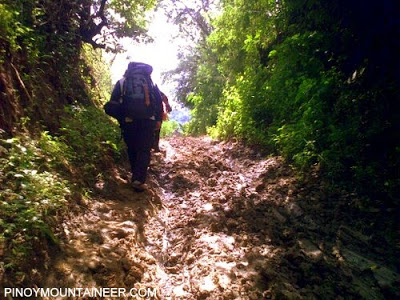 Sources inform us that one can enter through Sto. Domingo, Santa, Narvacan or Magsingal,- all in Ilocos Sur. Of course, one can also enter from Tineg, Abra as the mountain straddles both provinces. We find out that the mountain's many trails are the usual corridors to Abra's still rich and teeming hunting grounds from the Ilocos. The lower trails are so used and worn that even carabao pulled sleds are brought up and down the foothills. We later learn that whole battalions of ROTC cadets march through the mountain as an exercise at least once a year, making their way up to a campsite and backtracking down in a just a day. Considering all these, we plan for a single night itinerary and enlist the help of a local teacher of Magsingal National High School, Kim Neil Collado, and a couple of his students who know the trails very well. Off hand, we weren't expecting a difficult trek, after all, it was looking more and more like an established climb.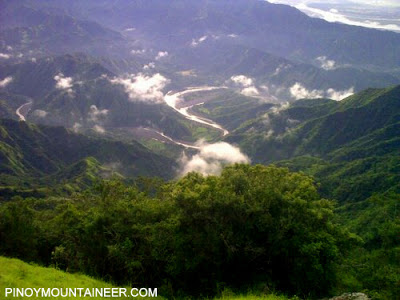 We decide to enter from Magsingal as one of our party, Eric is from that town and so is Maestro Kim, so it was a logical choice. It takes us 30 mins by hired jeep to reach the jumpoff at Brgy. Patong. The hard packed earth road was wide but impassable to vehicles, deeply scored and broken in a lot of places and as it reached the last sitio of the barangay, Kasamakan, it tapered off to a foot path which was extremely muddy and difficult to trod on without getting stuck. In most parts, the thick mud mixed with carabao manure and made a sticky, smelly, clumpy muck that brought flies swarming at our heels. The mountain also seemed to be one giant ant hill with the big species of the insects seemingly abounding every square inch of the forest floor. The stifling heat made the slog extra grueling and after the lunch hour passed, huge mosquitoes joined in the buzzing fray, their stingers easily puncturing through clothes. The over-used muddy trail finally hardened as the altitude climbed but it was slow going and the bugs made it an even slower trudge. After around 3 hours of steady trekking, the trail suddenly picks up and starts ascending steeply. At around 600+ masl, the forest cover breaks into grasslands and the breeze from the sea beyond the plains was a welcome respite. We reach the campsite shortly and clear a sizeable area with the guides as we waited for the rest of our group to straggle up. It begins to rain but not too strong as the others make it up one by one.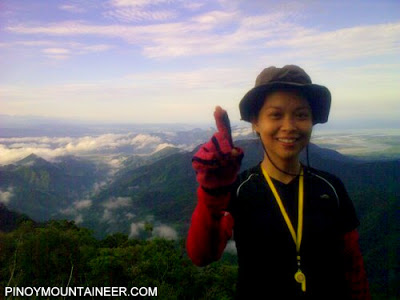 The altitude and the decrease in temperature thankfully drove away the mosquitoes but the ants were still a persistent presence. The rain weakened and stopped altogether just as the sun set and after dinner we all huddle together under a makeshift tarp to share a few stories and lots of laughter with our guides and Maestro Kim who regaled us with stories of his students traipsing up and down Bullagao through the years. The summit, according to Maestro Kim, was around an hour from the camp and although hunters from nearby Ilocos Sur towns continued on down to Abra's hunting grounds through other trails, he and his students have never gone past that point. We made plans for the following day and settled in for the night.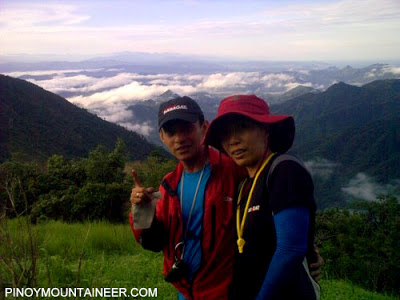 Day 2 started early and hurried the next day as we were all excited about the summit and we started trekking immediately. Breakfast would have to wait for our return. Except for rationed trail water and a bit of trail food, we were unloaded and thus made fast progress. From the campsite, altitude gain was steady but in greater increments and we pass several other places with dap-ayan's (makeshift shelters presumably used by hunters) and remnants of camp. We also noticed quite a few other trails leading down and away to different directions but the main trail was easy to follow, being wide and established. We eventually reach the summit and were amazed at the giant, twisting balete tree that marked it. Orly, our guide, announced the summit with a bit of flourish. At 1080 masl, this was the known endpoint and he indicated that they only normally went this far. He was about to settle in to wait for the rest of the group when Arch told him to keep on going. The GPS was showing a different point and it was still a good 300 meters away. The trail noticeably narrows and Orly had to hack through some vegetation. We continue moving up for another 30 minutes until we hit our target – the summit at 1112 masl! The real reward, however, was just a few meters away where the forest cover broke into a clearing where we were greeted by a magnificent view! To our left was the rugged terrain of Abra and the Abra river snaking through its verdant, misty ranges; to our right was the whole expanse of the Ilocos Sur coastal plains and the South China Sea and to our horizon lay the hazy outline of the majestic Benguet peaks. Right before us was Mt. Bullagao's lower twin peak (we would later validate it as the reclining lady's chin) and had we not been pressed for time, we would have attempted to scale it. It was still a take-your-breath-away moment despite just one peak done; the kind that validates one's choice of this demanding pursuit. Even Maestro Kim was speechless as he took it all in, marveling at the beauty before all of us. In his honor and as a testament to all his hard work throughout the years of bringing Mt. Bullagao closer to more and more of the young in his community, we christen the spot, Kim's Peak!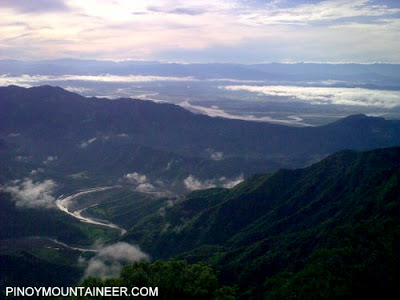 We linger for a few more minutes, taking pictures, sharing congratulations, gloating through text messages to those of our group who, mistakenly, sat this one out. We agreed that the view atop Mt. Bullagao could easily rival that of Tirad Peak and we regretted not having made it early enough to watch what must have been a spectacular sunrise!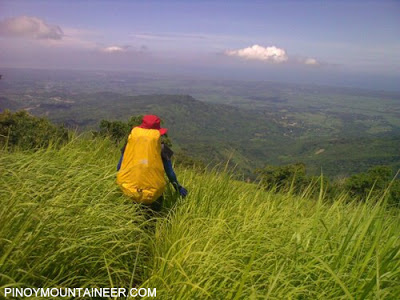 Interestingly enough, we meet more than a dozen hunters along the trail in the descent, going to different directions, armed with shotguns, rifles and their pet dogs. It was a Sunday and according to our guides, it was the peak day for hunting. The hunters we met were amiable enough but were amusingly bewildered why we bothered to go all the way up to the highest point when there wasn't anything there they were interested in. Some of the less friendly ones hushed our banter and told us not to be too loud as we might scare their game away. We head home after striking camp and a hearty breakfast and reach the jump-off by early afternoon, this time not too mindful of the mire, the bugs and the sticky toil of the lower trails.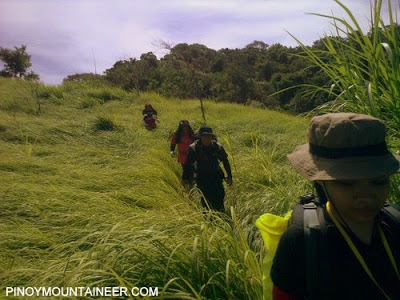 On the jeep going home, I looked back up at the lady reposed as if in slumber, her breasts cloud covered now in wispy grayish mists, her chin jutting out to heaven in mock defiance and I wondered if she was awakened this time either by our heavy footsteps, the cocking of guns or the constant baying of dogs.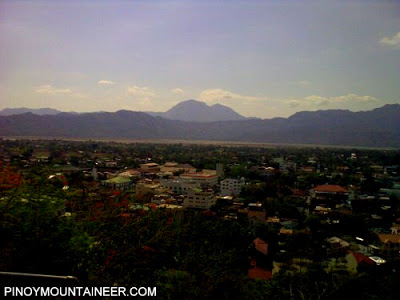 PinoyMountaineer.com congratulates One Degree Mountaineering Group for Mt. Bullagao – their 8th exploration in the "Invitation to Ilocos" series!