Alto Peak: First Annual Climb on January 28-29, 2011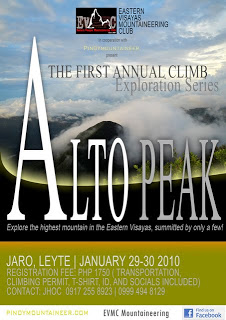 PinoyMountaineer.com supports the initiative of the Eastern Visayas Mountaineering Club to organize the first-ever open climb of Alto Peak – titled "Alto Peak: The First Annual Climb" on January 28-29, 2010.
Alto Peak in Leyte is one of the
Sweet Sixteen
– the Highest Mountains in the Philippines per region, representing Eastern Visayas. It is estimated that less than 80 people have reached the mountain's summit to date.
This climb is open to everyone with considerable hiking experience. Registration fee of P1750 will include transportation from Tacloban airport, climbing permit, t-shirt, ID, and even socials.For more information, contact Jhoc Nalda at 0917.235.8923.
The Alto Peak climb is sponsored by PinoyMountaineer.com as part of our "Exploration Series" – a campaign to introduce and promote the lesser-known destinations in the Philippines. Each climb will be featured in PinoyMountaineer.com.