Hiking matters #432: Mt. Candalaga, Compostela Valley Day 1: To the campsite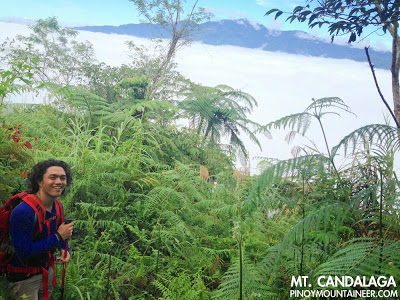 For several years I have dreamed of climbing Mt. Candalaga, certainly of the more notable mountains in Mindanao. Along with its neighbour, White Peak, it has made me mindful of Compostela Valley and the possibilities this little-explored area has to offer for mountaineers. This month, I finally had the opportunity to visit, once again with hike buddy Jacob Sarreal. We were hosted and accompanied by Davao-based Ian Tesaluna, who had also joined me in Indonesia and Cebu recently.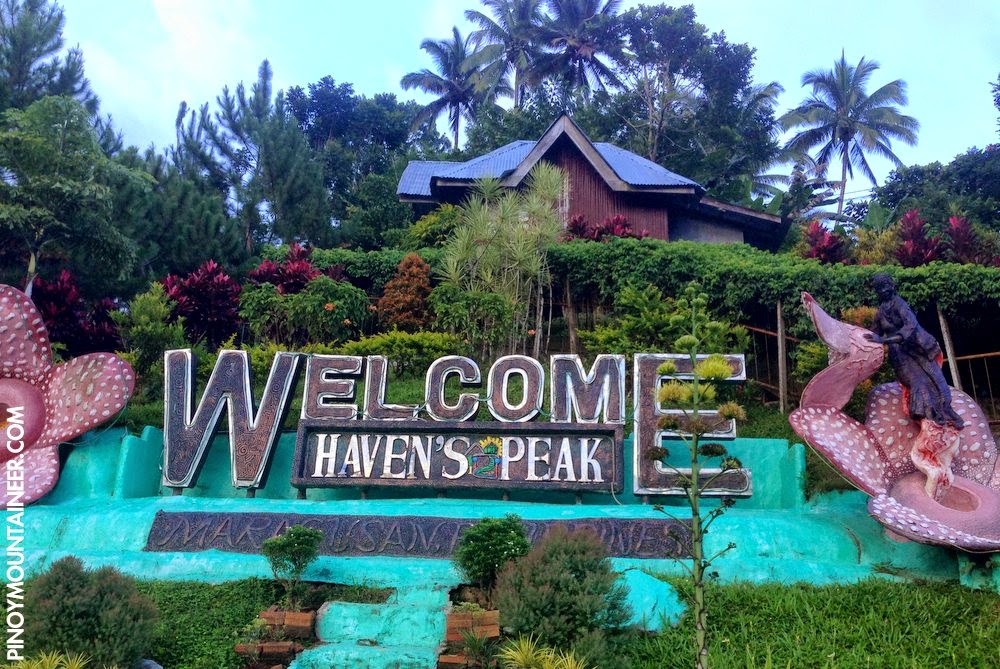 It was a roadrip: Sir Ian drove us from Davao City to Mati, passing through a section of Compostela Valley as well as San Isidro, the major staging-off point for Mt. Hamiguitan. We met with the tourism officers of the town who told us that the newly-proclaimed World Heritage mountain is not for opening until next year at the earliest. Then we passed through Mati's most famous landmark, the Sleeping Dinosaur that beautifully faces Pujada Bay.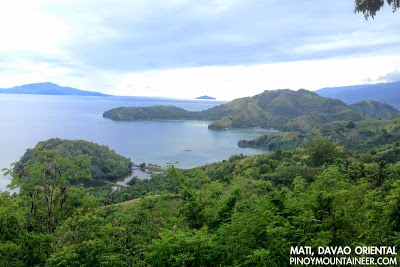 From Mati, we took the shortcut to Maragusan, taking our chances for a Mt. Candalaga hike. Fortunately, we were allowed by the tourism officer, and we decided to stage the hike the following day, spending the intervening night in Haven's Peak Resort, which offers nice views of the town. We were told that it would be the first time for a couple of years that there will be a hike in Mt. Candalaga, after its trails were damaged by Typhoon Pablo – the strongest typhoon to hit Mindanao – in 2012.
There are two trails up Mt. Candalaga, which can be combined in a two-day traverse. In the past, most hikes originated from Marangig Falls, which features a series of waterfalls leading up to Camp 1, the usual campsite for Day 1. However, we were told by our guide that this trail is still "not passable" at the moment, and so we opted for the alternate route via Tagbibinta Falls in Brgy. Coronobe.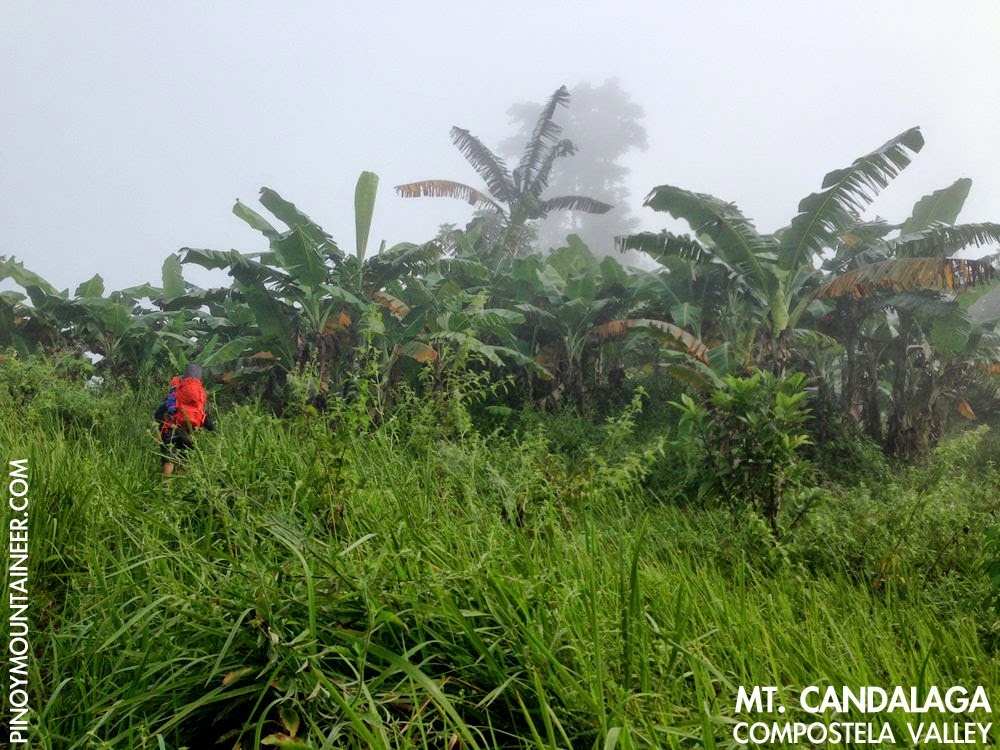 We started trekking at 0731H. It was immediately forest, interrupted only by pockets of talahib. Amazingly, there was a sea of clouds hovering above the valley as we went up! Giving us a warm welcome were some limatiks, some of which were relatively big but not as aggressive as the ones in Mt. Makiling.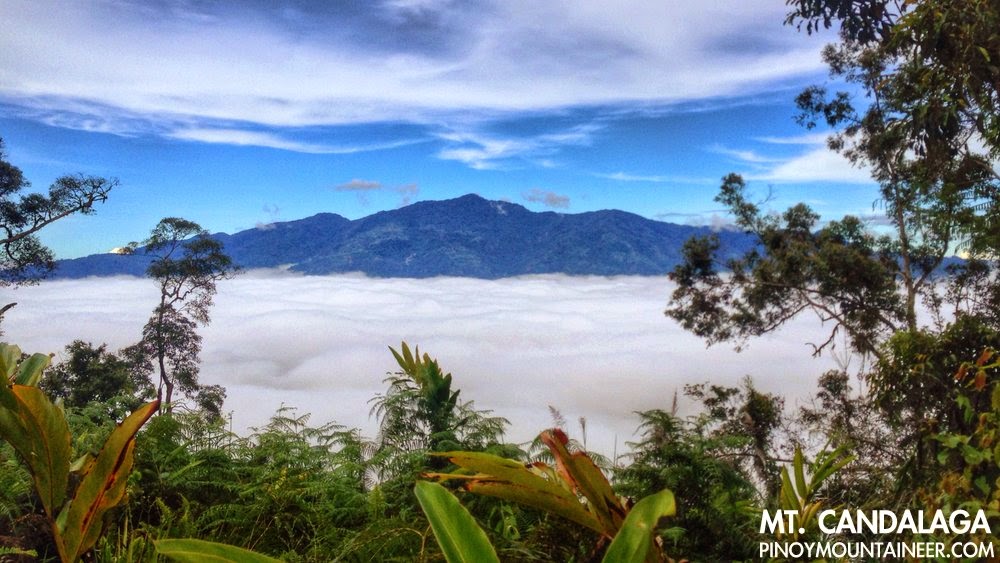 To our surprise, before 1100H we were already at Camp 2, the main campsite (7.3229 N, 126.1827 E, 1574 MASL)! Surrounded by ferns, it was big enough to comfortably fit six or seven tents, and though not used by hikers in a long time, is also a resting area for hunters and other locals. With the summit projected to be just two hours away, we could have aimed to visit already, but we decided to just chill out in the campsite for the rest of the day, hoping for better weather the next day.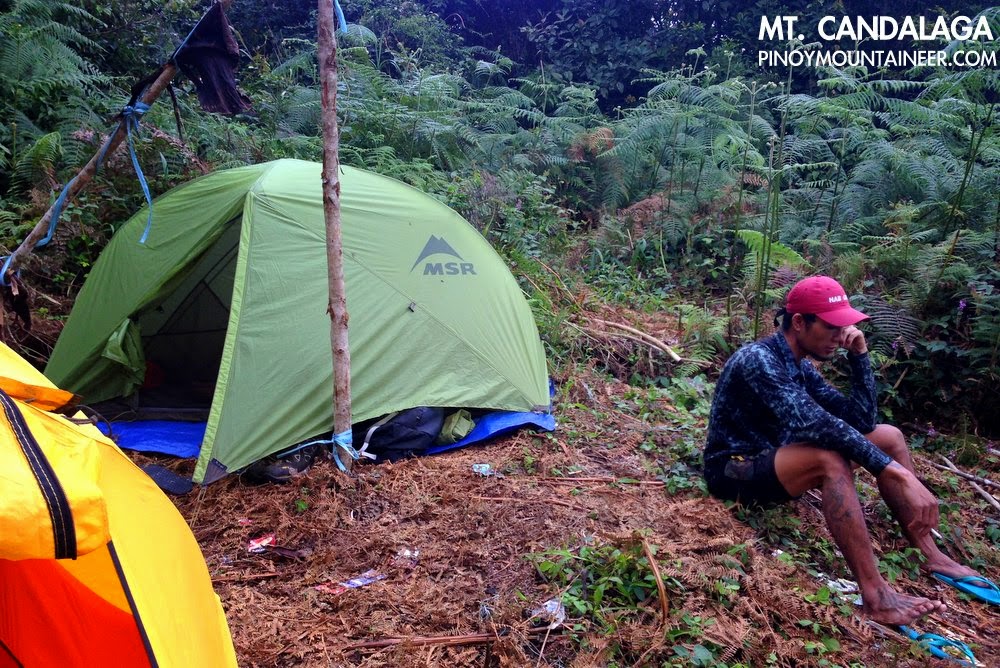 Camp 2 of Mt. Candalaga. We did a clean-up of the campsite the following day
PINOYMOUNTAINEER IN MINDANAO 2014
Hiking matters #432: Mt. Candalaga, Day 1: To the campsite
Hiking matters #433: Mt. Candalaga, Day 2: To the summit and back
Hiking matters #434: Mt. Mayo in Tarragona, Davao Oriental
Hiking matters #435: Mt. Apo via Kapatagan dayhike