The passion in me is at home in Bonifacio Global City
Mountaineers would definitely know the meaning of passion. When I think of passion, I think of the thrill of the trail; the feeling I get whenever I'm climbing a mountain and aiming for another summit to reach. Indeed, passion for me is when hearts find themselves on the right trail, following their dreams.
Yet the city, too, can be home to our passions. After all, the same win
ds that see us in the summit also see us in our everyday lives, working, studying, living in the metropolis. And in this city, the same passion we have for hiking is shared by others: the same intensity, towards a different cause: diversity. But united in passion. From a group of people, they then become a community and when we speak of urban communities and passion, Bonifacio Global City comes to mind. Personally, it is where I get hiking gear, great books, great food, and hang out with good friends but others will have reasons of their own.
In September 2010, Bonifacio Global City launched the "Passion in Me" campaign, perhaps recognizing, and further encouraging, its emergence as the home that nourishes the diverse passions of people. I see this when joggers run through its dedicated runners' lane at night, and indeed a Run BGC Fun Run was held on Sunday, November 28, 2010 to celebration Bonifacio Day. 3k, 5k, 10k and 21k runs were held. Gerald Sabal and Marecil Maquilan won the 21k for the Male and Female categories, respectively.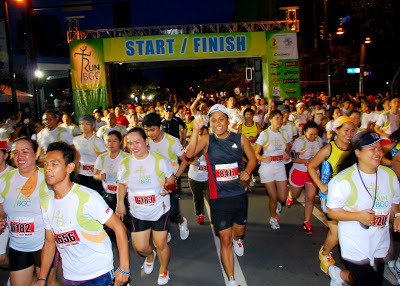 One of the marathon's highlight was the raffle of a new Chevrolet Cruze which could be won by anyone who joined and completed the race. Amid much anticipation, it was won by first-time runner Timothy Humangit who finished the 5k run with a time record of 35:16.
The champions for the different categories are as follows: Male: 3km – Kimbert Sarmiento, 5km – Roger Denolo, 10km – Frank Indapan, 21km – Gerald Sabal; Female: 3km – Grace Jacosalem, 5km – Kristine Cosio, 10km – Janette Lumidao, 21km – Marecil Maquilan.
Many of us hikers love the vertical over the horizontal, and a vertical marathon, "RACE or Run and Climb for the Environment" where participants scaled nine levels of parking and 25 floors of stairs was also held at the Bonifacio E-Services Building, 31st Street cor. Rizal Drive, BGC on Nov. 27.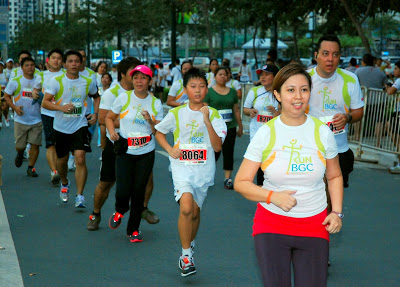 Other activities covered a diverse range of interests: food, music, photography, among others. It seems that whatever your passions are, you'll find something. When these activities are over, however, you may find that the celebration of passion would not have ended, for in BGC it is a way of life.
It is a good life, indeed, but it is also meant to be shared with the less-privileged. Run BGC marathon was actually for the benefit of communities in Taguig under the Believes, Grows and Cares – Taguig Program of Fort Bonifacio Development Foundation, Inc. (FBDFI)
The spirit of adventure can take me to the furthest places, but I take my hat off to those places, Bonifacio Global City among them, where that same spirit can feel at home.