Hiking matters #115: Pulag Crossover Part 1 – Akiki Trail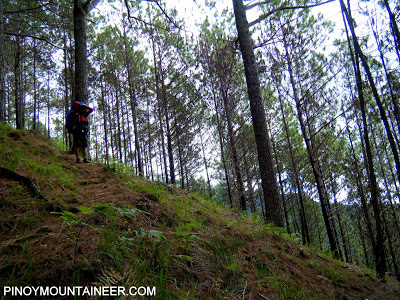 For my final climb of the year, I organized a team to perform a three-day Akiki-Ambaguio Traverse of Mt. Pulag. This west-to-east crossover of Luzon's highest mountain is rarely done, due to time constraints, logistical challenges, as well as the difficulty of combining the steepest and the longest of Pulag's trails in one climb. Yet, allured by the rarely-visited Ambaguio Trail and wishing to complement it with the popular Akiki trail, we decided to go for it. But here's the catch: we had to negotiate Akiki in just one day!
Fortunately, the team supported me in the proposition that this can be done. I was in good company of friends, strong hikers all, most of whom have joined me in major climbs: Del, Julian, Sir Martin, Terence, Mike, Lalaine, Ted, Jan, and Jason. I personally invited everyone in the team, hoping they would join what I wanted to be challenging but fun yearender up one of my favorite mountains.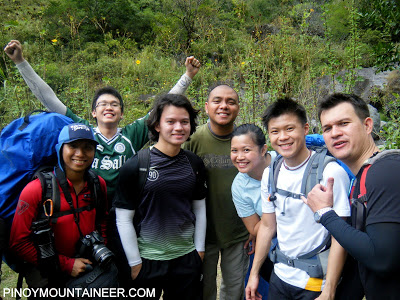 We left Victory Liner Pasay at 2200H on December 27, 2010 and six hours later, we were having early breakfast at Good Taste near Dangwa in Baguio City. We secured a jeepney to take us to the Akiki jumpoff in Kabayan, Benguet – a good four-hour ride. Of course, we made a stop at the Visitors' Center to register and meet the veritable Ma'am Mereng.
At the Akiki Ranger Station we prepared ourselves for the long climb. The goal was to reach the saddle campsite on the same day. Narsie Adais of Brgy. Bashoy, Kabayan was our guide and joining him was his son Jordan. Familiar with all four of Pulag's major trails and fluent in Ilocano, Kalanguya, Kankaney, Ifugao, Tagalog, and English, Narsie was exactly who we needed for a climb that will involve two provinces, several villages, and a long, loing trail.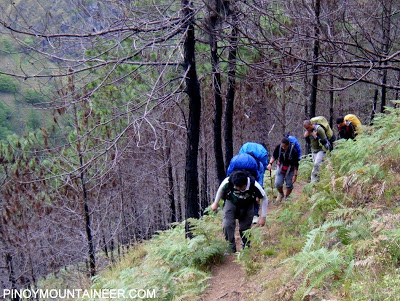 We commenced trekking at 1100H, reaching Eddet River at 1215H and stopping for lunch there. The steep ascent up to Marlboro Country, amid mostly pine woodlands, is the classic Cordillera hiking scene and it was truly memorable and challenging. My only regret was seeing the burnt pine trees – victims of the brushfires of April 2010.
The time it will take us to reach Marlboro was crucial in determining if we can go ahead with our plan of camping at the Saddle Campsite. We set Marlboro by 1730H and sustained good weather as parameters for pushing through. Plan B, which was to set up camp at Marlboro and wake up early tomorrow to catch the sunrise at the summit, was an alternative but since Ambaguio was an unknown variable, it was best to invest as much time in Day 1.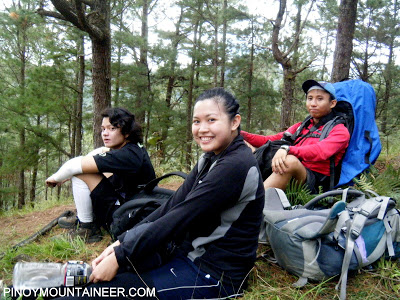 Fortunately, we were at Marlboro at around 1700H. This intermediate campsite was so named after the cattle that graze around the area, as well as the vast landscapes that evoke the grand plateaus of the TV commercial. However, hiking after the rainy season, the similarity is not very palpable. The cows, hyponatremic, gathered around us hoping for some saline treat.
It was inside the Akiki Mossy Forest where night fell upon us. Since it had not rained the whole day, trekking here was not a problem. Soon we emerged into the grassland. As we pushed towards the vague outline of the summit, with some camp lights beneath, we were endowed with a peerless view of the stars, including the vast stretch of Milky Way.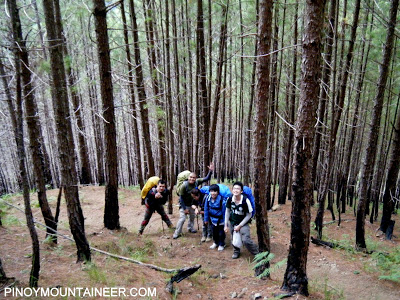 At 2025H, we reached the Saddle Campsite! A total of 9hrs 15min trekking time was a good record and we were very thankful that the planned traverse can push through, after all. We still had a good two days to perform the Ambaguio leg of the traverse.
We briskly set up camp and ate some of the Good Taste food we had packed for our Day 1 meals, knowing that cooking along the trail – or at the end of it – might not be convenient option. I would have wanted a quieter campsite: some rowdy, drunk people were making some noise as late as 2230H. Yet I did not allow them to ruin what had been a great day. I retired early, bracing for the cold night ahead, eagerly awaiting what lay ahead of us beyond Luzon's highest peak.
To be continued in Hiking Matters #116.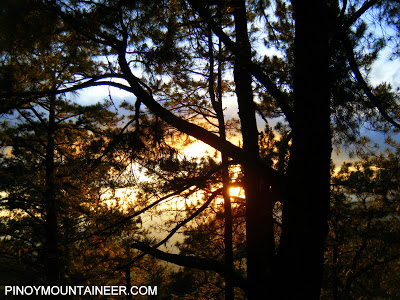 Hiking gear I used for this climb:
Pack: Sandugo Khumbu 40
Pants: The North Face Horizon Peak Convertible
Jacket: Alpsky Men's Waterproof

Raincoat: Mountia Raincoat Blue
Shoes:
Teva Forge Pro eVent
Tent: SwissGear Hiking Tent
Sleeping Bag: Coleman Crescent Sleeping Bag
Altimeter: Casio Protrek Waveceptor
GPS: Garmin Venture HC
Camera: Fujifilm Finepix Z33 WP
AKIKI-AMBAGUIO YEARENDER TRAVERSE
Hiking matters #115: Day 1 – Akiki Trail (Akiki to Summit)
Hiking matters #117: Day 3 – Ambaguio Trail (Ban-aw to Ambaguio)