Takbo.PH runfest sponsored by Powerade: A celebration of motion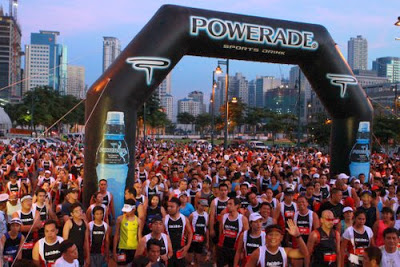 Last Sunday, I joined the Powerade-sponsored Takbo.PH runfest – a celebration of the Takbo.PH's third anniversary. As a blogger, I think it is a great idea to bring together members of an online community (just like Takbo.PH) into a real-world interaction, all the better if such an interaction is a pursuit of that community's common passion. I wish I could do the same for PinoyMountaineer.com, but organizing a climb with many people is unthinkable! Whereas in running and many things in life, the more the merrier; in hiking, the more the messier. So I'll just join a run! (PS: Greetings to the hikers I met at the race; special mention to my childhood friend Jenny and PM Autumn expedition participant Lear!)
Just like master explorer Sky Biscocho, I do not really run as an end in itself, but as form of exercise and training for my hikes. So joining a run is a new experience for me although running in itself isn't. So for starters I joined the 5 kilometer track. It started off at the NBC tent and passed by High Street and Philippine Public Safety College, reaching Kalayaan Ave before heading back to NBC ts 36th and 11th streets. It was a nice route!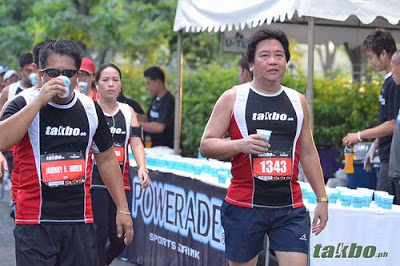 Just like hiking, running requires hydration, but in a more immediate timeframe. Thankfully, there were Powerade stations along the track – providing much-needed hydration. I wrote about Powerade helping me up in an unforgettable trip up Mt. Pulag via the Akiki-Ambaguio trail last year, and I can say the same thing in this runfest, that the hydration really helped a lot. With hydration stations in place, I felt that I could have gone further. Hence, I'll do a 10k next time with my hiking friends! (Attn: Aki, Coby, Swami Del, Suh, and FR!)
It was a well-organized race, and I really enjoyed it! In hiking, I relished in the joy of solitude, of apartness, of tranquility, but in the run, there was a different joy in being part of bodies in motion, of movement, of rhythm, of the ability and the opportunity to bring my body from one part of this earth to another.
Indeed, running is a celebration of motion, and therefore, a celebration of life. Again, congratulations to Takbo.PH and Powerade for a well-organized, fun-filled run! I'm looking forward to joining your activities!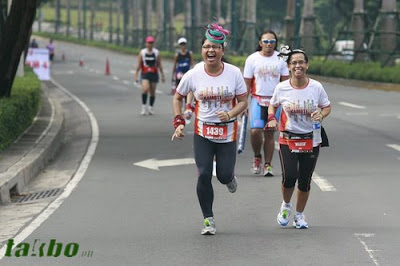 Pictures courtesy of Takbo.ph. This blog post was sponsored by Powerade.