Pharmaton's MVPs to Traverse the Whole Country!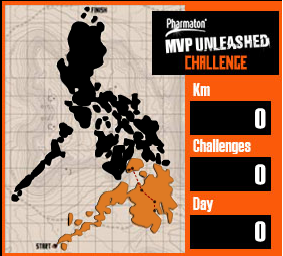 Unleash the MVP in You. A very exciting event is about to happen this year! Five Filipinos will compete for the honor of being the first to traverse the whole country and be called the Pharmaton MVP!
This multi-adventure, nationwide challenge, entails running, biking, kayaking, swimming, surfing, plunging, and even driving some interesting vehicles like a kuliglig and a kalesa! This diversity of activities make this event a total challenge and a real test for the participants.
Dubbed the "Pharmaton MVP Unleashed Challenge", the event will encompass 2,900 kilometers in 30 days, with pit stops in Davao, Cagayan de Oro, Cebu, Iloilo, Batangas, and Baguio.
A cash prize of Half a million pesos awaits the first placer; 250k for the 2nd place, 150k for the 3rd, 100k for the 4th, and 50k for the 5th. A bonus "People's MVP" awardee will be given an additional P50,000.
Win at Home While the Race Goes On. If you're not one of the lucky and brave five who will be chosen, you can still participate in the race! Through the Home Buddy promo, you can share the pot with the race winner simply by purchasing 4 capsules of Pharmaton, voting for one of the challengers, and sending in these with your contact details and official receipt as an entry to Accord. For the Home Buddy, there will be four winners of 250,000 each and 50 winners of 5,000.
Definitely, the Pharmaton MVP Unleashed Challenge is a very exciting event and mountaineers, athletes, and other adventure-seekers are enjoined to take part in it as a home buddy.
For more information on how to participate in the Pharmaton MVP Unleashed Home Buddy Promo, please contact 474-1978 or visit
pharmatonmvp.com