Hiking matters #137: Ever beautiful, the Seven Lakes of San Pablo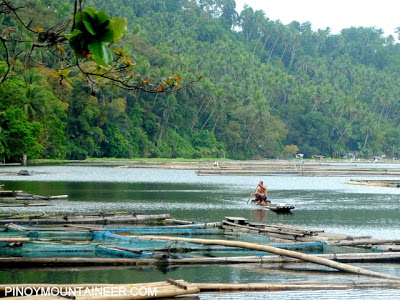 MY HOMETOWN of San Pablo is a city of seven lakes. I've been around for 24 years but only two years ago, on a daytrip with blogging partner Ivan Henares, did I finally get to see them. It's like a syndrome that everyone has: the attractions of your own town are the places you never get to visit. But once you overcome this, you may find beauty in your backyard. Since that first trip, i've organized six more trips to the lakes, and I'm glad that people showed an appreciation of the lakes. The latest trip was held in February 26, 2011, and, to quote tinsel-talk, it was with the special participation of Ms. Agot Isidro.
What's in a lake that makes it so serene? Perhaps it is clarity of water, which lies in contrast with the brown earth around it. There is a stillness in a lake, a stillness not found in rivers or oceans. This stillness reflects the sky and the mountains, and when found in peaceful, bucolic places, it likewise holds the power to make us reflect, relax, and enjoy.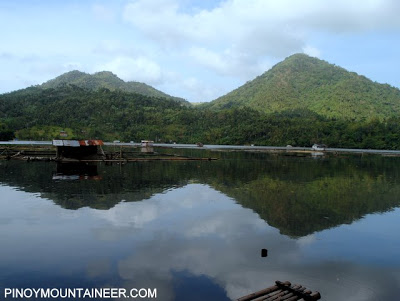 We began with the most famous and largest of the seven, Sampaloc Lake. As schoolkids we were all taught the legend of the lake, of how a couple coveted the fruit of their tree to an old woman, who cursed them, submerged their land, and thus Sampaloc Lake sprung forth. But if the lake was meant to be a punishment to the couple, it is now a blessing to San Pablo; where it is a popular place for picnics; young couples stroll around while the elderly take their jog in early morning. When beautified, it has a great potential to be a veritable symbol of the city.
Palakpakin Lake was next; we just stopped on a small bridge in Brgy. San Lorenzo. It was surrounded with various species of birds. Just close by was Lake Mohicap – a truly idyllic scene when we arrived. Some children swam in the lake while their mother washed clothes. Within and around the lakes stood nipa huts. Considering its proximity to Manila, it is refreshing to find a place so far removed from the conundrum of the cities, yet so near. I wish we had more time, for if so I would have gladly lain down in one of the bamboo rafts and allow myself to be drifted by the calm waters.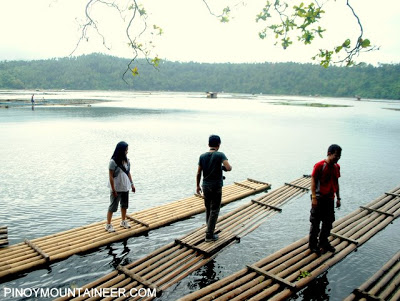 Then came Bunot Lake. Very near the city center, in Brgy. San Rafael, the lake is just a stone's throw away from the road. Here, tilapia and Nilotica fingerlings are cultivated. The name Bunot obviously comes from the numerous coconut trees that surround the lake. We walked through the ruins of an old resort, a testament of how time can change things; yet it is juxtaposed with the timeless, still quality of the lake. I find the paradox beautiful.
For the next lakes we took the road from San Pablo to Nagcarlan. We headed for the farthest, Calibato Lake, in Brgy. Sto. Angel. Going to this lake involves a brief walk into a mossy path; in the end you will see a miniature version of Sampaloc Lake, only this is much cleaner; the reflection of majestic Mt. Cristobal can be gleaned from the water. Fishermen busy themselves in getting the day's catch, unmindful of our presence. As I viewed the lake, I cannot help but think of its legend, that of a fairy who buried her beautiful domain with an earthquake, transforming it into a lake, rather than allowing it to be destroyed by human activity.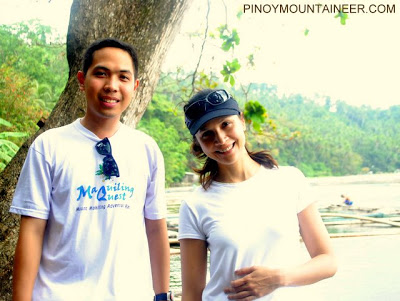 Tthe highlight of our trip were the twin lakes of Pandin and Yambo. Nestled in Brgy. Sto. Angel, the lakes were held to be lovers once; punished for their disobedience. Yambo, the young man and his lover Pandin; now they are inseparably close yet never together.
The two lakes again require some trekking to reach, but it's easy. A kilometer of walking took us to Pandin Lake. With just a few houses by the lakeshore, it was a splendid sight. Long and slender bamboo rafts float together with lilies and their pink blooms. Faraway from the city, Pandin is clean, and is as beautiful as the princess that belies its name. Meanwhile, Lake Yambo is another kilometer of trekking. Although the path was quite dense with grass and shrubs, the view was nice: the city proper's tallest buildings could be identified, and the mountains of Rizal and Nagcarlan dominated the north. At the end of the trail, we beheld Lake Yambo, virtually uninhabited, totally pristine, and lonely. Suddenly the legend returns to my mind. Why are there so many tales of doomed love that find their way in our folklore?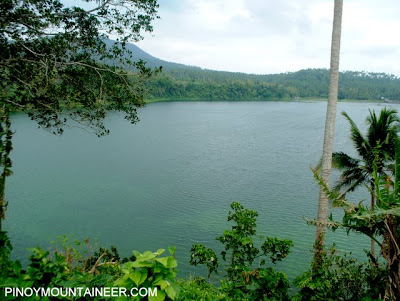 Back in Pandin, we met the friendly women of the village, who expressed their willingness to guide us around the area, even offering us a large raft where you can take a picnic in the middle of the lake. The pristine quality of the lakes, indeed, are matched with the raw hospitality that Filipinos have taken pride throughout the centuries.
Within and around the lakes stood nipa huts, bamboo rafts, coconut palms — idyllic scenes. Considering its proximity to Manila, it is refreshing to find a place so far removed from the conundrum of the cities, yet so near. I wish we had more time, for if so I would have gladly lain down in one of the bamboo rafts and allow myself to be drifted by the calm waters. We, unlike the lakes, however, have to move on. We proceeded to our lakeside lunch in Clydenjosh Restaurant in Sampaloc Lake.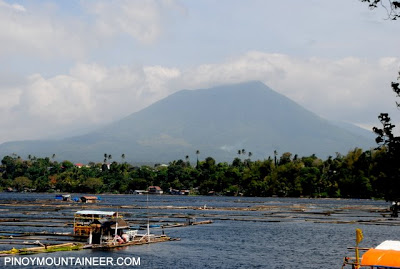 While on the road, we discussed how the lakes can be improved. We wondered how it could be possible to maintain the beauty of the pristine lakes, and how to beautify the others that have been neglected. More profoundly, the plurality of lakes in one city is a fascination. Where did these lakes originate? Geologists say they were old craters of eruptions long gone. Folklore, on the other hand, would have the lakes' origins differently. And aside from talking about their past, the future is of greater importance. Will they tread the sad fate of natural wonders ruined by men's hands – or will these same hands mold them to become attractions that would someday beckon visitors near and far?
Feasting on our victory meal, I could shrug off both history and myth; and past and future. Instead, through our just-taken pictures I can simply look at lakes as they are. Certainly, all traces of these lakes' violent, volcanic past have been erased. What remains are seven lakes; seven jewels waiting to be visited and discovered.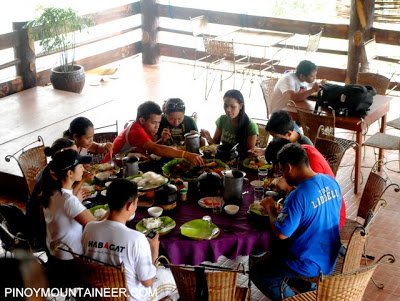 After the trek, my grandparents, advocates of the lakes' conservation, dropped by the restaurant. My Lola Rosing's delicious sampalok candies became a fitting pasalubong for the tour participants. By 3pm, I had bid them farewell – but surely another adventure is lying around the corner!
Thus ended our trip. Once again, I've seen the seven lakes of my town. And what can I say? They are beautiful.