Eulogy: Zaidi Bidin, Southeast Asian mountaineer and good friend (1970-2011)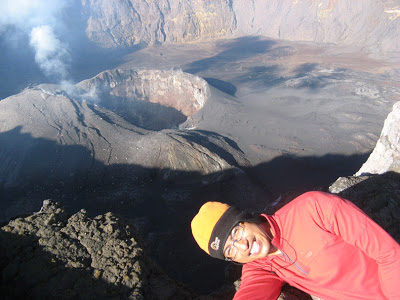 by Gideon Lasco
KOTA MARUDU, SABAH – His last Facebook post commemorated our accidental, if serendipitous, meeting in Borneo Backpackers' Lodge in Kota Kinabalu. It says, "…met a Filipino friend whom i have known online for some time and somehow accidently managed to be in the same city, same hotel and climbing the same mountains with the same group of people."
He was referring to me – we were both in Kota Kinabalu to join an expedition organized by our common hiker-friends from Kuala Lumpur. I consider it a great privilege to have been invited by Deeno Lot of Orang Gunung Kuala Lumpur (OGKL), the group we hosted in MakTrav and Maculot last year and I had looked forward to meet the OGKL guys again.
Zaidi Bidin
, on the other hand, even though we've corresponded through email, I have never met, and when we did meet, I had no idea that I was to be his final friend; that Facebook post would be his last. And I had the accidental honor of him spending his last day with me – while we waited for our friends to arrive. We walked around Kota Kinabalu, with the common goal of doing some window shopping for outdoor gear. Ultimately, we succeeded (he bought a really nice jacket for 135 RM) – and our shopping was commemorated in
Hiking Matters #138: Outdoor Shops in Kota Kinabalu.
Animated was our discussion about the common heritage of the Southeast Asian peoples, and how we should interact more, to foster a greater understanding of our shared past, and create a greater potential for our shared future. Together we marveled the similarities of the languages of Malaysia and the Philippines.
But the conversation – over nasi goreng and jus belimbing – always went back to the topic we loved the most – mountains. Zaidi Bidin perhaps held the record for the most number of mountains climbed in Malaysia, and he was possibly the first person to have summitted the G12- the Top 12 highest mountains in Malaysia. When he spoke of Gunung Tahan, I could almost hear the buzzing of the bees that he says can inconvenience a climb; I can almost feel the leeches; and I can almost feel the thrill of a 55-km trail. He also spoke of Korbu and the Trans-Titiwangsa version 1 – and I suddenly I wanted to fly to KL; I wanted to do the G12, even as he wanted to complete it three times over with just one Mt. Tambuyukon left. With his extensive experience and enthusiastic eloquence he brought all those mountains to life.
As the perhaps the first "dual citizen" of hiking in Southeast Asia, he has climbed extensively in Indonesia as well, and when I climbed in Indonesia last year he gave me great advice.
Sooner or later, he would have climbed a lot in the Philippines. I helped him in his Pulag climb in 2009, and he spoke enthusiastically of climbing Mt. Apo within the year. Needless to say, he was a very strong hiker who daringly goes solo in Malaysia and Indonesia – he has Kilimanjaro too as well as some Himalayan treks in his portfolio: I could confidently recommend our challenging treks for his enjoyment.
Perhaps the only premonition of any untoward event was his mention, in passing, of his medical condition while we were in Centerpoint Mall. He said that he has had cough for the last five weeks, and he had several diagnostic tests done — but they showed normal results. He was, he said, essentially in good health.
Yet today, while climbing Mt. Nambuyukong in Sabah, he suddenly showed signs of weakness. He asked for two long rest stops and Fuad Saudagar and I happily obliged – the trek wasn't that long and we could take our time. When he said that he was good to go, we followed his lead, allowing him to walk on his own pace. Amazingly, his walk on that final stretch was brisk – we concluded that indeed he was back on track.
Great was our shock, then, when he stopped, then suddenly collapsed along the trail. He was unconscious and unresponsive, with an imperceptible heartbeat and few gasps of breath; I immediately started cardiopulmonary resuscitation while Fuad called for rescue… But far away from any hospital, and bereft of any life support equipment – there was little that we could do unless he could be quickly revived. Alas, as minutes passed, and then almost an hour, no response came. In the end, we had to let go. Tonight I am here in Kota Marudu, near the hospital where we took him. There are no words to express the sorrow right now that his family, friends, and colleagues feel…and I myself am still in shock over what had just happened.
Yet, his end was, inasmuch as it was tragic, also romantic, for he was, to the last, pursuing his passion. "I feel much better now!" were his final words, and indeed I have reason to believe that his last moments, in that Bornean forest, were those of peace.
I write this piece for Zaidi's friends and colleagues; may it give you greater peace to know what happened to him in his final moments. I join the hiking communities of Malaysia and Indonesia in mourning the loss of Zaidi Bidin, amiable fellow, passionate hiker, and good friend. Zaidi, your passion for the peaks is an everlasting flame whose torchbearers will be many, and you will leave nothing but good memories in our hearts.