Hiking matters #138: Outdoor shops in Kota Kinabalu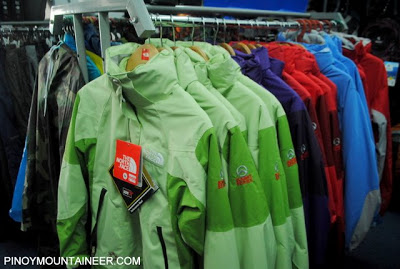 KOTA KINABALU – There are two outdoor shops here, and both are very rewarding to visit. They offer original items from various brands such as TNF, Columbia, Deuter, and even Millet, Mammut, K2, Lafuma, Lowe Alpine, and many others. The "spectrum of originality" is vast – there are, on one hand, frankly original items; but there are some items of questionable authenticity but still, the diversity is very nice, and there are items for alpine trekking – unlike in the Philippines where only R.O.X Philippines offers gear for international hiking or backpacking. Veteran Malaysian hiker Zaidi Bidin and I went today while waiting for the rest of the team to arrive from Kuala Lumpur.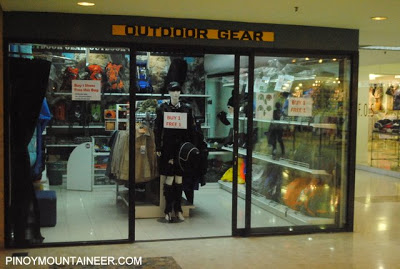 1. Outdoor Gear in Centerpoint Mall – This one lies in a corner on the third floor of Centerpoint Mall, which is a very visible and easy-to-find place in downtown Kota Kinabalu. They offer a variety items, some of which were only sale, and many of which are quite reasonable. I was able to buy a dry bag for 30 ringgit (around 420 pesos).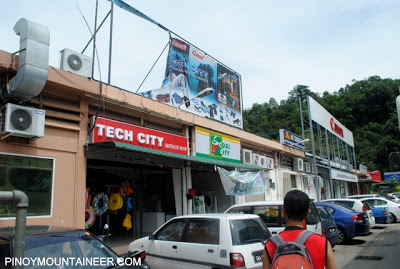 2. Tech City Outdoor Shop in Jesselton Point Warehouse – This one is the ultimate place to shop for outdoor goods in Kota Kinabalu. It has everything you will need – bags of all brands, shoes, even MH waterproof pants, the trendiest origami plates, and so on. I was able to buy a Columbia cap for 30 RM, and another dry big – a mini-one for my passport – by Deuter for 20.
To get there, just walk along the waterfront, go to the Jesselton Point harbor, and you will see Tech City Outdoor Shop in one of the warehouse-looking single-storey buildings. It was formerly located in Wisma Merdeka, but has not transferred. Heavy duty TNF jackets range from 250-300 RM; headlamps at 50 RM, and some shirts from 50-100 RM. Again, I cannot verify the authenticity of some of the items, but still they've got a very nice selection.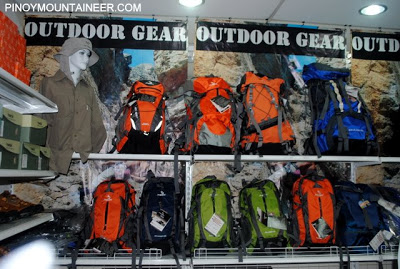 Of course, people go here with Mt. Kinabalu in mind but the two other members of the Malaysian Top 3 – Trusmadi and Tambuyukon are actually more significant challenges to Malaysian hikers. How challenging? In the coming days I hope to find out.
3. Wawasan Plaza – According to my friends from the Orang Gunung Kuala Lumpur, there is a third outdoor shop located in the Wawasan plaza, at the first floor. It offers basically the same things as the first two outdoor shops I mentioned, although I haven't been here personally.