Hiking matters #139: Mt. Nambuyukong in Sabah, Malaysia – Zaidi Bidin's last climb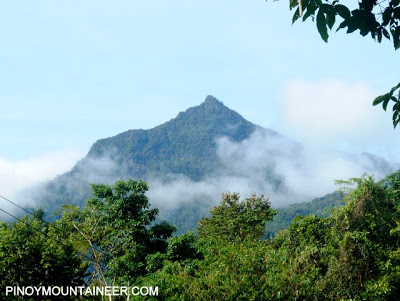 KOTA KINABALU -As part of the week-long expedition I joined here, organized by my friend Deeno Lot of the Orang Gunung Kuala Lumpur (OGKL), we climbed Mt. Nambuyukong, a prominent mountain within the Kinabalu Park, located in Substation Serinsim in Kota Marudu, north of Kota Kinabalu. The plan was to do a dayhike this mountain as a sidetrip in a Mt. Tambuyukon major climb – Tambuyukon is the third highest mountain in Malaysia, next only to Gunung Kinabalu and Gunung Trusmadi.
The late Zaidi Bidin, being my companion during the previous day, and being a very fluent English speaker, was assigned to be my buddy (and interpreter) during the climb. From Kota Kinabalu, we went to Kota Marudu and proceeded to Serinsim; the total travel time, I reckon, is about 4 hours. We tried to catch some sleep, have a relaxing breakfast before starting the trek at 1000H. A Nambuyukong-Tambuyukon combination climb was the plan, and it was, according to Zaidi, an exciting one because very few people get to climb Nambuyukong. As for Tambuyukon, it would have been his third time to climb it – effectively completing the hallowed 'G12' of Malaysian mountains for the third time.
The 6.4-kilometer trail up Nambuyukong seemed manageable as a dayhike, and we left our heavy packs at the first station, Pondok Damar. From there, we commenced an assault of the summit. "The mountains of Sabah are very different from the mountains of the Peninsula," Zaidi commented when we were starting to trek.
Somewhere between Pondok Damar and Pondok Seraya, the 2nd hut, Zaidi Bidin showed signs of weakness and he asked for a rest stop. The rest of the climbers went ahead; Fuad Saudgar and I stayed with Zaidi, together with guide Imelda. We carried on but after a while he asked for another stop, this time a longer one. He even slept. What are you feeling, I asked, he said he was feeling neither pain nor non-pain, but "something in between". I applied accupressure in his hands. After a thirty-minute rest we continued to Pondok Seraya, this time for a shorter stop, he said, "I'm feeling much better now."
Yet, just 200 meters or so beyonld Pondok Seraya, Zaidi collapsed and we could not revive him. I performed CPR for over 45 minutes, assisted, later on, by Fuad, Deeno, Ayin, and other senior members of the OGKL, stopping, finally, at 1310H. Hiking to the very last minute, he pursued his passion all his life, but even though this thought is comforting, I am still grappling with the thought that the friend I had just met the previous day can longer be with us. Tears streamed in my eyes as Zaidi's body lay along the trail, and as the returning members of the OGKL paid their respects to our comrade.
By 1600H we had brought down the body with a stretcher – with the men of OGKL taking turns in carrying it together with some Park hands. We went to the hospital in Kota Marudu, and Deeno, Imelda, and I reported to the police what had happened. As the eyewitness and first responder I wrote down my account in the police report.