Hiking matters #134: Mt. Kalatungan Traverse, Day 3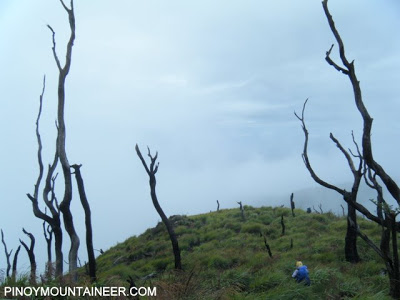 Camped at the "Chinese Bamboo" Campsite, we woke up with gloomy weather and very cold temperatures; but we carried on anyway, with the ascent of Mt. Makauapo (Wiji) the first order of the day. After an hour of trekking up the slopes filled with dead trees – a mystical sight at that – we were at the peak of Wiji.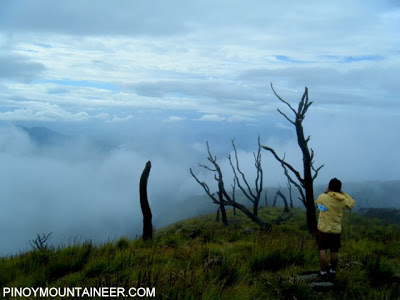 There is a debate as to whether Wiji should be accorded a status of being a mountain separate from Mt. Kalatungan. In that case, it would be, by itself, one of the 10 highest mountains in the Philippines, since it registers elevations of over 2800 MASL (2810 in my altimeter). However, considering its proximity to the summit of Mt. Kalatungan (about two hours away) and its relative, and the fact that it is never climbed as an end in itself, Wiji cannot be accorded the status of a distinct mountain. We consider it a subpeak of Mt. Kalatungan.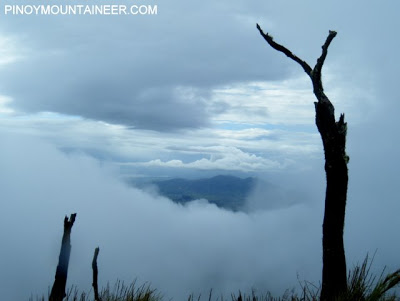 At any rate, strong winds and clouds greeted us at Wiji – again, none of the beautiful views. But still, sometimes the clouds would clear and we would see pockets of land. As for the flora of Wiji, it is similar to that of Kalatungan's summit, except that the grasses there are shorter, and diversity of plants lesser. The dead trees are really the highlight of Wiji, if you will not count the view.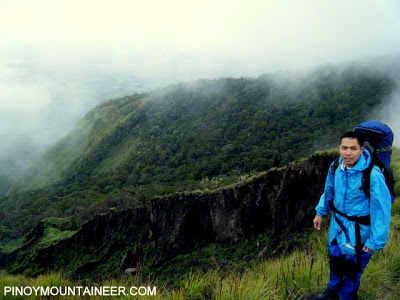 From Wiji, we passed by a ridge that took us down to more forests – including an interesting clump of dead trees (Was it a forest fire that burned them?) More forks came ahead, our guides say there are at least seven different trails to Mt. Kalatungan. Nonetheless, it pays to listen to the advice of the local tourism officials as to which trails to take; some of them may have security concerns as we found out after the climb.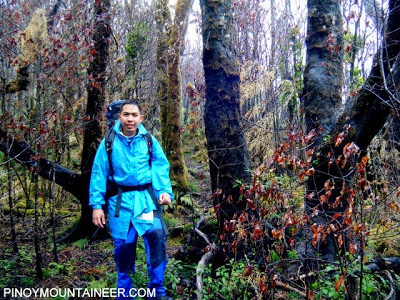 We were back in Mendis by 1600H; Jhoc and our guides slaughtered a native chicken that served as our post-climb feast. Meanwhile, I interviewed one of the datus of the village. We spent the night at the village, had some animated discussions with some other datus and village officials, and had a restful sleep before heading to Davao via Maramag the next day. Two more mountains, Matutum and Tampurong, awaited me.