Hiking matters #246: Maculot's Rockies, yet again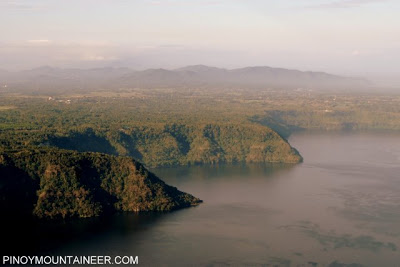 It's Mt. Maculot again: the more I climb a particular mountain, the more of its facets I am able to explore, and thus a greater beauty is revealed. On the other hand, there is also the element of hiking, which is training, which looks not at beauty, but of continuity, of regularity. Today, I did a half-day hike of Maculot with my friends: Sir Matin, Mutya. Farah, Jeshua, Dan, Rica, Joe, and David. It the sun was not yet up when we started our hike.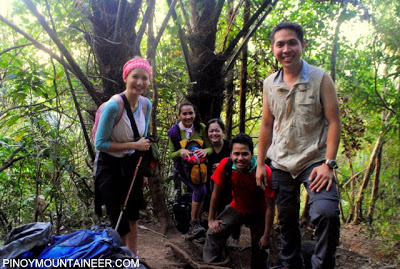 One of my new "hobbies within a hobby" right now is looking at which other mountains can be viewed from a particular mountain. I enjoyed this immensely in Mt. Ugo, where I reported the sighting of Mt. Arayat, 130 kilometers away. If you've been following 'Hiking matters', you would also see an occasional collage of mountains as part of the photos.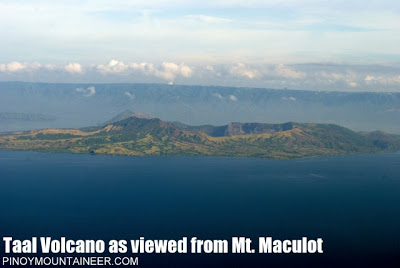 There are many mountains that can be seen in Mt. Maculot, the closest of which is
Taal Volcano
can be seen, just twenty kilometers away, with Taal Lake surrounding it, the borders of the Crater Lake appreciable within, as if telling (but not showing) the green waters. It will be very interesting to look at
Hiking matters #240
, where I posted aerial photos of Maculot and Taal Lake.
The big find from Mt. Maculot, however, is no other than majestic Mt. Halcon, highest in MIMAROPA and higher than Mt. Banahaw, which I initially assumed was the mountain I was looking at. The wide appearance of Halcon is consistent with my aerial views of it, which I have yet to post in PinoyMountaineer.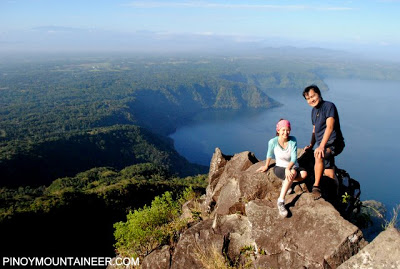 Meanwhile, pictures were taken (as usual) in the most photogenic viewpoint in the Rockies, with Taal Lake serving as background. This is one of my favorite spots in all of the Philippine mountains, and I had my fill of photos when I last climbed Maculot, with Ms. Agot Isidro, last month (
Hiking matters #233
). Instead, I'll end this entry with a very nice cloud formation we saw, and these lines:
Clouds can sometimes take the form of a heart, even if we can only see them as a sign of rain.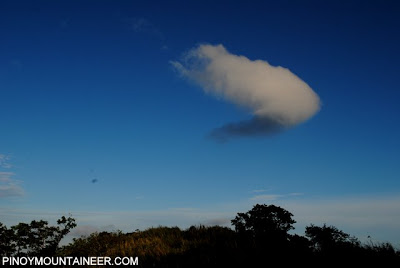 THE BLOGGER'S CLIMBS IN MT. MACULOT