ODMG's Climb Advisory on Mt. Sicapoo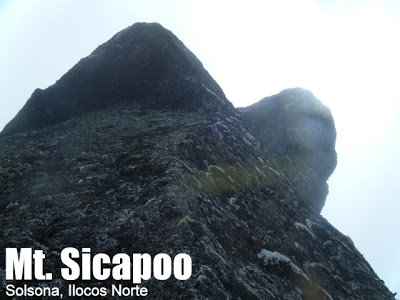 by Aggie Pinzon, ODMG
PARENT ARTICLE
Between 2009-2010, the One Degree Mountaineering Group documented and shared its exploratory attempts and subsequent successful ascents of
Mt. Sicapoo
through pictures and blogs in our site and write up features in Pinoymountaineer.com. These have contributed to the growing interest in the highest peak of the Ilocos Region at 2354 masl.
After ODMG successfully summitted Mt. Sicapoo in December 2009 with AMCI members Lester Susi and Cecil Morella as guests, other groups have followed suit, some have been successful, some not so. PinoyMountaineer blogger Dr. Gideon Lasco and the Iron Lady, Jo Steven successfully climbed Mt. Sicapoo last February 2011 (See Hiking Matters #1
29
,
130
,
131
).
They agree with the rest who have climbed Mt. Sicapoo, even those who were unsuccessful in reaching the peak, in rating the mountain as a very challenging 9/9 on the
PinoyMountaineer Difficulty Scale
. This is so primarily because Mt. Sicapoo sits very deep in the Solsona ranges and several peaks have to be scaled before reaching it. When doing a dry land entry seven peaks lie before Sicapoo: Mt. Simagaysay (1341 masl), Mt. Timarid (1527 masl), Mt. Saulay (1286 masl), Mt. Bubuos (1400+ masl), Mt. Balbalite (1500+ masl), Mt. Pakpako (1620 masl) and Mt. Matalidong.
To enter through the river on the other hand, would entail more than a dozen river crossings across, depending on the month, deep and raging waters. Either way, the ascents are steep and the trails unestablished, dotted with knife-edge deer paths and perilous ledge walks. The trek itself is long, spanning approximately 49 kilometers from start to end using what we've dubbed as the "rosary trail" – entry through Gasgas river and exit through Mt. Simmagaysay and the plateau.
Aside from the challenge of a very difficult mountain, however, what is perhaps attracting the attention and curiosity of different groups and individual trekkers to this mountain is its pristine and well-preserved beauty and natural environment. The climb to Mt. Sicapoo features trekking through different terrain – boulders and crossings in the river and tributary streams, tropical forests, pine forests, open grasslands, mossy forests, and undulating ridges. The trails are rarely used especially in the deeper part of the range beyond Mt. Simmagaysay and Mt. Timarid where only trappers and hunters venture. Signs of habitation like houses, cattle and farms are inexistent after the plateau. The whole expanse is so rarely trodden that sightings of deer, wild boar, hornbills and other large birds of prey, river eels and other wild animals have been frequent. Indeed, we've seen some of the most breathtakingly spectacular views trekking up Mt. Sicapoo and the peaks surrounding it!
To protect and safeguard Mt. Sicapoo's unspoiled environment and to ensure the safety and quality of experience of hikers who will trek up its slopes and subsidiary peaks, ODMG, worked with the local barangay communities to come up with the following guidelines that would serve as a hike advisory to all who would want to come and experience the beauty and majesty of Mt. Sicapoo:
GUIDELINES ON CLIMBING MT. SICAPOO
1. Climb parties should notify us of their tentative climb date and number of hikers in advance to make sure that guides and transportation are arranged accordingly and the barangay/LGU is informed
2. We will not be able to provide assistance to those parties who will not make arrangements with us
3. To maximize the experience, enjoy the beauty of the surroundings and prevent injuries or any untoward incident, we recommend that climbing Mt. Sicapoo shouldn't be anyone's first climb experience
5. The best months to climb Mt. Sicapoo are from November to March. During the summer months of April and May, water sources have been known to dry up while trekking during the typhoon season will make the river and gully crossings very dangerous.
6. Climb parties will be limited to a maximum of 12 people
7. Only 1 climb party at a time is advised to ensure availability of guides
8. A river entry or exit will only be allowed on the advice of the guide
9. 1 guide is required for every 4 hikers
10. Porters are not counted as guides
11. Climb parties will provide food for their guides
12.Guide fee is set at P500/day/guide; Porter fee is set at P500/day/porter
14. A single porter will only carry a maximum of 15 kilos
15. Registration, green and other local government fees will be determined and collected upon registration with the Solsona PNP