Hiking matters #147: Twin Dayhikes in Zambales II: Mt. Cinco Picos-Silanguin Traverse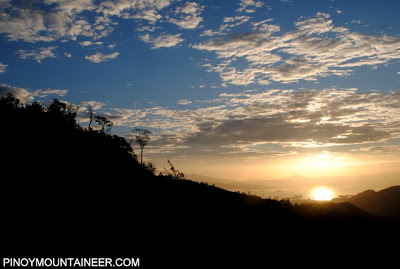 One day after dayhiking Mt. Balingkilat and spending the night at Chieftain Jimmy's house in Sitio Cawag Settlment, we packed all our things and commenced a Cinco Picos Traverse to Silanguin Cove as another dayhike. It was very early when we left: 0335H to be exact. The intention was to adhere as much as possible to the dictum: "The best time of the year to climb the Zambales mountains is at night."
The first part of the trek was a long walk with a very gradual altitude gain. We crossed some streams, and what we lacked in views during those two-odd hours of darkness we compensated by a most animated discussion of the various trekking possibilities these trails could offer. Tommy, our 15-year old guide, spoke enthusiastically about a possible Mt. Dayungan Traverse to Nagsasa Cove, which would parallel the Balingkilat-Anawangin and Cinco-Picos-Silanguin.
When finally dawn arrived, the long wait was most rewarding. The sun was a painter and Mt. Balingkilat was its canvas, and as it rose to its majesty, several portraits of the mountain unfolded before our eyes, each with a different shade of earth and light, each beautiful, and these succession of images was made more meaningful by the fact that we had climbed that very mountain just the day before.
We had lunch at Silanguin Cove, which was a much more secluded place compared to the now-very-popular Anawangin Cove and the emerging Nagsasa Cove. As for beauty, it is hard to compare the coves. Silanguin actually forms a semi-circle and extends to the other arc of the semi-circle before trailing off with some beautiful islands. As we left the Cove, we saw the towering presence of Cinco Picos behind it – with its peaks. How many can you count?