Makiling Trekathon 2011 on April 30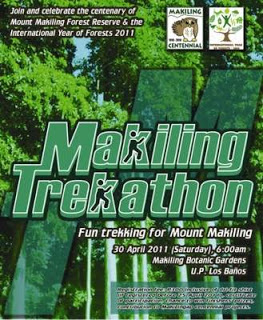 The Makiling Trekathon is a fun trekking and fund raising campaign. The event is part of the centennial celebration of the establishment of Mount Makiling Forest Reserve and the 101th foundation anniversary and alumni homecoming of the College of Forestry and Natural Resources (CFNR). The event also coincides with the observance of the International Year of Forests 2011.
Rationale
It aims to advance information and advocacy campaigns for the conservation of Mount Makiling being a scientific reserve, a significant biodiversity area, a critical watershed and airshed, a geothermal energy source, and a key ecotourism site.
Date and Time
30 April 2011, Saturday. Assembly time is 6:00am.
Main Venue
Makiling Botanic Gardens (MBG), U.P. Los Baños, Laguna
Expected Participants
The Makiling Trekathon is open to all fitness and outdoor enthusiasts, friends and supporters of Mount Makiling, UPLB alumni, students, faculty and staff. Business entities and organizations can participate by becoming event sponsors or partners.
Registration Fee
Registration fee is P300 per trekker, inclusive of dri-fit shirt (for first 300 registrants only), certificate of participation, donation for the rehabilitation of Mariang Makiling Trail, and a chance to win prizes. Deadline for submission of registration form with payment is 25 April 2011.
Trekathon Route
The route begins and ends at the Makiling Botanic Gardens, College of Forestry and Natural Resources, UPLB. The route follows the Mariang Makiling Trail to the Makiling Rainforest Park. Marshals will be installed along the route. There will be two options:
5K – MBG to Mahogany plantation (Stn 4) & return
10K – MBG to Makiling Rainforest Park (Stn 8) & return
Contact
Robby Cereno and/or Ben Arizala
Makiling Botanic Gardens
College of Forestry & Natural Resources
U.P. Los Baños, Laguna
Telefax: 049 536 2637; Mobile: 0928 232 1000
E-mail: makilingtrekathon@yahoo.com