Announcing the PinoyMountaineer Autumn 2011 Expedition: Snow Mountain (3886 MASL) in Taiwan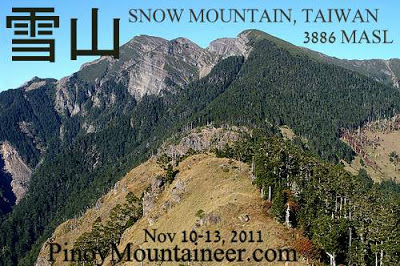 In keeping with our thrust to promote international climbing destinations to fellow Filipino climbers, the blogger is opening up slots to his personal expedition to Snow Mountain (雪山), at 3886 MASL the second highest mountain in Taiwan. The confirmed expedition runs from November 10-13, 2011.
Only 10 slots are available for the climb, with six slots already reserved. Interested parties will be accommodated on a first come, first served basis, with priority to participants of the 2011 PinoyMountaineer Mt. Kinabalu Expedition. For more information please email the blogger directly at gideon@pinoymountaineer.com.