Announcing the PinoyMountaineer Mt. Elbrus Expedition in 2013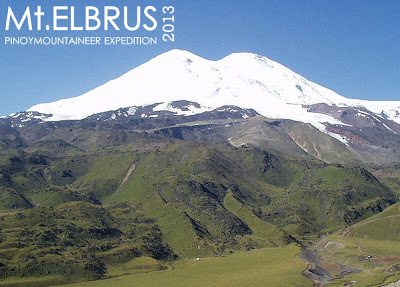 Today is the first anniversary of our
Mt. Kilimanjaro 2011 Expedition
, and I am pleased to announce that I will seek to climb Mt. Elbrus in Russia, the highest mountain in Europe, next year. The
PinoyMountaineer Mt. Elbrus 2013 Expedition i
n July 2013 is looking for three more interested participants to complete a team of 8. This will be a 12-day expedition including a sidetrip to Moscow, Russia.
Mt. Kilimanjaro Team members Farah Pasamonte, Mutya Bernardo, Jun Carnate, and Del Bahena are also expected to join the expedition.
Prerequisite for joining Mt. Elbrus: Experience in high altitude; that is, two hikes on mountains/trails that is least 3800 meters above sea level. Preferably, experience in snow hikes. The estimated budget for the Mt. Elbrus hike including airfare from Manila is USD3000.
Interested mountaineers please email me at expeditions@pinoymountaineer.com.