Essay: Fake or genuine? Buying The North Face outdoor gear in Vietnam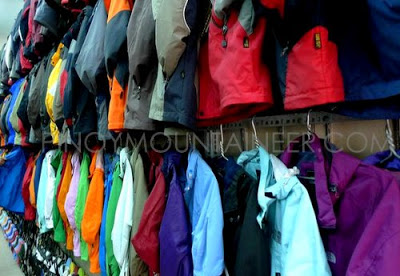 by Gideon Lasco
On the last night of our trip in Vietnam, while waiting for our early morning Cebu Pacific flight back to Manila, I toyed with the possibility of buying some of the outdoor gear being sold in Ho Chi Minh's District 1. Aside from The North Face, the shops feature other familiar brands such as Columbia and Mountain Hardwear as well as brands that are not well-known in the Philippines such as Jack Wolfskin and Marmot. They are really attractive. The jackets are very colorful, and the array of choices is dizzying. Likewise, the TNF bags look as sophisticated as the ones you see in TNF boutiques in Manila.
Needless to say, these merchandise come in very cheap: a Columbia jacket can be had for 300,000 VND (PHP 632.00) while a North Face daypack can be negotiated down to the price of 350,000 VND (PHP 738.00).
First question: are the North Face, Columbia, and other bags or jackets on sale in Vietnam fake or genuine?
According to some shopkeepers I interviewed in Vietnam, they are original but with minor defects. This is the official version of the stores, and sometimes they will even show you where the insignificant defect is. Another version of this is that is that these clothes are 'surplus'.
Others say that they are first class imitations. This is what I saw in some of the jackets on sale. Even the buttons and zipper handles are customized, and externally, I have to admit that I have no way of distinguishing them from the real thing.
Certainly, both scenarios are plausible. The North Face has factories in Vietnam, and it is very possible for surpluses, or defective items, to leak out of the factories. It is also entirely plausible for some workers to leak out the designs and process of making these gear, enabling the neighborhood production of imitations.
My conclusion: The outdoor gear being sold in Vietnam are either original but with minor defects, or brilliant imitations.
Second question: Will I recommend buying outdoor gear in Vietnam?
My decision: Not to buy them. My reason for buying hiking gear is to have maximum protection during my climbs, and I will not settle for anything that is of doubtful quality. If I were to buy a Columbia jacket, for instance, I would do so not because of the brand, but because of the Gore-TEX and other features that are proven. When I look at a jacket of dubious authenticity, what I scrutinize is not whether or not the jacket 'looks original', but whether or not the waterproofing works, among other things.
Moreover, I consider it more cost-effective to invest on an expensive but durable jacket thato lasts for several years rather than buy one cheap jacket after another.
My recommendation: You can buy them if you're after the brand, but if you're after the utility of these items, and if your activities actually put your gear to the test, then think twice. If you're low on budget, bear in mind that aside from authentic foreign brands, there are also local brands that offer quality gear. I would prefer them over counterfeits.