Eulogy: Adrian Alba, a fellow mountaineer we will always remember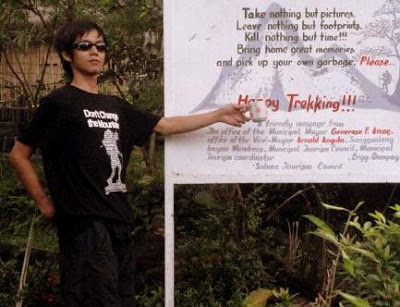 by Gideon Lasco
My heart goes out to the family, friends, and hiking companions of Adrian "Adjong" Alba. Last Sunday, September 4, 2011, Adrian was swept away by strong currents while trying to perform a crossing of Wawa river, and today, his body was found. He would have turned 25 a week after the fateful incident.
Until now, and perhaps for many days and months to come, there will be attempts to make sense of what has just happened. But while we try to put together fragments of his last moments, let us also remember his life: how he was as a mountaineer, a brother, a friend: and ultimately, let these things be the memory of him that will stay in our hearts.
I never met Adrian, but he corresponded with me a number of times in my website. It pained me to see that he has even sent me a friend request before his fateful trip to Rodriguez. When I accepted his request, I visited his page. He was just like any other mountaineer: dreaming of summits to conquer; thrilled at the prospect of the next climb. Friends told me that he loved to organize climbs, and was a very cheerful and friendly person. If you are a mountaineer and you look at his pictures, you would realize that you could easily have been the one making those poses, in the all-too-familiar setting of the mountains we have come to love as our home.
Indeed, he belonged to a community of people who loved the mountains; we have shared dreams and hopes and joys. There is a connection between us (and all of us) – this is a connection that I will never turn my back from, for we are one community. Let no one divide us! There are times like this tragic death of a comrade when we must all show our support, setting aside differences, putting aside labels like affiliations or groups, because the things that unite us are more important and precious than the things that divide us. Love for hiking; love for the mountains chief of them…
Probably, it was his love for hiking that led Adrian to join even other groups in their climbs, and on that fateful day he happened to be participating as a guest of Outdoor Addicts, an outdoor club based in Manila. They were already on their second day of their activity when the fateful incident happened.
Although I am sure that the Outdoor Addicts group did their best and meant well when they conducted the activity, there will be questions that will have to be asked on how and why the tragedy took place. Issues of safety are important to be asked because they can spare us from another tragedy; issues of accountability are important for this incident to have closure and for Adrian's family to have peace. I call on the participants and organizers of that climb to explain what happened in clear terms. Yet, let us not accuse or judge anyone hastily, nor say hurtful words that will not do any good at this point. Yes, we want to learn lessons and we want to avoid accidents. But now we behold not a mere lesson nor a mere accident, but a human life, beloved by his family and friends; let us show respect as we would want ourselves to be respected when the time comes that we will have sorrows of our own. There is a time for everything. Adrian once told PinoyMountaineer: "Naniniwala parin ako sa hustisya sa Pilipinas". I share his belief and hope that it will be realized, for the peace and comfort of those who love him.
As for you, Adrian, you will always be remembered. To the people with whom you walked along the trails, you will always be an inspiration to keep reaching for the peaks of the dreams, and maybe someday we will see each other in a different peak and a brighter future.
Makati City, Philippines
September 7, 2011