Eulogy: Victor Joel Ayson, photographer, mountaineer, and friend (1986-2013)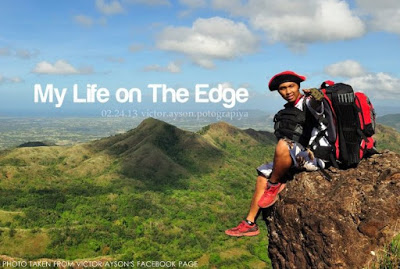 The pictures that we take are windows to our souls. They reveal how we see ourselves, and how we see the world around us.
The pictures Victor Joel Ayson took evoked a world full of beauty and adventure. "Great things are done when men and mountains meet," said William Blake, and it was such great things – the encounter of mountains and mountaineers – that formed the subject of Victor's photography. He was a passionate young man who knew that many of life's most important lessons can only be learned outside of the classroom, even as he himself excelled academically in Quezon City Science High School, and then at the University of the Philippines in Diliman.
Since he was in high school, he had a leaning towards the visual arts that most likely derives from his rich imagination. I can only surmise that Victor was overwhelmed by the masterpiece of the great Artist: nature itself: vivid, intense, and alive.
He was particularly fascinated with the different lights and shades of the mountain. One lovely photo he sent us featured the star trails upon the campsite of Mt. Pulag. Biki, ever in love with nature, penned these verses:
Star light, star bright
Blanket us tonight –
This city of tents
Under your blissful lights


Calm and cold is the night
Your lights flock the serene dark sky
Our camp enjoys watching the view
Be in inside the tent, or lying in the grass too
He also loved the sunrise, and some of the best photos he took were of the dawn. Of his winning entry in the Photo of the Week, just a month ago, we wrote: "No matter how dark or cold the night, the rising sun renews and reawakens us to the coming of a new day." This is the kind of optimism that he sought and shared.
Perhaps it was his love for the sunrise – and of the mountains – that brought him, on that fateful Easter Sunday, to Mt. Maculot's Rockies, straight from a successful Mt. Guiting-Guiting hike. Realizing that he was already in Batangas in an opportune time to reach Cuenca before the sun was up, he decided to climb Maculot anew. He went up the Rockies, took pictures of Taal Lake in early morning.
Then the most unexpected and unfortunate thing happened: he disappeared, seemingly without a trace, leaving his backpack unclaimed at the jumpoff of the mountain.
What followed were days of searching and searching, where we saw the overwhelming response of mountaineers and volunteers in an attempt to find our comrade.
Today, on what would have been his 27th birthday, his body was found below the Rockies facing Taal Lake.
***
THE MOST beautiful views in this world cannot compare to the value of a human life, and it pains us to realize that Victor is gone. Even though I never met him personally, I feel connected to him because the mountains and the mountaineers are our common friends. I am deeply sorry for his family and loved ones, and I pray that God will provide comfort in this difficult time.
It will always be debatable whether solo hiking should be done by mountaineers. I have no ready answer for this, and we will always have our own opinions that we must learn to deliver at the proper place and time, respecting the feelings of others at all times. What is clear to me is this: whether by yourself or with a group, hiking will always have risks and we have to do our best to always be prepared, even as we acknowledge that accidents do happen, even to the best and most experienced among us. Oftentimes, the key to staying positive is to ask 'how', not 'why'. And we should not be discouraged by this incident, continuing in our resolve to reach the summits of our lives. As Victor himself captioned one of his photos: "Never give up, the heavens will provide."
There will also be a lot of questions that will arise from Victor's disappearance: what really happened? Again, I pray that these questions will be answered soon for the sake of his loved ones, and whatever the answers are, I hope they can guide us. But when some things are difficult to explain and understand, we can always have faith that all things work together for our good.
And while we mourn the fact that he lost himself in the mountains, we also celebrate the fact that he found himself in them, finding peace, joy, and the opportunity to share the beauty of this world to others. This sense of discovering – or finding – will surely live within all of us. Finding Biki now means finding ourselves, making the most of life, and remembering our companions: wherever they are, may we never lose them in our hearts.
Los Banos, Laguna
April 13, 2013