Eulogy: Roger Guzman, Mt. Pulag Driver, Friend of Mountaineers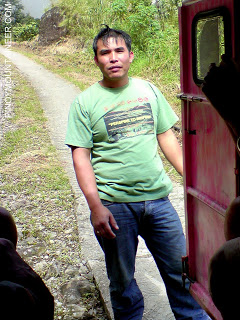 Roger Guzman
1975-2010
I've always wanted to feature Mang Roger in this website, considering his important role as the transportation contact for Mt. Pulag. He was the driver of choice in all our Cordillera mountain trips. Personally I've made arrangements for more than a dozen jeepneys from this guy and not once did they fail us.
When I joined the PALMC Bakun Trio climb last year, I got a chance to talk to him more. He personally drove our group all the way to Bakun, and, as part of the package, he had to stay the whole 4 days that we were there. I asked him, "Don't you get bored, waiting for us?" He told me that he was also enjoying it; "Masarap gumala," was his reply, adding that he really loved to drive, ever since he was a teenager. Perhaps for him it was an adventure in itself, traversing all those long and winding roads-less-traveled, seeing the mountaineers clad in their outfits, excited, free-spirited, joyful.
How did it all begin? He recalls a group of mountaineers approaching him in the jeepney terminal in Baguio City, as he was waiting for his turn. It was the summer of 2001. They asked him if his jeepney can make it to Mt. Pulag; they have tried others but they were disappointed. The intrepid Roger gamely agreed to take them to Mt. Pulag Ranger Station; the mountaineers were pleased, and for the next decade he became a familiar face to all of us.
That is why he was considered a friend of mountaineers: he did not just take us to the jumpoff; he was part of our expeditions. It was important for him to take us to the jumpoff, in the same way that it was important for us to reach the summit. His cell number is in every mountaineering club's phonebook. And even when the oil prices rose, he held fast with his mountaineer-friendly rates that made Pulag accessible on a weekend.
Unfortunately his good relationship with mountaineers was viewed by some with envy, and the last time we met, in April 2010, he expressed concern about some people who wish him ill. I remember during the 1st PinoyMountaineer Charity Climb in 2009, before we parted at the Victory Terminal in Baguio, he said, "Sir, salamat sa kabuhayan."
Kabuhayan! This man was earning his keep humbly and with integrity. Though an Ibaloi, he offered free transportation to the Kalanguyas in Babadak and he gladly brought the sick people to the hospitals in Baguio when needed. If he had raised the jeepney prices for Mt. Pulag, we wouldn't really complain because we trust him and he virtually had a monopoly and yet he stuck with his friendly rates, just enough for his family.
For such a good man to be killed in his own town in La Trinidad, mercilessly, is such a atrocious offense and the mountaineering community strongly condemns it. He was at the prime of his life and if not for this evil deed, he might have been still around to take our children to the beautiful mountains.
Sorrow reigns today but very soon, justice is something we must clamor for. The killer, and those behind his death, must be punished. And we must make sure that if they do exist, those who sought to profit from Mang Roger's demise will not have the morbid satisfaction of getting what they want. We look forward to Roger's nephew, family, and associates continuing his jeepney service. They are the worthy inheritors of the reputation and relationship that Roger has built with us.
Manong Roger, you will be well remembered. A good man, a reliable driver, a great friend of mountaineers.
This eulogy was read by Raniel Guzman, nephew of Mang Roger, during the funeral service in La Trinidad, Benguet, July 29, 2010. Photo taken in September 2009 in Bakun, Benguet.