PM Third Annual Charity Climb in Mt. Pulag rescheduled to November 19-20, 2011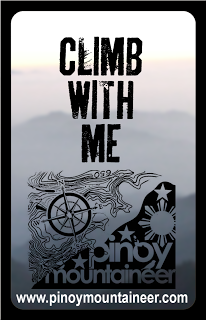 Today, I informed the participants of the Third Annual Charity Climb in Mt. Pulag through the Climb Secretariat that the climb this weekend has been rescheduled to November 19-20, 2011, due to the threat of another typhoon, Quiel.
The Charity Climb in Mt. Ugo, on October 8-9, will proceed as scheduled.
I am making an appeal to participants to stay with us in the rescheduled climb, as all of you will still have confirmed slots in the said climb. However, I understand that some will not make it and they are entitled to a full refund of their deposit.
With this development, slots are once more open to those who still wish to join this event and advocacy. Here are the details:
CLIMB WITH M.E.: CLIMB FOR MEDICAL EDUCATION
The ME in 'CLIMB WITH ME' stands for 'Medical Education': I believe that there is much work to be sdone in educating our people about common health problems. Moreover, I see the internet as the platform for this advocacy, because more and more Pinoys are using the internet. Thus, the beneficiary of the Third Annual Charity Climb is the infant website called Kalusugan.PH – the first health information website in the Filipino language. In the same way that PinoyMountaineer is providing information for mountaineers, Kalusugan.PH aims to provide information to everyone, in a language that can be easily understood. Participants will see the effect of this 'climb for a the cause' any moment, and you can actually use the website for your health and wellness (it is now in 'beta version' right now – click here to see it).
RAFFLE PRIZES
The PinoyMountaineer Charity Climbs have been notable for their raffle prizes, and for this climb we are pleased to raffle off a Deuter bag as the highlight of the raffle! PinoyMountaineer numbered shirts and other exciting items will be raffled too!
YOUR CONTRIBUTION
Participants will be requested to contribute P3,300 for the climb, which is inclusive of the following:
*Roundtrip transportation from Manila
*Entrance fees
*Guide fees
*PinoyMountainer Shirt no. 3 by The Perfect White Shirt!
*Your contribution to Kalusugan.PH
Note: Food, tents NOT included
The cost is more expensive than the usual Pulag climb because this is a fundraiser and the proceeds will go for the construction and development of online medical education through Kalusugan.PH and other avenues. A full accounting of the climb proceeds will be emailed to the participants after the climb for greater transparency.
ITINERARY FOR MT. PULAG: NOV 19-20, 2011 (new schedule)
Trail: Ambangeg-Ambangeg
Difficulty: 3/9
Day 0 (Nov 18, 2011)
2200 Assembly at Victory Liner Pasay
2300 ETD from Pasay
Day 1 (Nov 19, 2011)
0500 ETA Baguio City. Take jeep to Mt. Pulag
0700 Breakfast along the way
0930 Orientation at Visitors' Center
1030 Set out for Ranger Station
1130 ETA and heavy lunch at Ranger.
1300 Start trek to Campsite 2
1430 ETA Camp 1
1600 ETA Camp 2.
1800 Evening program / Socials
Day 2 (Nov 20, 2011)
0430 Early morning trek to summit for sunrise
0545 Arrival at summit just in time for sunrise
0700 Start descent from summit
0800 Back at Camp 2; heavy breakfast
0900 Decamp; start descent to Ranger Station
1130 Back at Ranger; Settle guide fees; jeepney descent
1230 At DENR-PAO; tidy up and log out
1400 Head back to Baguio City
1700 ETA Baguio City. Dinner.
1900 Head back to Manila
RESERVE YOUR SLOTS NOW!
Submit this form to climbwithme@ymail.com to reserve your slots!
1. Full Name
2. Nickname
3. Birthdate
4. Cellphone number
5. Home Address
6. Occupation (If student: educational affiliation)
7. If member of a hiking club: name of hiking club
8. Contact details in case of emergency:
9. Medical concerns, if any
10. Shirt size
After emailing these details, you will be given instructions on how to confirm your slots.
I am grateful for the cooperation, patience, and support of the Charity Climb participants, and I look forward to climbing with everyone in this exciting endeavor!