Hiking matters #210: Autumn hike of Snow Mountain (雪山) in Taiwan – Day 1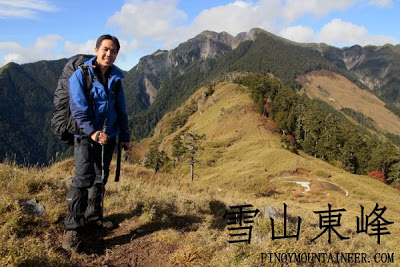 One of my favorite climbs this year was the three-day autumn hike of Snow Mountain (雪山), at 3886 MASL the second highest mountain in Taiwan, and one of the great favorites of its thriving mountaineering community. Its easy access from Taipei – afforded by a once-daily service from Taipei Main Station to Wuling Farm – makes it an ideal climb for first timers in Taiwan, which has been called the "Switzerland of East Asia" owing to its truly spectacular high peaks.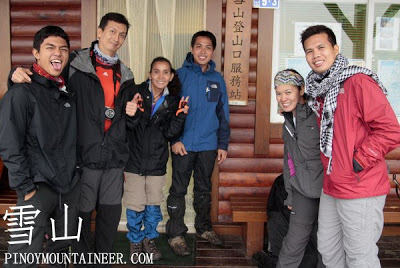 So our group of seven from the Philippines trooped early morning on November 10, 2011 to Taipei Main Station to wait for the bus, which took us up the highlands to Wuling Farm (武陵農場), itself a tourist attraction being a mountain park, which, by the time we arrived, had turned in a beautiful autumn atmosphere. The only unfortunate thing was that it was raining so hard when we arrived in Wuling, and the police officers even tried to discourage us from continuing!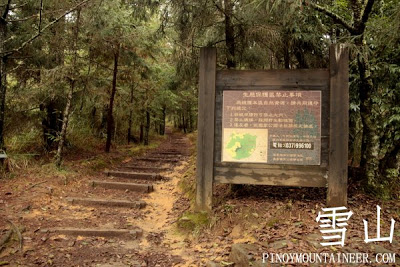 But having come all the way from Manila, and confident that the weather can't be that bad, we decided to push through. The latest weather forecasts were saying that conditions ought to improve on Day 2 or 3, anyway. The modest goal for Day 1 was to reach Chika Hut (七卡山莊), at around 2500 MASL, via a two-kilometer trail. It is traditionally the first campsite on a Snow Mountain standard 2/3 day ascent.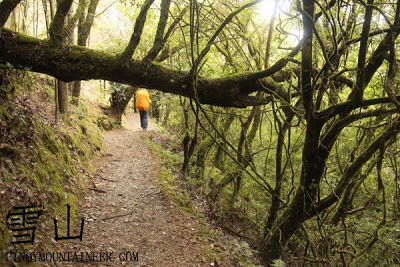 We started off at the trailhead at past 1400H, after watching an orientation video that we did not understand, being in Chinese, but were nonetheless forced to watch. The trailhead was 2200 MASL. It was raining throughout the whole two-kilometer trek, which just took over an hour. If not for the rain, I'm sure we would have found it very easy, but either way, it was a delight to be at Chika Hut. Because of the inclement weather, there were only a few people and we had one large dormitory room to ourselves! After a nice dinner of beef snow, we retired early, praying for better weather (and a successful summit bid) the next day!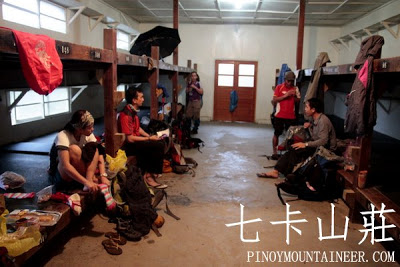 Snow Mountain (雪山) Autumn 2011
#212: Day 3: 369 – East Peak – Chika Hut -Wuling Farm