Hiking matters #222: Mt. Kilimanjaro, Day 2 – Onwards to Kikelwa Campsite via Rongai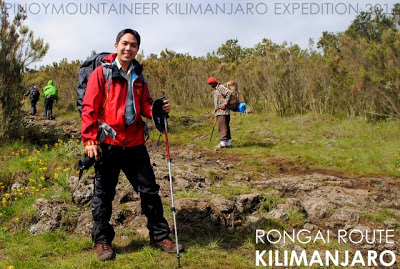 The Kilimanjaro adventure continues from HM#221, onwards to the Second Campsite, also known as theKikelwa Cave Campsite. During the evening, I slept comfortably, probably because of the cumulative fatigue that began to build up in Manila. Nonetheless, when we woke up, the sun was also up, bearing the promise of better weather for our second day of hiking.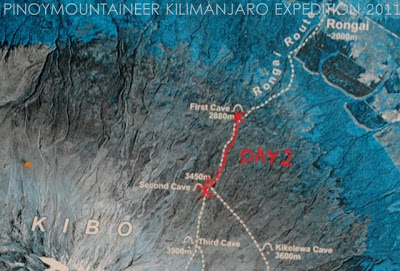 Moreover, the second day was to be another relaxing day, involving just four hours of trekking. The slope was very gradual, and we were just expected to gain a modest 570 meters, from 2880 MASL to 3450 MASL (see trail map above).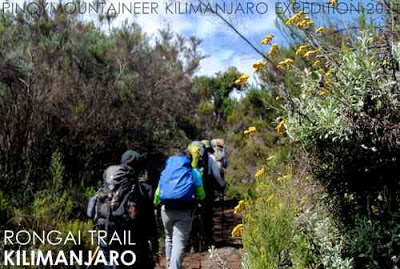 Along the trails, I took time to take pictures of the beautiful flora. The trail was very easy, and the description of "it's just like walking to Mt. Pinatubo" is quite accurate to describe this day! As for temperature, it was just like a summer day in Mt. Amuyao or Mt. Ugo…I was just wearing a shirt and occasionally, a windbreaker.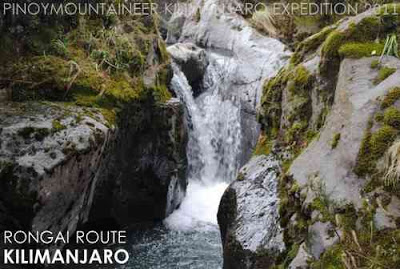 Still, even though it was a relaxing trek, we were being conditioned to walk slowly, much slower than usual. An occasional falls that ran with the brook to our right provided relief from the trail which practically looked the same from start to finish! "Pole pole" (Swahili for "slowly"), the guides keep saying, is the surest and only way to reach the summit.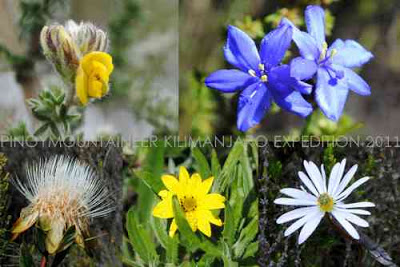 The trek concluded upon our arrival at the Third Cave. Since we arrived very early in the afternoon, I took time to take pictures of the birds who have congregated in the campsite, likel attracted by the food we've brought. The robin, was particularly gorgeous as it circled around the campsite.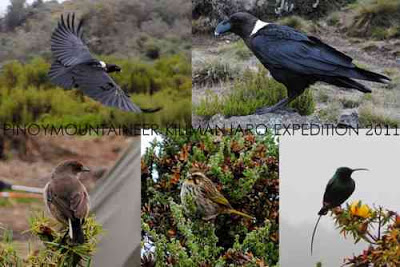 So far, so good! But we knew that the climb was just starting, and we had to brace for the inevitable difficulty that is upon us . It will be colder and tougher on the days to come. The adventure continues in HM#223.