PinoyMountaineer reaches Mt. Elbrus summit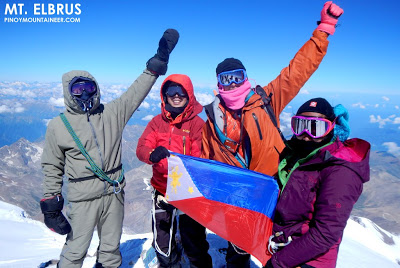 MANILA – The PinoyMountaineer Mt. Elbrus Expedition 2013 has ended with a successful and safe climb, with our group of eleven Filipinos ascending Mt. Elbrus via the normal route from July 15-20, 2013. Four members of the team – me, Koko Roura, Jacob Sarreal, and Carina Dayondon, reached the summit, West Summit (5642m), at 1025H Moscow time (1425H Manila time) on July 20, 2013; five others – Cynthia Sy, Niel Dagondon, Edmund Padua, Jun Carnate, and Farah Pasamonte reached the Saddle (5300m).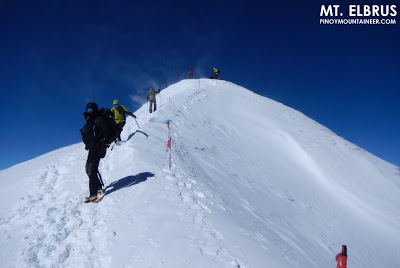 Mt. Elbrus, at 5642 MASL the highest mountain in Europe, is the second of the Seven Summits I have reached, after Mt. Kilimanjaro in December 2011. I will be blogging about the climb from Hiking matters #355-350 in the coming days, and will be posting more pictures in the PM Facebook site. I thank C.O.R.E., Columbia Sportswear, Black Diamond, and R.O.X. Philippines for the gear and clothing that I used in the expedition, for GMA News TV for featuring the climb, and for everyone who supported us in the expedition!