Hiking matters #250:The Holy Ridge (雪山聖稜線) Day 4: The precarious crossing of Mt. Sumida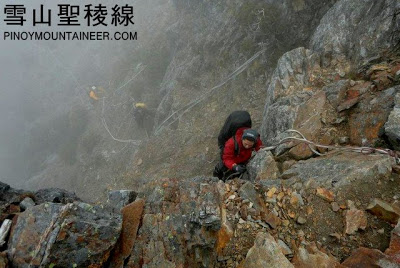 Day 3 (Hiking matters #249) of our six-day Holy Ridge hike saw us successfully cross over from 369 Hut to Sumida Shelter – in a trek through ridges and scree slopes that lasted for twelve hours. Carrying a 23-kg. bag the whole time, I was exhausted when I arrived at the shelter. Little did we know that Day 4 would be even tougher.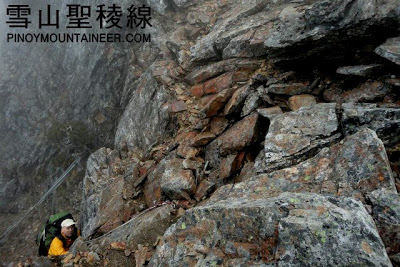 We started trekking at 0630H, and very soon, we were confronted with the menace of Mt. Sumida itself, which we quickly realized was the crux of the climb. A series of near-vertical, cliffside rock formations had to be negotiated. There were no harnesses. Instead, a rope would be tied to your backpack, and pulled, as an 'assist' and a 'safety'.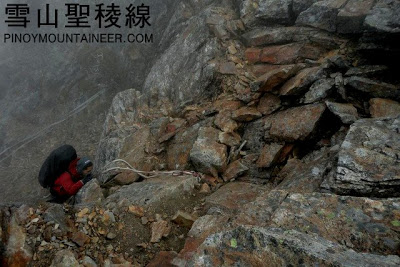 There was no choice but to continue; this was the only way to proceed with the Holy Ridge traverse. There were at least four such roped segments which were definitely Class 5; Honestly I was not prepared to do such climbs on a heavy pack. Moreover, since we were unharnessed on a cliffside, just one mistake will take you to the depths of Taiwan. By the time I reached the end, I felt elated but exhausted.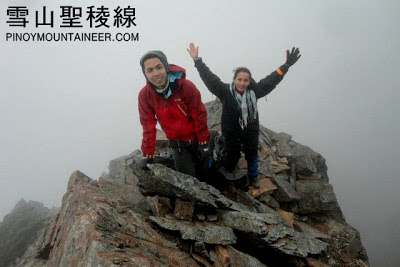 After completing the crux, it was just a five-minute scramble to the summit of Mt. Sumida (3517m). Later on, after the climb, we would consider this summit as the 'main achievement' of the six-day Holy Ridge hike: there were after all nine peaks to choose from. But Mt. Sumida, with its technical roped ascents, is one of a kind.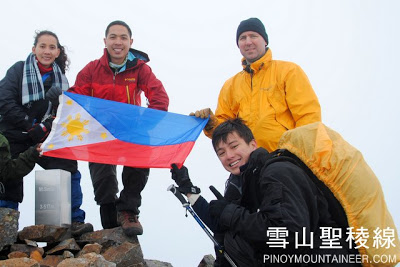 The descent would prove challenging as well, but instead of ropes, we had to negotiate another scree slope, this time more precarious the ones on the previous day. There was the risk of one wrong slip unleashing a rockslide, so we descended carefully and slowly.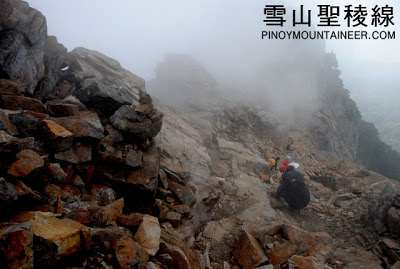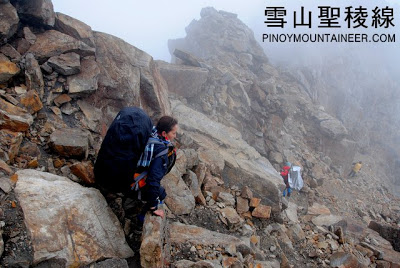 At the end of it, however, having finally finished the ascent and the descent, we were rewarded with a view of Sumida, the mountain we just climbed. To be sure, it looked very intimidating, but we have already crossed it; it menaced us no longer.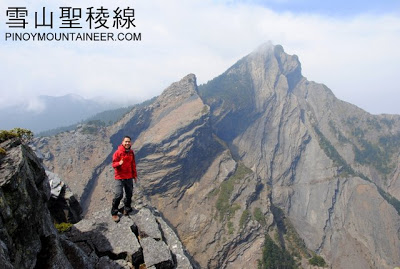 The day, however, was far from over. We still had to cross two peaks: Buxiulan Mountain (3438m) and Bashalayun Mountain (3402m). We planned to stay at Banan Hut, which puts us in good position to assault Dabajian Mountain (3492m) the next day; we could see it looming ahead of us, and the views all throughout were breathtaking.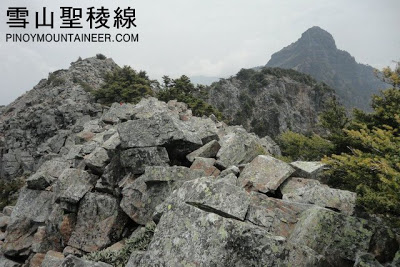 When we finally arrived in Banan Hut, however, it had burned down! By this time, I was beginning to feel febrile and sick so I was very disappointed that we had to trek for another hour before reaching a nameless hut with damaged roof and walls. It had to do; we had no choice. We braced for a cold night, and hoped that the worst is over.