Gear Review: Energizer 7 LED Headlight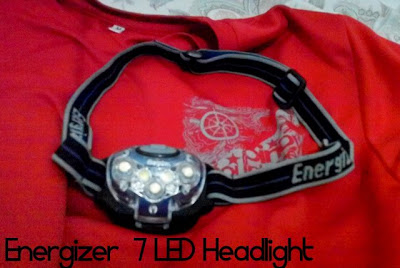 Energizer already has a big presence in the outdoors, with its alkaline and rechargeable batteries powering the GPS units, lanterns, cameras, and other gadgets we bring with us. This time around, it is offering the Energizer 7 LED Headlight as an affordable choice for hiking, camping, and other activities.
I grew up with my Petzl and Black Diamond Headlamps, as well as those cheap Divisoria-fare LED lamps that could be had for 300 pesos. How would the Energizer 7 compare vis-a-vis these headlamps which more or less represent the spectrum of use among hikers?
In terms of features, the Energizer 7 goes head to head with the higher classes of headlamps with its 4 Light Modes: Night Vision (Red Light), Spot, Floor, Spot + Flood (Area). Its brightness of 45 lumens makes it at par with Petzl Tikka — definitely, 45 lumens is more than enough for regular camping or hiking. Too much unnecessary lumens sap batteries fast – even with my Black Diamond Spot, I regulate the brightness to around this level.
For a long time, all-purpose headlamps were dismissed by hikers because they will not withstand the elements. The Energizer 7 has a water resistance of IPX4 — making it in the same class of headlamps built for the outdoors.
One thing I like about the Energizer 7 is its strap, which is slimmer than the usual headlamp straps, and very very comfortable — soft but sturdy. There is also a pad to cushion your forehead when you're wearing it.
Offered at a very affordable price – just half or a third of the price of its competitors – the Energizer 7 LED Headlight is a very promising new arrival. I look forward to testing it out in multi-day hikes, and various weather conditions. In the Philippines, water resistance is a very valuable feature of any gadget, because in every hike, you must assume that it will rain. And yes, when it rains, it pours.
This is for now, as my preliminary gear review. If the Energizer 7 LED Headlamp can be as long lasting and reliable as Energizer batteries, then it will find its way in many a hiker's backpack.