Hiking clubs and service organizations mounting relief operations in flood-affected areas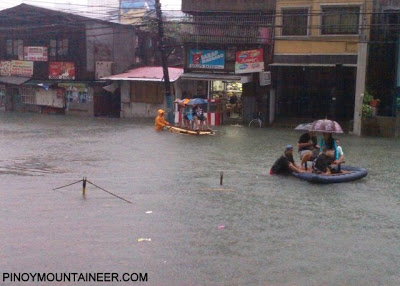 There is a spirit of volunteerism among hikers that make me believe that we can not only reach new heights in the mountains; we can also help build our nation. And in response to the ongoing floods, several hiking clubs, as well as organizations with mountaineers as members, are mounting relief operations. This is just a very partial list. I know (and I am glad) that are there countless others doing their part in making themselves count in movement to help each other — truly the bayanihan spirit at work. If you belong to a hiking group, or if you know of mountaineers who are mounting their own efforts, do let me know so I can include them. You can email me at gideon@pinoymountaineer.com
More details as soon as we can get them. First posted 08/09/2012: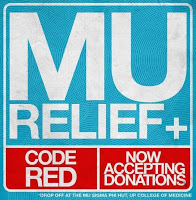 1. Mu Sigma Phi
– This service-oriented medical fraternity and sorority based in the UP College of Medicine has been assisting in disaster operations since Typhoon Frank in 1935, and the organization has been the partner of PinoyMountaineer in the Charity Climbs (2009, 2010, 2011) and the Amputee Climb (2009). For more information about our organization, visit
our website
.
Drop off point: We are accepting relief goods at the Mu Hut, UP College of Medicine. We have already procured thousands of medicines, water purifying solutions, bottled water, and other goods. Clothes, food, toiletries, and cash donations are most welcome. Please contact our Service Chairman, Berbi Berba, at 09178230209. You can also email me personally (gideon@pinoymountaineer) and I can coordinate this.
Cash donations.
Cash donations are most welcome, and will be used to procure more medicines and supplies. For more details, please contact Berbi at 09178230209.
2. UP Mountaineers – The UPM has always been responsive to emergencies both within and beyond the mountaineering community, and they were also very active during Typhoon Ondoy. I know that their members, including Romi Garduce, are really passionate about rescue operations.
Drop off point:
They are accepting relief goods at Power Up Tandang Sora and UP College of Human Kinetics. From their
Facebook page
: "Best to give ready-to-eat food, clothes, blankets, towels, mats, diapers, medicines, sanitary napkins, and water. Please also add slippers to the relief goods. Thanks!"
3. AMCI Mountaineering Club – our friends from AMCI are accepting donations in kind or in cash. Evacuation centers and other hard-hit areas are running low on potable drinking water, ready-to-eat food and dry clothes and beddings. Please bring bottled water, canned goods, rice, bread, clothes, blankets, medicine, banig and other items there. We will be accepting donations in kind until Saturday morning.
Drop off points:
1. CIIT College of Arts and Technology 5F CTTM Building Thomas Morato corner Timog, Quezon City 411-1196 c/o Cathy
2. Anino Games, 3F Eurovilla Building, A. Arnaiz Avenue, Makati, 5768488 /co Cathy (a different one from above)
3. Mannie De La Serna's Residence, 18 Sabio Street, Ecology Village Gate 3, San Lorenzo, Makati 0917-5316758 c/o Mannie
Donations:
If you wish to donate cash, you may deposit it to the AMCI bank account below, then send a text message to Weng (0917 5205348) the amount you've deposited. Cash donations will be used to purchase relief kits.
Bank of the Philippine Islands
Account Name: AMCI Mountaineering club inc.
Current account: 0010 0064 14
Volunteeering
If you have the time, we will need you to help put together the relief kits at Mannie's residence beginning on Saturday. On Sunday, please be prepared to take these relief goods to an area to be chosen by AMCI's CommServe, headed by VP Externals Dennis Adriano. If you would like to help, please get in touch with Dennis (09065150441)