Initiatives by mountaineers and our friends to help victims of Typhoon Yolanda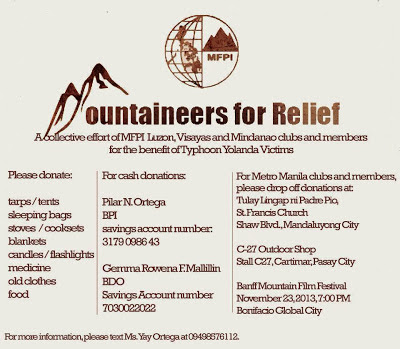 I am, like every Filipino at the moment, heartbroken over the devastation wrought by Typhoon Yolanda. Amid the pain and the difficulty of making sense, dealing with, and overcoming, we always have to think of something we can do to help out – in our little way – and I would like the share the initiatives of hiking clubs and groups of mountaineers which you may want to support. This is an incomplete list – please help me by sharing information about other initiatives. You can email me at gideon@pinoymountaineer.com.

MFPI: Mountaineers For Relief
See the details in the poster above. Thank you Scarlet Villamor for forwarding this to us.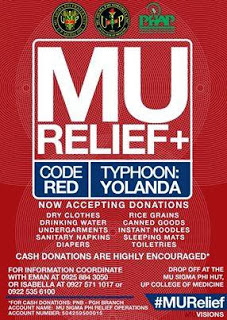 Mu Relief+: Typhoon Yolanda
The Mu Sigma Phi Relief Operations, the Fraternity's and Sorority's disaster quick-response arm, is now again accepting donations for victims of Typhoon Yolanda.
Most important donations:
• Dry clothes
• Drinking water
• Undergarments
• Sanitary napkin
• Blankets
Other recommended donations:
• Canned Goods
• Rice
• Instant Noodles
• Sleeping Mats
• Toiletries
We will be accepting donations, in cash and kind, at the Mu Sigma Phi Hut, at the UP College of Medicine.
For any inquiries or concerns, you may coordinate with Eman (0925-884-3050) or Billy (0927-571-1017/0922-535-6100).
Monetary donations may be deposited at the following account:
Account name: Mu Sigma Phi Relief Operations
Account number: 504259500015
Bank: Philippine National Bank (PNB) – PGH Branch
Donations from overseas may also be coursed through the following:
Swift Code: PNBMPHMM
Routing # 01008-0081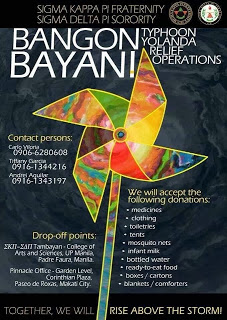 Bangon Bayani
The Sigma Kappa Pi and the Sigma Delta Pi are also organizing relief operations (see poster for details). They are soliciting relief goods that you can give in drop-off points at Padre Faura and Makati.
University of San Carlos Mountaineers
The University of San Carlos Mountaineers and Nature Unlimited Outdoor Club (NULOC) based in Cebu have joined forces for the Assessment and Relief of our fellowmen and mountaineers in the Leyte area who are affected by typhoon Yolanda. Details:
"The Group decided to conduct assessment on the area and check members of the club and asssist rescue effort if needed. They will feed back so as to whom to coordinate with.. most likely to Jason Garrido.
"The next step is relief of which we will be collecting goods and funds from friends and kind individuals. Relief goods maybe given to any USCM member ( SAO may provide us some space C/O Andie Dela Cruz Sabaricos and JesseBoy Aguilar Wee) We hope to deliver the goods as early as possible.
"For Cash donations pls deposit it to Marie Maxine A. Mateo BPI account # 1359363574. Pls Message her if you intent to send Marie Maxine Acuna Mateo. For ML Kwarta padala, Palawan express, Western Union pls address it to Anie Dela Cruz Sabaricos. same way pls msg him. We really incourage Cash donations so as to make the goods in uniform and personalize their needs and also for mobilization of the team. Gina Caneja will help listing in the status of our members.. so if you are from leyte pls msg her or call her 09275428294
For Coordination pls msg: Leoj Onirac ( Joel Carino sun 09239149078, smart 09983634859, Glenn Ramirez Panic Anthony 09231784027
Burublig para ha Tanauan
From @Sxon Morante: "Here's one of the organization initiating a reilef operation to our place Tanauan Leyte. We have a slot on C130 going to Tacloban then will be transported asap to Tanauan. Here's our page,
Burublig para ha Tanauan
you may contact the organizers thru the page the list and other details you need are there to extend your help. Thanks in advance."
HK-based Filipino Mountaineers hike for Tacloban
From Joel Buha: "We just recently finish our Charity Hike For CEBU & BOHOL and now we are on our way to to another Charity Hike for TACLOBAN. I'm planning to send monitary help so that they can buy whatever is needed and my direct contact in Tacloban will arrange everything.
FILMS CHARITY HIKE FOR TACLOBAN
Hong Kong Trail Section 8: Dragon's Back
December 01, 2013
09:00am-01:00pm
Futher details are posted on FILIPINO MOUNTAINEERS SOCIETY facebook page:
www.facebook.com/FilipinoMountaineersSociety
FEU Outdoors: Task Force Yolanda
Our organization is knocking to your kind hearts to help our brothers and sisters in tacloban.
In kind: we prepared the ff.
1 galon of water
Canned goods
Crackers
Candles and matches
Clothes
Medicines (fever, colds, anti tetanus, open wounds)
We also encourage cash donations for more effective buying of goods (whole sale) you can deposit in this account.
601853 906 2678275
(BDO CASH CARD)
DANILO A. MAGSINO
*You can drop your in kinds and cash donations @juanas budbod and coffe legarda.
Thank you and god bless our country.
For information kindly contact the ff persons:
09261043189 (dan magsino) ~ feu outdoors president
09174600662 (Caren somodio) ~ feu outdoors vice president
09278682308 (kiara ragos) ~.juanas budbod and coffee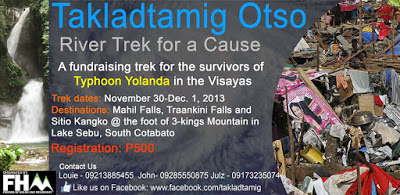 Takladtamig Otso: River Trek for a Cause
This is a a fundraising trek for the survivors of Typhoon Yolanda in the Visayas. Trek dates: November 30-Dec. 1, 2013. Destination: Mahil Falls, Traankini Falls and Sitio Kangko at the foot of 3-kings Mountain in Lake Sebu, South Cotabato. See the poster for details
UP Mountaineers Search and Rescue Team
Information taken from the UPMSAR Facebook Page: The U.P. Mountaineers and its partners in the relief efforts for the survivors of Typhoon Yolanda (Haiyan) are currently focused in delivering basic goods and services in three areas: Guiuan, Eastern Samar; Culion Town, Palawan; and Roxas City, Capiz.
YOU CAN HELP us by donating money and/or relief goods to the following:
CASH – This will be used to purchase medicines and other immediate needs in the coming medical mission to Culion and other outlying islands. Please send your donations through:
Bank of the Philippine Islands
G/F OAC Bldg, San Miguel Ave. Ortigas Center, Pasig City
Pay to: Jessie Ruth Granadillos
Account No. 3990-0122-44
Swift Code: BOPIPHMM
(Please email a copy of the deposit slip to granjrg@gmail.com and we will send you a confirmation of receipt)
RELIEF GOODS – There are two drop-off points where you can send your items. Please note the preferred items, which consists of the basic and most immediate needs:
Power Up Climbing Gym
– All collections will be shipped on Saturday (16 November 2013) to Guiuan, Eastern Samar; the first town where Yolanda made landfall. This is in partnership with Gugma Para ha Guiuan.
– Address: 690 T Sora Ave, Old Balara, Quezon City
– Contact Number: +632 932 7273
– Priority Items: Water, Ready-to-eat Food, Rice, Medicine (Amoxicillin 500mg; Pain relievers, Anti-Diarrhea, Oral Rehydration Salt, water purifying tablets, Surgical Sutures, antiseptic wash, surgical tape), Candles, Blankets
Padyak Para sa Capiz Relief Drive
– All collections will be shipped to Roxas City, Capiz. Capiz Cycling Club will assist in distributing the items and delivering the goods to far-flung communities.
– Address: 23-12th Street corner Victoria Avenue, New Manila, Quezon City
– Contact: Jojo Gutierrez (+63916 600 1225)
– Priority Items: Water, Ready-to-eat Food, Rice, and Medicine (preferably still in the box, for easy transport)
All donations will be logged and acknowledgement receipts will be issued (especially cash donations). A post-operations report will be published for accounting purposes. Any help you can extend will go a long way in easing the conditions of the residents in these towns. More help will be needed as the days pass.