Gear Review:Black Diamond Spot headlamp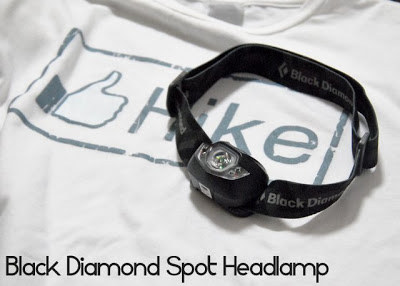 For the past two years, my two main headlamps for hiking and camping have been the Petzl Tikka 2 and the Black Diamond Spot. I like both of them; although I also intend to do a gear review about the Tikka, and also of a new Energizer headlamp I acquired just the other week; this review would deal with the Spot.
See the PinoyMountaineer Gear Review for Petzl headlamps
I purchased my Black Diamond Spot headlamp in the famous street of
outdoor shops in Zhongshan Road North, Taipei
, where it was sold for just 1300 NTD (less than 2000 pesos). Since then, this headlamp has seen action in Mt. Kilimanjaro and Holy Ridge in Taiwan – both of which are six-day treks.
The Black Diamond Spot is a good standard headlamp for hiking; it has higher luminescence than its Petzl counterparts, such as the Petzl Tikka, Tikka 2, and even the Tikka XP. In fact, the newer models of the Spot just upgraded from 75-80 to 90 lumens, making them even more powerful. Better still, the power / function button acts as a 'dimmer switch' and you can actually go as low as 5 lumens. You can adjust the brightness depending on the situation!
It also has the standard features of a good headllamp such a IPX4 water resistance; a respectable 70-meter range, strobe modes, and a 200-hour burn time at low modes. At 87 grams with batteries, it is always of the same weight as the Petzl Tikka XP 2.
Moreover, it has a red light option, unlike the Tikka (the Tikka XP, however, has red light modes).The red light is preferred by many for night vision. As the REI website explains: "Red light does not cause our pupils of our eyes to shrink the way white light can, so it's nice to use when viewing the night sky."
Two small things that I like: First, the Black Diamond Spot has a battery indicator, that shows a green light if there's still enough battery; and red when the battery's about to run out. Considering that AAA batteries don't come cheap, it's nice to have a gauge of battery consumption especially when doing difficult treks when changing a battery during the middle of the trek is not very easy. Second, the switch is actually lockable (just like a keypad lock) to prevent accidental presses that could catastrophically drain your battery while inside your backpack as it is stowed in a Victory Liner bus luggage compartment on the way to Mt. Pulag. Just press the button for 6 seconds to de/activate it!
There are higher-level models, such as the Black Diamond Storm, which has more lumens (100 vs. 45-6) an the Black Diamond Icon, which has a bigger battery pack, but I don't think these are necessary for hiking purposes; actually, even a 45 lumen-headlamp would suffice and the Spot is already on the 'brighter' side of the spectrum. It compares favorably with the Petzl Tikka 2; and its edge lies on its two bonus features and more luminescence that I have mentioned.
Having said thus, I highly recommend the Black Diamond Spot as a standard hiking headlamp.