Hiking matters #300: Successful ascent of Stok Kangri (6153m) in Ladakh, Indian Himalayas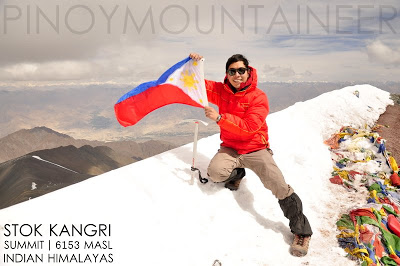 LEH, INDIA – I am pleased to announce the success of our hike up Stok Kangri, 6153 MASL, on our 9th day here in Ladakh and our 5th day in the climb proper, in the Indian Himalayas.
I, together with my hiking companions Jacob Sarreal and Farah Pasamonte, summitted at 11:48 AM local time (UTC +5:30) on Sept. 27, after 10 hrs 11 mins of trekking from Stok Kangri Base Camp (4980m), where we started off at 0137H. The lowest temperature recorded during our night was -15 degrees C.
The summit hike involved crossing through a barren ridge to reach Stok Glacier (5100m), which we had to cross to reach the base of Stok Kangri. We brought crampons and ice axes in preparation for a possible climb up the glacier; fortunately conditions were more benign than our guides had anticipated, but it was also very cold, and slightly windy.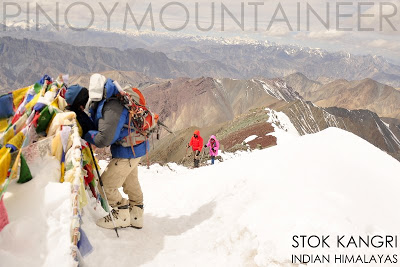 Following our experience in Kilimanjaro, we took it 'slowly, slowly' (pole, pole) to avoid altitude sickness.
We then reached the base of Stok Kangri, from which we had to scramble up to reach the summit ridge – but it proved to be a very arduous leg of the trek. It was here where dawn broke – a big assist to our cold bodies. We pushed ahead, finally reaching the ridge at 0900H. Here, I measured the elevation to be the height of Mt. Kilimanjaro, 5895 MASL.
Finally, we had to negotiate the ridge, which seemed to consist of four sub-peaks, the fourth being the summit. Rocky and precarious, this ridge was made more challenging by the tentative, ice-covered trails that needed some reassurance from our ice axes.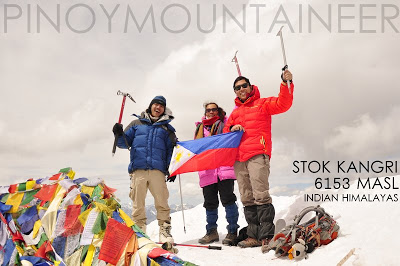 Fortunately, however, it did not snow in the past five days, making the trek more manageable. In the middle of the trek, we breached the 6000m-mark, a milestone for all of us. Still, the summit, while clearly visible to us, looked formidable. Following the advice of the Czech Republic group which summitted ahead of us, we decided to leave some of our things behind, to lend ourselves more strength.
Finally, our team, with our guide Tenjin, arrived at the summit at 1148H New Delhi time; it was a truly a very memorable and triumphant moment for me. Honestly, I was feeling so weak at the start of the trek, and I had prayed to God to give me strength, for I had none left. Thankfully, things went well, and I overcame the elevation of Kilimanjaro, which had given me a more difficult time in terms of breathing.
After the customary pictures (some of our cameras worked, some didn't – that's the way it is at such cold conditions), we headed back to the basecamp. It still took us over 5 hours to do so, but once back there, there was a sense of relief, joy, triumph, but most of all, for me at least, gratitude. "Thank you, Lord," I said over and over. And then, I fell asleep.