Essay: Mt. Romelo and Buruwisan Falls, ten years later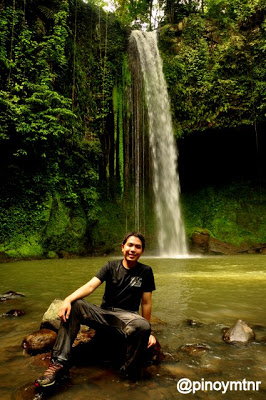 Almost ten years ago, I climbed Mt. Romelo in an overnight trip that coincided with my 17th birthday. I was overwhelmed by the experience. Part of it was because hiking was still very new to me back then; it was only my fourth mountain. But another part was due to the fact that Mt. Romelo – which used to be called 'Famy' – truly possessed pristine beauty.
After that memorable hike, I was all the more convinced that hiking is a great activity that I wanted to be a lifelong passion.
I was able to return to Mt. Romelo in 2007, with the UP Med Outdoor Society. It was then still the beautiful mountain that I knew it was, even though I noticed that there were more facilities at the campsite, and the trails had become much wider, and muddier. My schoolmates enjoyed the experience.
Today, I climbed Mt. Romelo for the third day, hoping to see the same beauty that I saw in the past, and share it to my friends anew. However, instead of rekindling my nice memories of the mountain, I was quite disappointed with the condition of the mountain. It has become a much more commercialized place, and you can see the effects of this commercialization everywhere. The pristine 'Famy' of the olden days was nowhere to be found.
When we arrived, we were asked to give a registration fee of P50. Five years ago, it was only P10 or P20. Ten years ago, there was no fee. After writing our names on the logbook, we were asked to wear an ID which prominently featured the face of Siniloan's mayor. It was disgusting to see how politics finds its way even in hiking a mountain.
The trails were very muddy, because of the heavy traffic that it has to accommodate regularly: of horses and humans alike. This heavy traffic is indelibly linked to hiking activity: more locals now go up the mountain to sell food and drinks to mountaineers, among other things. Indeed, so many huts have been built along the trail, where the usual buco juice and Mountain Dew are sold.
Worse yet, the campsite at the mouth of Buruwisan Falls has been converted into a village, with many wooden houses and huts surrounding the river. There, you can buy liquor, camp supplies, and food. It was not exactly the sight you'd want to see before swimming in the catchbasin beneath. Unsurprisingly, the waters have become somewhat murky.
After the hike, we headed back to our vehicle, and we were surprised that we were being asked for 200 pesos for a few hours of parking. It immediately reminded me of Mt. Arayat, which has turned off a lot of hikers because of a similar profiteering attitude among the locals.
To be fair, not all of the locals are like that. I know that many locals in Mt. Romelo and Siniloan are sincerely wishing and working for a better environment However, the fact that such attitudes exist speak of how hiking has changed the mindset of the community.
I love Mt. Romelo. On my first hike there, our team leader set up a rappel down Buruwisan Falls – an unforgettable experience on my 17th birthday. The night before, we were surrounded by hundreds of fireflies that hovered within the mango trees in the campsite. These memories are special to me, and so are the waterfalls that I think make Mt. Romelo a unique destination, with such rich waterforms so close to Metro Manila.
However, the present situation in Mt. Romelo leaves so much to be desired. To be fair, the theft issues seem to have been resolved, with a barangay official keeping watch at the campsite. Nevertheless, the Mt. Romelo of today seems to be designed for people who want to have fun and spend the night in the campsite, without much regard for the environment. I am not surprised that many of the hikers I know have tended to avoid Mt. Romelo, even as they fondly remember the way it was during the older days.
What happened in Mt. Romelo? Why did it come to this point? A complex issue such a mountain in trouble cannot be discussed in simplistic, oftentimes negativistic terms. Trying to nitpick about "who is responsible" is counter-productive. Instead, let us identify some things that I think we can do as a response to the situation.
"Leave No Trace" principles are very important, and I do agree that places as fragile as Mt. Romelo (and most mountains, for that matter) should have a limited number of people at any given time. "How many?", however, is something for which I cannot prescribe a exact number. Beyond these usual guidelines, I feel that hikers should stop patronizing the stores along the trail and in the campsite. This will arrest the influx of horses that devastate the trail and make it muddy-year round. This will also put a stop to the escalation of commercialization that is going on in Mt. Romelo. There is now electricity in the campsite. Today, they offer gin; tomorrow, they might offer videoke machines. We should make it clear that we do not condone these practices. We should not take part. We should also refuse to give in to unreasonable prices. For example, when we were asked for P200 for the few hours' parking, we said instead that we will only pay half, P100, and we voiced out that we think what they're asking is expensive.
Locals, on the other hand, should not deplete the goodwill of hikers by their patently profiteering attitudes. They need to be told that this will scare away hikers. Moreover, they must realize that the long-term sustainability of the mountain cannot be sacrificed for short-term gains. This strategy will backfire. We have seen a decline of people climbing Mt. Romelo because they have seen the long-term effects of tourism overgrowth. Surely, this people will not be lured by "better facilities" and more merchandise being sold.
Finally, the government needs to articulate its position on this matter, and act decisively either through the DENR or the local government unit. Protect the waterfalls! To the mayor whose face is on the IDs: You will make more impact if you mobilize the community towards a holistic approach in ecotourism that involves training guides in safety, first aid, and environmental awareness; educating the community about the perils of tourism explosion, and regulating the number of climbers that can stay in the campsite at any given time.
This is a shared responsibility, and I know that the solutions I presented are far from complete. But we have to start from somewhere. And I believe that individual actions count a lot. Importantly, Mt. Romelo represents the state of the mountains all over the country. It should at least give us a lot of think about.
Ten years can change a mountain. And it's up to us whether it would be for better or for worse.