Viewpoint: Mt. Pulag may be the coldest place in the Philippines, but we need a thermometer to say exactly how cold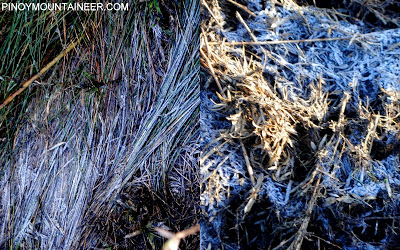 by Gideon Lasco
I was in Mt. Pulag two weeks ago as the culmination of my four-day Ugo-Pulag Traverse, and I can personally attest to the cold temperatures that were being reported on news media. I offer my photos of frost in the blades of grass in Mt. Pulag's summit (see above) as my evidence that indeed, temperatures have reached below freezing.
This is not an unusual phenomenon in Mt. Pulag, and in mountaineering lore. Many hiking clubs, and hikers who love Pulag enough to visit it once a year, will have tales of frozen water bottles, or frosted tents. These anecdotal reports suggest that subzero temperatures in Mt. Pulag are a perennial phenomenon, not just a record-breaking event this 2013.
Some hikers would attest that they have recorded -2 degrees C in Mt, Pulag, and others will go as far as say that the temperature reached minus 5 degrees C. These chilly figures, if validated, would be the lowest recorded temperatures in the Philippines.
But how can we validate these anecdotal reports if we do not have an official, scientific thermometer to corroborate them? Indeed, it is very unfortunate that our news media, when they reported, had to rely on hearsay. For instance, when GMA-7 reported that
"temperature reaches zero degree on Mt. Pulag in north Luzon."
, their evidence seemed to solely be based on the online brochures of tour operators. In
a more carefully-written article in the INQUIRER
, the writer noted that PAGASA cannot validate the reports of subzero temperatures, because they do not have a monitoring station in Mt. Pulag.
I do not cast doubts on the reports of well-meaning hikers and tour groups, because I actually believe them, and I myself testify that it was very cold indeed in Mt. Pulag; I am even offering a photo as my evidence. But temperature is not something that you measure with testimonial or photographic evidence. You measure it with a thermometer, preferably an official one, validated and calibrated by meteorologists and other experts.
That is why I am calling on PAGASA to set up a monitoring station, or at the very least, an official thermometer, in Mt. Pulag. This will enable them to track the coldest temperatures in the Philippines, which should be of interest to hikers, meteorologists, and the general public alike.