Hiking matters #296: Stok Kangri (6153m) Day 1: From Spituk to Zingchan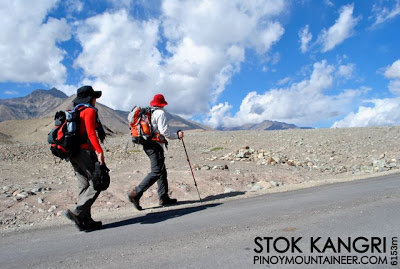 After climbing the 5,895-meter Mt. Kilimanjaro last December, I was thrilled with the possibility of pursuing a 6000-meter peak. In my mind, it's a psychological barrier, for after having some difficulty breathing in the final approach towards Uhuru Peak, the summit of Kilimanjaro, I entertained some doubts about my physical capability to go higher.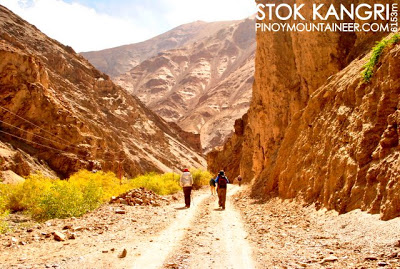 And so, when the opportunity to travel to India came, I decided to go for Stok Kangri, at 6153m the "highest trekkable peak" in India. I was joined by my friends, Farah Pasamonte who had joined me in Kilimanjaro, and Jacob Sarreal. This mountain, located at the Ladakh Himalayas in the state of Jammu and Kashmir, is a fairly easy and almost non-technical peak, even though we were hiking towards the end of the season, which meant colder temperatures, snow, and the need to bring ice axes and crampons. In the local language, "Kangri" means snow peak, and "Stok" is the name of the village at the foot of the mountain.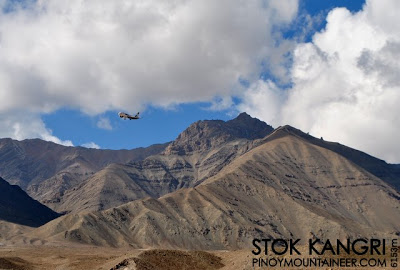 Despite the supposed ease of the climb, I came across several articles in the Internet saying that Stok Kangri is actually a challenging trek, and the summit success rate is exaggerated by tour operators, to encourage people to try it. To maximize our changes of summiting the mountain, we decided to spend three days in the town of Leh, which at around 3400m is a good place to acclimatize. We did a short trek to Shanti Stupa (Hiking matters #254) and a drive up and another short trek in Khardung La, dubbed the "highest motorable road in the world" at over 5300m.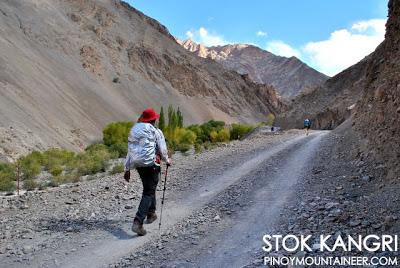 Finally, on September 22, 2012, we started trekking, from a place called Spituk to a campsite called Zingchan. With the barren landscapes all around you, you'd feel that the trek was set "in the middle of nowhere". But we actually trekked on a road, where vehicles passed through – a cause of no small disappointment on our part. Still, since we were excited to be finally doing the trek, we plodded along.
Significantly, along the way, we passed through a river that is actually one of the sources of one of the world's great rivers, the Indus. But after that, the rest of the trek was going through desolate mounds of rock. Fortunately, the trek was not really that long — just about four hours.
Zingchan, the campsite, looked like an oasis in a desert, since it was beside a stream, and there were actually trees on it. The elevation was 3900m. The trek was very easy but we knew it was only the beginning. It will get much harder and colder as we went higher.