Gear Review: Merrell Waterpro Gauley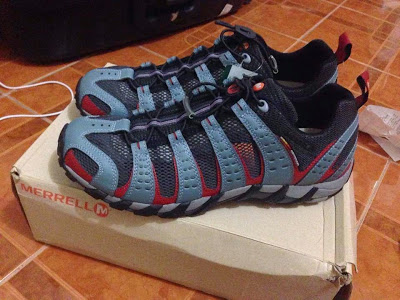 Designed from canoeing and kayaking, and secondarily for hiking, Merrell's aquatic shoes have found use in the Philippines as an all-around outdoor shoe, and I count myself among those who have through the years benefited from this line of footwear. I have used both the Ultrasport and the Maipo in the past, and while in Palawan this year I got the Gauley.
I have mixed feelings about this shoe.
As a water shoe, the Gauley also gets the advantage of being relatively easier to dry and doesn't feel mushy when it's totally submerged in the water — it accepts the fact that getting wet is an inevitable. Obviously, it is very breathable. This 'watershoe' construction is its great plus.
The Gauley does away with the shoelaces of the Maipo, which is a big boost. However, it gets difficult to readjust the buckle closure once you've tightened it. It is also difficult to stow the loose end of the buckle, which can protrude like a loose shoelace. So I think the need to fine tune this more.
One other difference between the Maipo and the Gauley is the material. The Maipo felt comfortabl with its Strobel construction with EVA Strobel board, complete with antimicrobial coating. The Gauley, with its completely synthetic outer and inner material, feels more like Sandugo's Helikon: Liveable, but not as comfortable as trekking shoes can be.
Another drawback that the Merrell Waterpro Gauley offers little traction in muddy or slippery trails, making it less-than-optimal when it's raining – a critique that has been levelled against the whole Waterpro line. This may be a problem especially for beginners looking for a first hiking shoe.
Considering its relative affordability, the Gauley is still a viable option and it will do the job most of the time. However, given its drawbacks  and the superior quality of the Maipo, I would suggest that those looking for a lightweight hiking shoe take a second look before buying this one.