Hiking matters #509: Vinicunca (5035m) in the Andes, Peru's famous "Rainbow Mountain"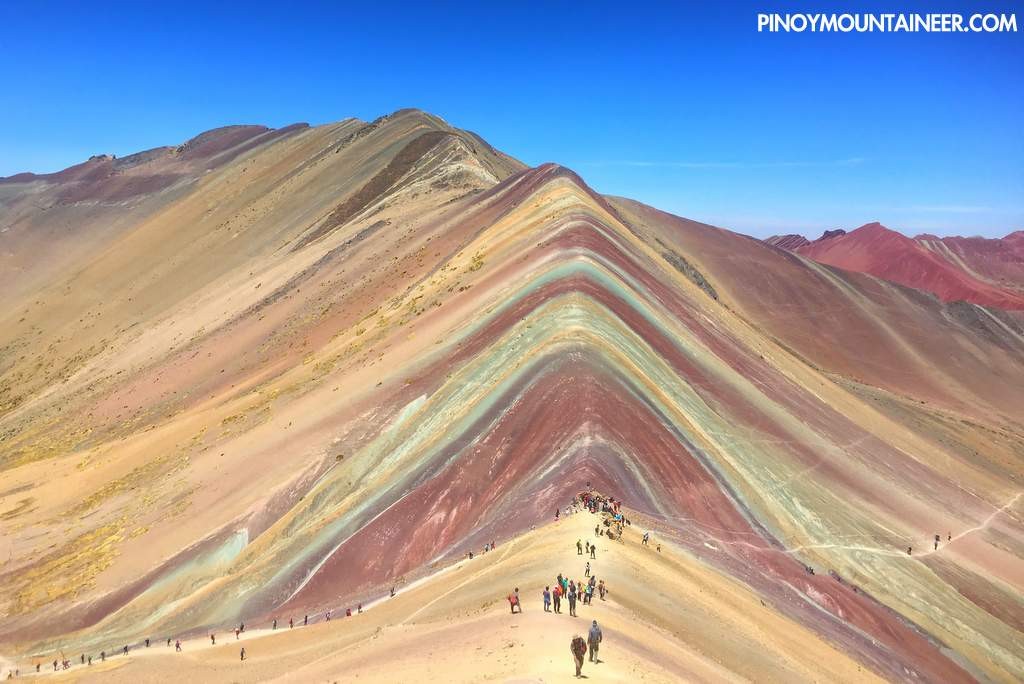 CUSCO, PERU – Hidden in the foothills of Peru's Ausangate Mountain lies a stunning coloration of mountain slopes that have come to be known as the Montaña de Siete Colores – the "Mountain of Seven Colors", otherwise known as the Rainbow Mountain.  From its introduction to tourists early this year, Vinicunca (as it is originally called) has quickly turned into one of  Cusco's most popular daytrip destinations.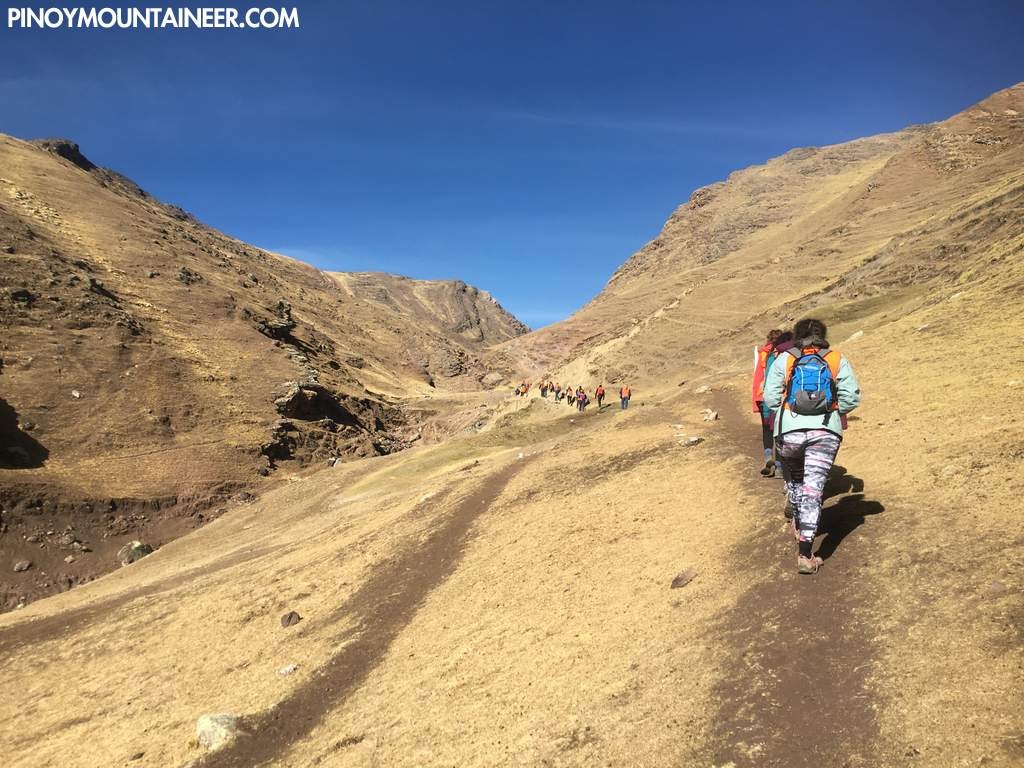 Of course, I could not let the opportunity pass. Two days after my arrival from La Paz, Bolivia en route Lake Titicaca (see Hiking matters #508), I joined a tour group going up this fascinating mountain. Aside from the unique coloration, the fact that it was 5035 meters above sea level was a big come on, as it would allow me to test my lungs at an elevation over 1500 higher than that of Cusco.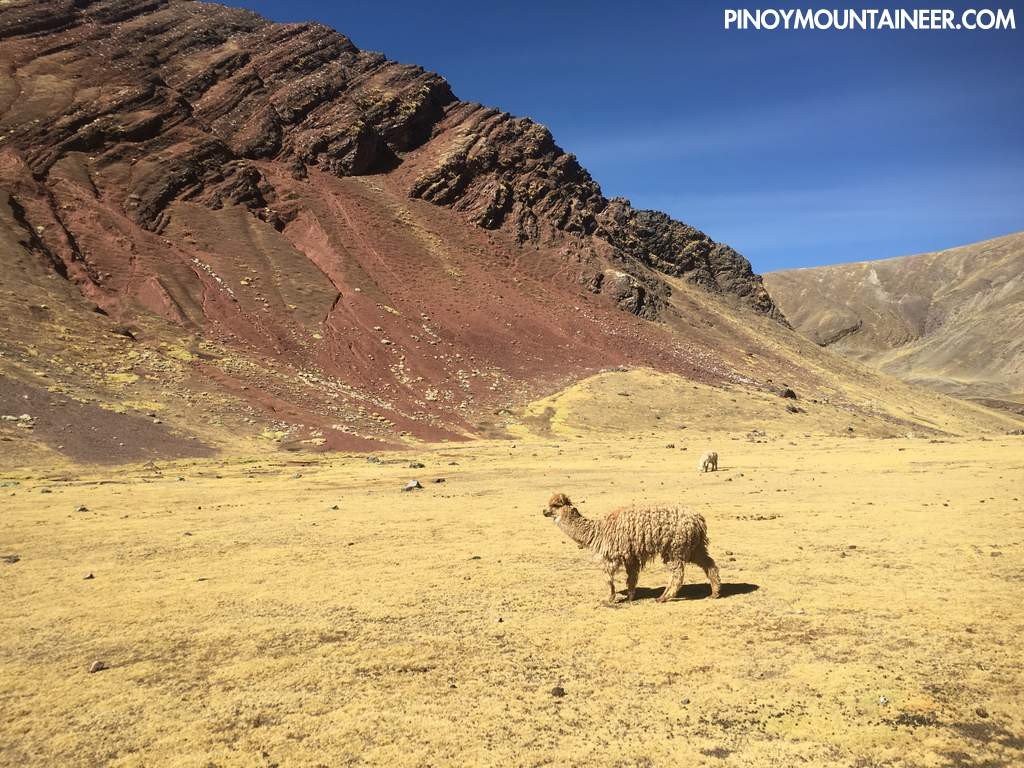 We left Cusco at around 4 am and arrived at the base camp three hours later, where breakfast was served. The landscape was bare, but inhabited by a pastoral community with herds of llama and alpaca. The breakfast was typical Peruvian fare: bread, pancakes, and of course, most refreshingly, coca tea.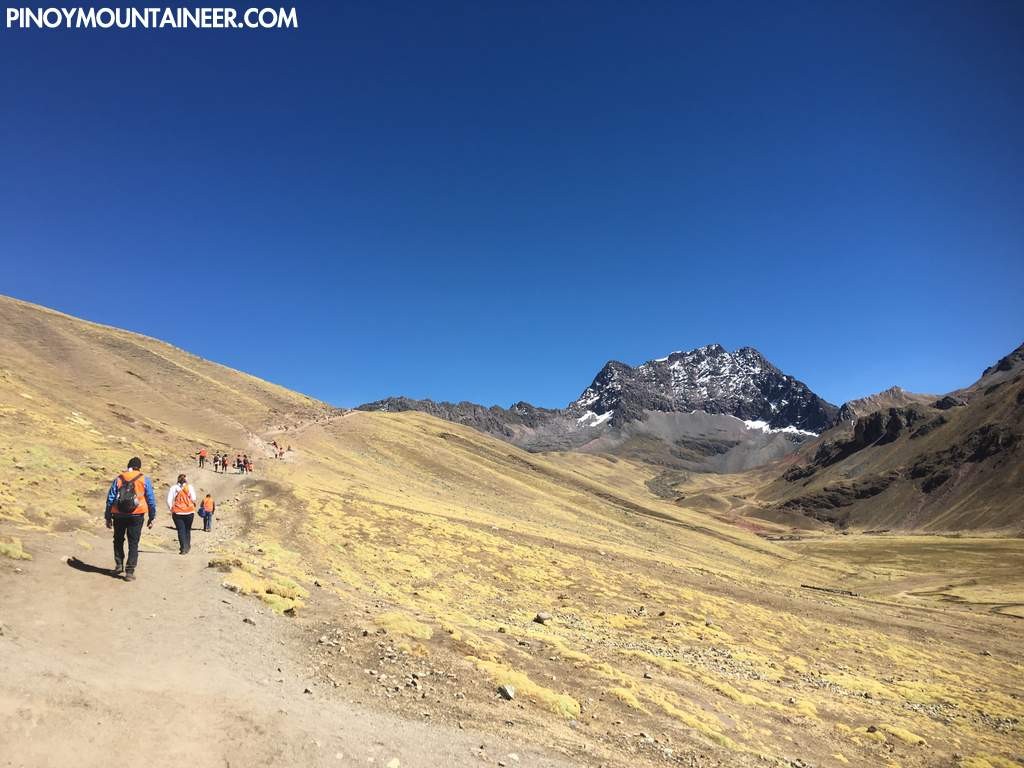 The hike started at around 4300 MASL and was no different from the high-altitude desert hikes I've done in the past – I was even reminded of Mt. Toubkal in Morocco. About half of the tourists rode mules or horses, and more joined them as the altitude took its toll. As for me, since I knew that I hadn't fully acclimatized yet, I hiked at a moderate pace, ever reminded of Kilimanjaro's timeless of "pole pole" (slowly, slowly).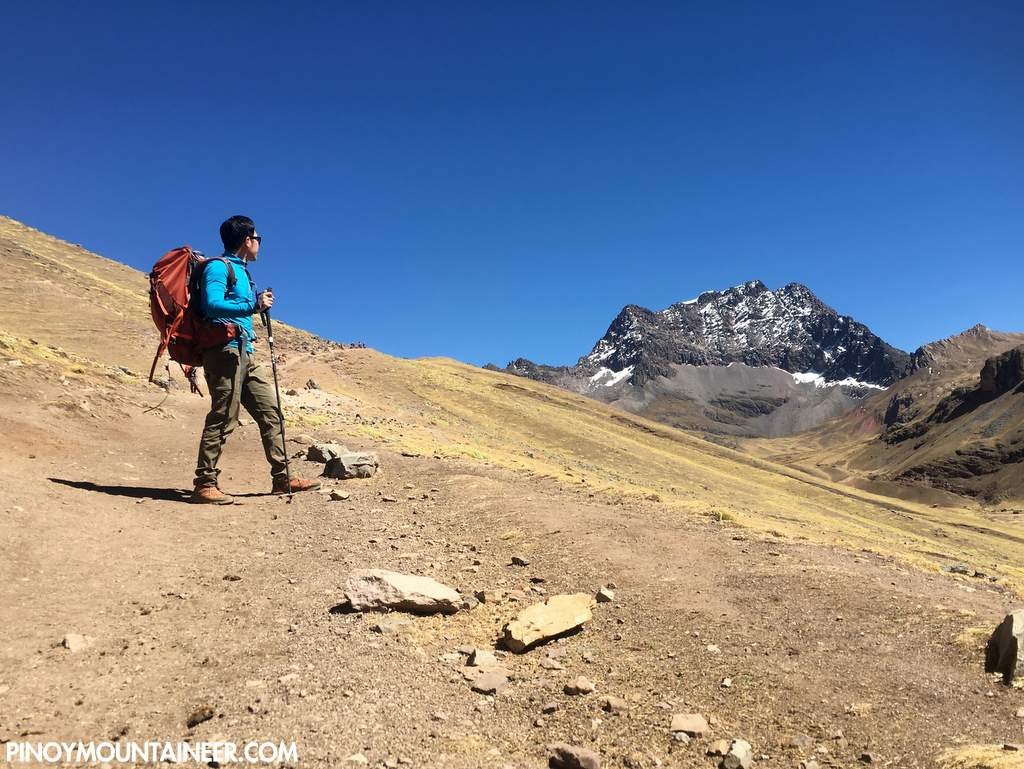 A checkpoint necessitated the payment of 10 soles per person, and made for a nice rest stop. But I preferred to walk continuously even if slowly. Finally, the col leading to the saddle of the Rainbow Mountain emerged, and I clawed my way to the top, reaching the summit at 1108H.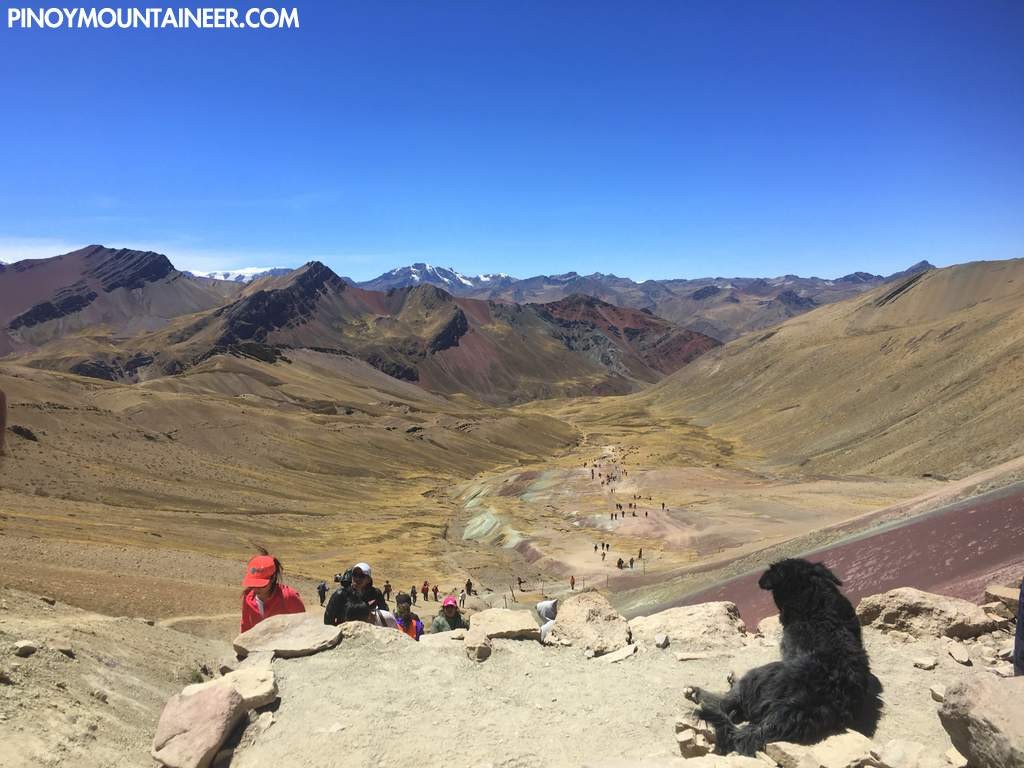 It is only during the final hundred meters or so that you will fully appreciate the coloration of the Rainbow Mountain. But it delivered as it promised. Though not as vivid as the hyper-edited pictures of the mountain marketed in Cusco, it is still very impressive to the naked eye.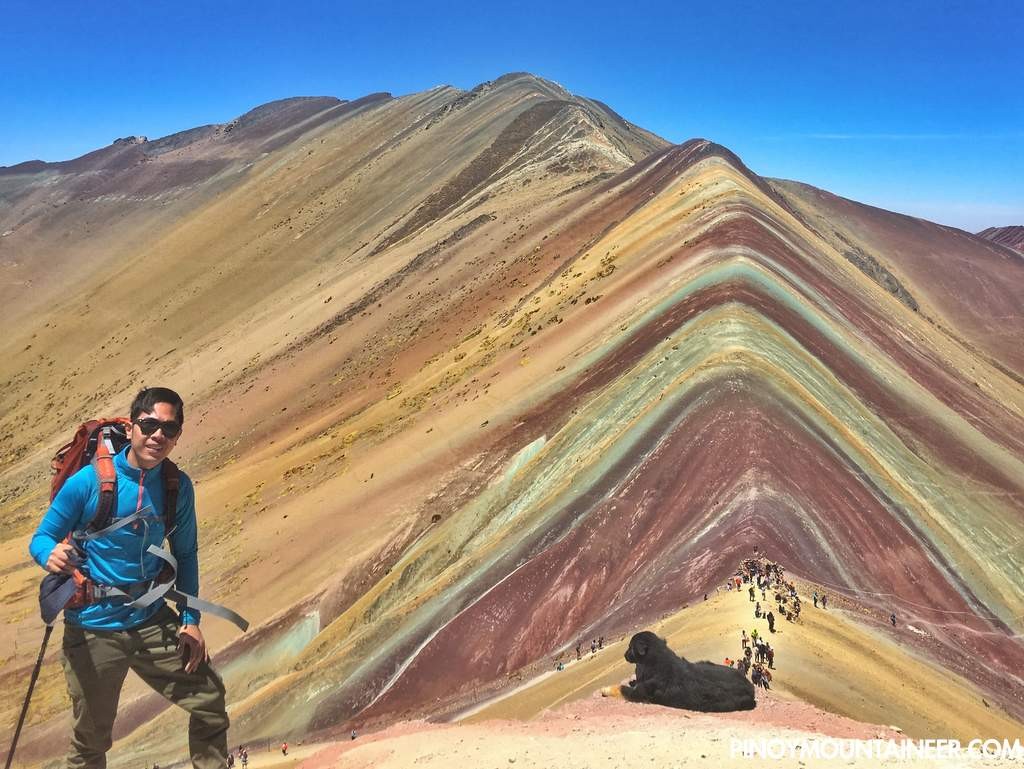 At the summit itself, opposite to the Rainbow Mountain, lies stunning views of Ausangate, which stands at a towering height of 6382 MASL. The winds were quite fierce at the top and with the intense sunlight I knew I could not stay long. Fortunately there were fellow solo hikers with whom I gladly reciprocated the taking of photos with!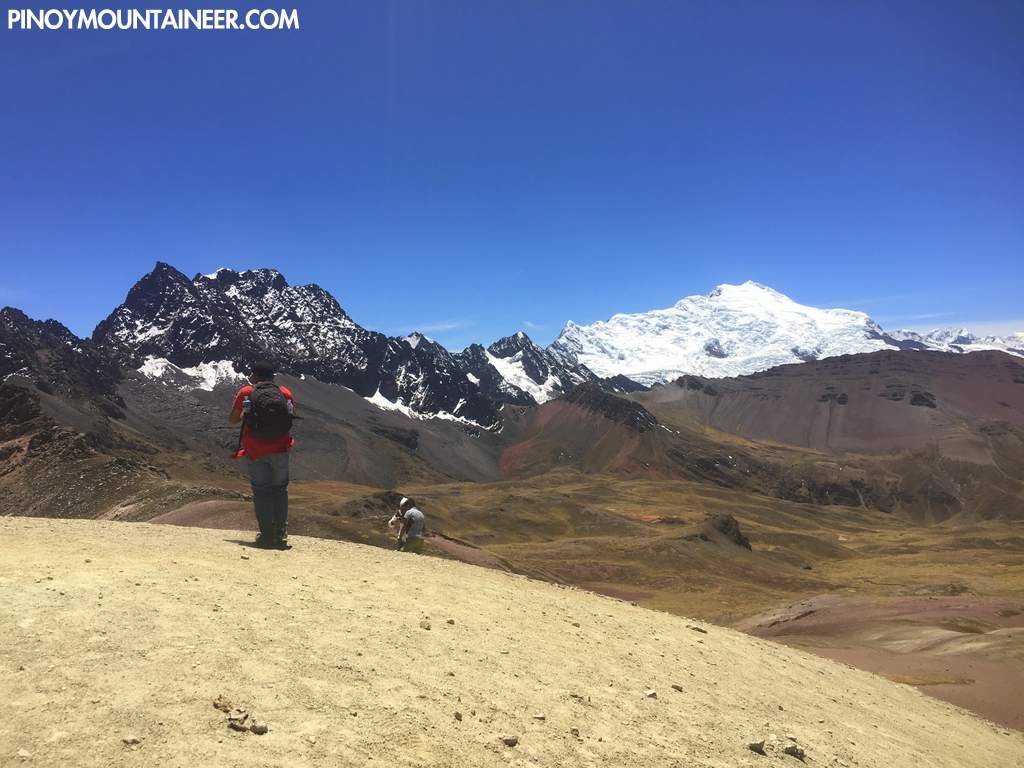 The descent, as always the case in high-altitude settings, was much easier. Late lunch of quinoa soup and lomo saltado was waiting for us at the camp. Amazingly, I met a couple of Pinoys who also did the hike (A big hi to both of you!) – South America should really be on the map of adventure-oriented Pinoys (no visas required!). Back in Cusco after another 3-hour ride, I rewarded myself with a hearty meal near Plaza de Armas and had a good night's rest – dreaming of rainbows.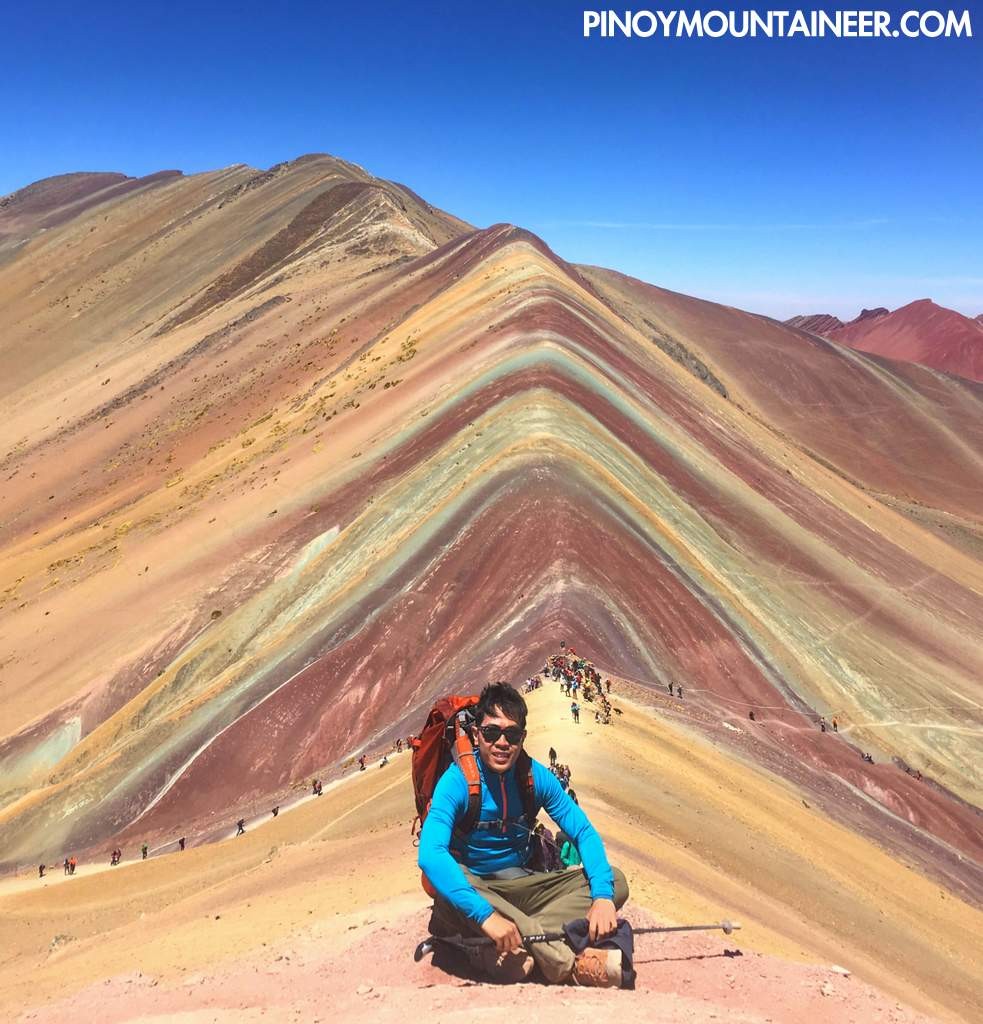 Some practical notes:
I paid 120 soles for the hike. Just ask around in the many tour operators around the historical square. It's fairly easy to arrange and they have daily departures.
Spend a few days in Cusco before attempting the hike in order to acclimatize. Drink lots of tea (coca and otherwise).
The hike can be done by any reasonably fit person – and there are horses to bail you out.
Bring a lot of sun protection.
PINOYMOUNTAINEER IN BOLIVIA AND PERU (2016)
Hiking matters #508: Lake Titicaca and Isla del Sol, Bolivia
Hiking matters #509: Vinicunca, Peru's "Rainbow Mountain"
Hiking matters #510: Hiking up Machu Picchu Mountain, Peru
Hiking matters #511: Short treks around the ancient Inca sites in Cusco, Peru