Mountain News: Mt. Pulag is 'fully booked'; 30 is new maximum number of participants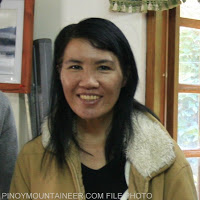 Park Superintendent Emerita Albas
Park Superintendent Emerita Albas of the Mt. Pulag National Park told PinoyMountaineer.com that all March weekends are fully booked due to the sheer volume of people who have informed the park of their intention to climb on those dates. However, Mondays to Fridays are wide open.
The news of Mt. Pulag National Park discouraging hikers to climb on weekends gave rise to rumors that Mt. Pulag is 'closed'. However, this was belied by Ms. Albas. "I am encouraging all hikers to consider hiking during weekdays, when there are only a few people," she said, adding that she also already appealed to organizers to modify their schedules accordingly.
The PASU also said that she is setting 30 as the new upper limit of the number of participants per group, particularly on weekends. On weekdays, however, the park can accommodate up to 40 but a smaller size is still recommended. It is important to note, though, that the '30 as upper limit' rule is at the moment a recommendation and an appeal to would-be hikers rather than an imposition. "30 sana ang maximum," Ms. Albas reiterates.
In a related development, parts of the Akiki trail have suffered from brushfires in the past weeks, a phenomenon that has also happened in previous years. Due to the additional sun exposure brought about by this incident, she recommends the Akiki trail be tried only by experienced hikers, and also suggests 15 as the maximum number of participants per group in this trail.
These new developments that set limits to participants will surely be welcomed by many hikers in light of the recent buzz regarding what is perceived as an overcrowding in Mt. Pulag that goes beyond its carrying capacity. However, considering how divisive this environmental issue has been, reactions will likely be mixed, with others batting for stricter measures. Moreover, how well these new policies, being non-binding, will be implemented remains to be seen.
(For its part, PinoyMountaineer.com amended its main Mt. Pulag article last week to include an environmental concerns section, which includes this advice: "To reduce impact on Mt. Pulag, PinoyMountaineer suggests avoiding camping in the weekends or peak seasons such as the Holy Week, or minimizing group number to 15 or fewer (with 30 as upper limit).")
Others have called for self-regulation, as well as the need to orient hikers before climbing. Notably, though, Mt. Pulag is actually one of the few mountains in the country where an environmental briefing is done prior to the climb so the problem may really lie in the volume of hikers. Moreover, of carrying capacity, Ms. Albas says, "We are waiting for the results of a research study. I have already informed some organizers about this several times."
For clarifications regarding Mt. Pulag's new policies, you may contact the Park Superintendent, Ms. Emerita Albas, at +639196315402.