Hiking matters #321: Ugo-Pulag Traverse Day 2 – From Indupit up Mt. Ambasa to Cabayo village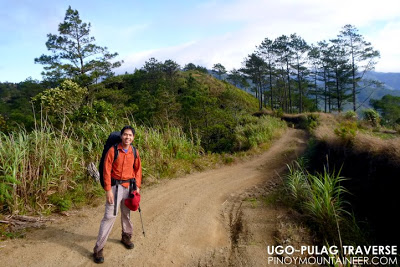 Continued from Hiking matters #320: Waking up in Indupit village, I was excited about Day 2, for, from that point onwards, until I reach Mt. Pulag, I would be hiking in trails I've never seen before. Ugo is done; now is the time to connect it with Pulag. Can we manage it? That was the question that lingered in my mind and motivated me to do as much hiking as we can every day.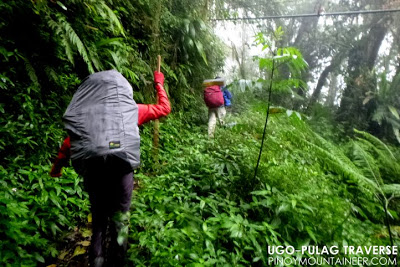 We started hiking at 0740H on a misty morning, without the views of Mt. Palali and Mt. Pulag that I look forward to when I'm in Indupit. Nonetheless, early on, the trail proved rewarding (and surprising). Just past Indupit, we passed through a beautiful mossy forest which had a lot of limatiks! Who would have thought that Mt. Ugo on its hidden side had this kind of environment? It was mostly downhill until we reached Brgy. Pangawan, the 'Boundary' between Benguet and Nueva Vizcaya. We crossed the road that led to Bokod and Baguio — certainly this would be a temptation to hikers, of taking the passing bus instead of continuing into the long unknown!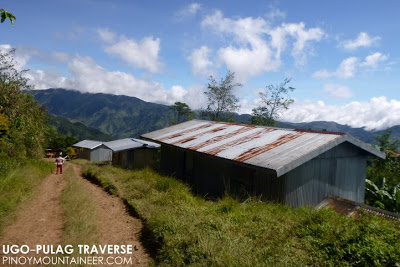 One of the sitios of Pangawan village along the trail
Pangawan was a large barangay with stores and water sources; I munched on a banana, as I've always made it a point to consume as much fruit as possible when trekking, instead of eating processed foods. After a brief stop, we marched onwards, taking the road rough that led to the vegetable farms further north. Further sights came to view: Nayao lake, Dayap village, among others.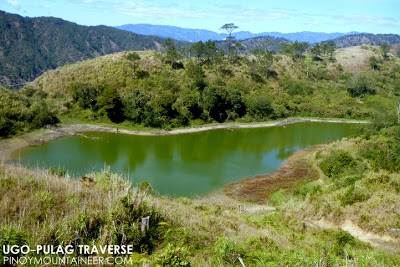 Then came the ascent up the slopes of Mt. Ambasa, just as it was high noon, I was calling it 'Mt. Ambasag' as I had though that the day's trek would be more gradual. On the contrary, Ambasa provided a challenge for our legs. In retrospect, though, it was more of the heat than the elevation that made it difficult (In
the itinerary I made for a six-day Ugo-Pulag
, I made sure that Ambasa is hiked at mid-morning, not at noontime)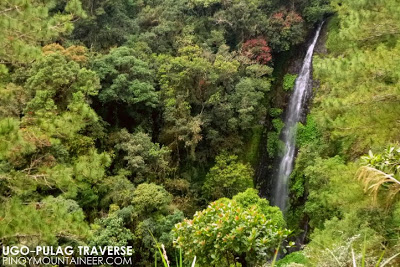 Past Mt. Ambasa, there were further surprises: A series of hanging bridges, which added a local flavor to the trail; a tall waterfall, nameless yet beautiful, and a couple of wild boar scampering through the woods. Truly, I though, this was a 'living trail', alive both in the natural and the cultural sense of it. What a privilege it was to be trekking through it!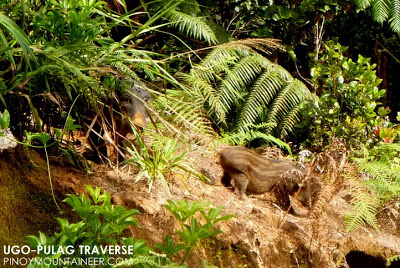 Philippine warty pig (Sus philippinensis) as viewed from the trail
We may have reached the highest point of the day when we reached the crest in Ambasa; from that point onwards it was a continuous descent, through valleys and more hanging bridges, till we reached Dayap villlage; we no longer stopped, but instead continued on to make the most of our second day.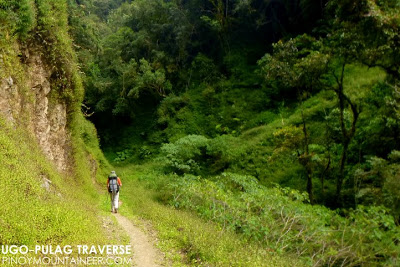 After three kilometers more of trekking, we reached Cabayo village, which rests at the slopes of Mt. Purgatory. We were warmly welcomed by the locals, and offered us a stay at the barangay health center, which we gladly accepted. "Where are you going?", some of them asked. When I replied "To Mt. Pulag", they were incredulous. "It's a very long way from here!" they exclaimed. And they were right: It would take 25 more kilometers to reach the Ranger Station, and we had over 1300 meters of altitude to gain the next day.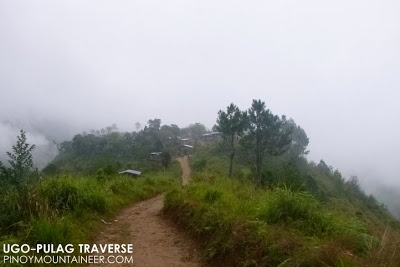 Cabayo village at the slopes of Mt. Purgatory
MT. UGO TRAVERSE TO MT. PULAG
Hiking matters #321: Indupit – Cabayo
Hiking matters #322: Cabayo – Babadak
Hiking matters #323: Mt. Pulag