Congratulations, Romi Garduce, for reaching Vinson Massif and thereby completing the Seven Summits!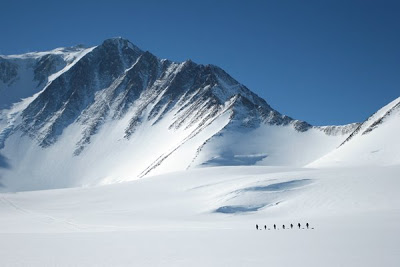 PinoyMountaineer heartily congratulates Filipino mountaineer
Romi Garduce
for reaching the summit of Vinson Massif, at 4892 MASL the highest mountain in Antartica, and for being the first Filipino to reach all
eight
of the Seven Summits of the World!
His decade-long quest, which started in Mt. Kilimanjaro in 2002 and gained much attention with hils successful Everest bid in 2007, is a testament of what the Filipino can, and in the larger context, what an individual can achieve, through passion and dedication. In representing the Filipino nation, Romi Garduce's quest is a point of unity for all Filipinos, and particularly, all Filipino mountaineers.
The
Mountain Madness website
relayed news of the successful ascent of Romi, and also mentioned that Romi's hiking companion and fellow UP Mountaineer, Levi Nayahangan, is safely back in Punta Arenas ahead of Romi Garduce. Days before leaving for Antartica, Romi told PinoyMountaineer that Vinson will be a "mental climb", referring to the extreme conditions in Antarctica that make the climb a tough challenge.
We are excited to hear from Romi as soon as he comes back! Hopefully, Romi will once again send us photos of the summit and the climb!
ROMI GARDUCE'S SEVEN SUMMITS CLIMBS
| | | |
| --- | --- | --- |
| 2002 | Kilimanjaro | Africa |
| 2005 | Aconcagua | South America |
| 2006 | Everest | Asia |
| 2007 | Elbrus | Europe |
| 2008 | McKinley | North America |
| 2008 | Kosciuszko | Australia (B) |
| 2011 | Puncak Jaya | Oceania (M) |
| 2012 | Vinson Massif | Antarctica |