Call for Volunteers: Establishing the Grand Cordillera Trail (GCT)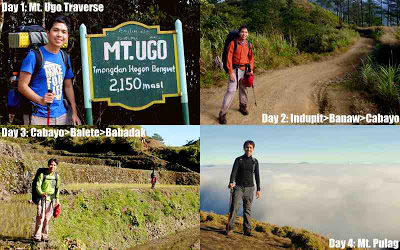 In January 2013, I did and documented the Ugo-Pulag Traverse, which opens the door for connecting two of the Cordillera's major peaks: Mt. Ugo and Mt. Pulag. In between, the traverse also opens a possibility to branching off to Mt. Purgatory. This leg alone contains almost 100 kilometers of trail, translating into a six-day hike (but doable as a four-day, as what we did).
What this hike shows is that the Cordilleras, with its existing network of trails and footpaths that have been used by locals for centuries, is a fertile ground for establishing the Philippines' first trail system, what we can call the Grand Cordillera Trail – a long-distance trail from Mt. Ugo all the way to Sagada and even beyond. The Ugo-Pulag Traverse comprises the first three sections of this trail.
Accomplishing the Grand Cordillera Trail requires a collaborative effort; obviously I cannot do this by myself. In fact, there have been attempts in the past to establish something like this, and many sections have been done before (i.e. JP Alipio et. al) and I think the best way forward is to bring together people who want to see this done. I am in touch with explorers who have made attempts in the past – such as Regie Pablo and Banny Hermanos; I believe we can learn a lot from their experiences and insights.
Towards this end, I am calling for volunteer groups and volunteer individuals who would like to help me establish this trail.
Volunteer groups are groups – from 3-10 persons – who are willing to explore or climb an assigned section of the GCT. To volunteer as a group, the team leader should contact me about the projected date of your hike, names of the individuals joining. I will act as the climb adviser and discuss with the team leader about the possible routes to take, and help provide contacts. The contribution that volunteer groups will have is information regarding the trek, suggested itineraries, and photo documentation.
Volunteer individuals are hikers who want to join me when I will personally explore sections of the trail. Because I climb in small groups (usually 3-7 persons), opportunities for this are quite limited, but I am seeking people who have exploration experience, passion in navigation and maps or in researching about mountains, and knowledge of the area.
Volunteer groups and individuals will be invited to join GCT conferences that I will be holding in Manila every quarter of the year.
Email me at gideon@pinoymountaineer.com if you are interested! This is a project that I'm really excited about.