Mountain News: Mountaineer Victor Joel Ayson missing in Mt.Maculot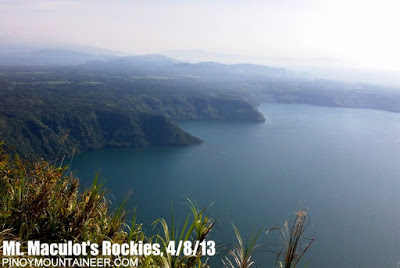 FINAL UPDATE (4/13/13 1650H): The body of Victor Ayson was found beneath the Rockies, near the banks of Taal Lake, this morning. "I'm very sad to hear about the news that the body of Victor Ayson has been found in Mt. Maculot today. I join the whole mountaineering community in offering my prayers to his loved ones."


UPDATE (4/9/13 1947H): There is still no news regarding Victor Ayson. Meanwhile, Mt. Maculot remains open but the trails in the New Trail have become slippery with sand and dust following the influx of hikers and rescuers in the past weeks.
LIPA, BATANGAS – On Easter Sunday, March 31, 2013, mountaineer Victor Joel Ayson, 27, who had just returned from a successful hike of Mt. Guiting-Guiting, proceeded from Batangas pier to Cuenca to do a morning hike of Mt. Maculot's Rockies. He has done the trail previously, and he also climbed many other peaks in the Philippines – from Mt. Pulag to Mt. Apo. Aside from hiking, his passion is photography and he has always tried to combine both, by taking splendid photos of his hikes. Which is also probably why he tried to reach the Rockies early: the view is awesome at daybreak, when the first rays of the sun touches the waters of Lake Taal.
It was so early, in fact, that when he arrived in Cuenca, he found no one at the registration area (it was Easter Sunday after all). He then decided to head to the Mountaineer's Store to leave his backpack, bringing a smaller bag – and his cameras – with him.
An experienced hiker takes just a hour, more or less, to reach the Rockies. Several hikers saw him there by 0700H, and a photograph has even surfaced showing him in one of the rock formations – which, though precarious, are breathtaking. Coming from G2, he would certainly have considered the Rockies as familiar territory. Considering his penchant for photography, he must have taken his time taking pictures.
Beyond his stay at the Rockies, however, evidence of his whereabouts diminishes, then completely fades. A local claims to have seen him descend back via the New Trail at 0900H, but this testimonial evidence is the last of its kind. Victor's girlfriend had expected him to be back in Manila by lunchtime, and when he did not arrive, and neither could he be reached through his cellphone, worry set in, compounded by the eventual realization that he had not claimed his bag at the Mountaineer's Store. Authorities, mountaineers, and the media were soon informed about the disappearance and soon, social media became the portal for updates, under the Twitter hashtag #FindingBiki.
The coming days – Tuesday to Friday – saw the performance of search and rescue operations, participated in by various groups – police, military, mountaineers, volunteers, family, and friends. Much of the mountain, including the lakeside cliffs and ravines, was combed for signs of Victor, but to no avail. Amid the emerging folk explanations offered by the locals, some of which still consider Maculot as mystical, the usual five-day period for SAR elapsed and teams began to withdraw from the operation.
On Sunday evening, a week after the disappearance, the Ayson family announced that they are calling off the search. Samuel Ayson, Victor's father, thanked all those who took part and gave their support, even as he asked for continued prayers.
Victor's fate and whereabouts remain a mystery, and many of his family and friends remain hopeful. "Prayer can move mountains," said John Arvin Ramos. "We are not giving up on Biki," reiterates one of his friends on Twitter, airing the sentiment of many of his family and friends.
There is only one event in the past that is similar to Victor's disappearance. In 2003, a hiker identified as Elyovic Gutierrez, from Cavite, disappeared, seemingly without a trace, in Mt. Madjaas, the highest mountain in Panay island, as he was descending from the said mountain. The search lasted for weeks and until now his fate remains unknown.
In the case of Victor, the response of the mountaineering community has been to support the rescue operations, as it has done in past incidents. A few issues were raised, however. For instance, some have suggested that solo climbing should be avoided as a lesson that ought to be learned, while others have argued against a generalization. Francis Quinon, in an essay in PinoyMountaineer, opined that solo climbing is a "personal choice and a personal responsibility." Of the 14 recorded fatal accidents in Philippine mountaineering, only one was a solo climb, that of Prana Escalante up Mt. Halcon; her body was found a week later.
Meanwhile, Mt. Maculot remains open to the public, although a marked decrease in the number of visitors was noted by the caretakers on Sunday, the day when the search was called off. The influx of hikers since Holy Week has caused the trails to be very slippery, due to the accumulation of sand and dust in the steep portions of the 'new trail'.