Hiking matters #340: Cilai Ridge (奇萊山) Day 1 – From Hehuanshan to Chenggong Hut
In May 2011, on my first hiking trip to Taiwan, I saw Cilai Ridge for the first time, managed to trek its initial leg with our Taiwanese friend 曾禎鳴 and in Hiking matters #174, I wrote that: "Black Cilai is so far the most powerful invitation for me to go back here in Taiwan as soon as I have the time for it."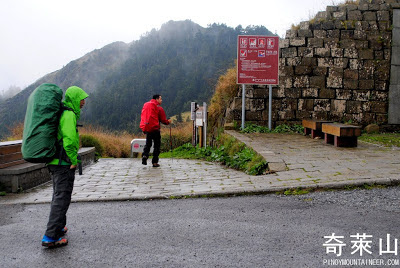 Two years later, on my fifth hiking trip to our northern neighbor, I finally managed to find time for Cilai Ridge, in what turned out to be my 27th birthday climb from May 6-7, 2013. Accompanying me here my hiking buddies Coby Sarreal and Sir Martin Cortez; our Taiwanese friend Bart Lee secured the two permits that were required to go hiking in the Ridge.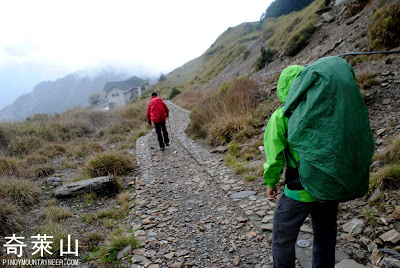 The safety concern was understandable: A majority of Taiwan's hiking deaths are due to this mountain, notoriously called "Black" not just because of the color of its rock, but also because of the tragedies that have taken place in this mountain. The difficulty lies in the steep and slippery scree slopes and precipices that characterize the ridge itself. Accordingly, we prepared ourselves emotionally and physically.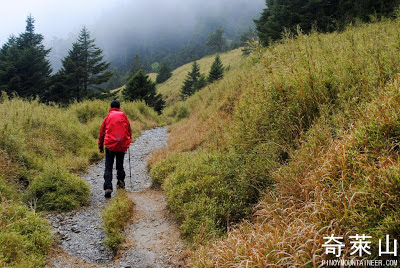 On the evening of May 5 we proceeded from Taipei to Taichung, and the following morning, we took Bus 6506 at the Fengyuan Bus Station, taking us directly to the trailhead, Hehuanshan Community, four hours later. We had lunch at Songsyue Lodge, and at 1430H we placed our permits in the dropbox at the trail entrance and started trekking.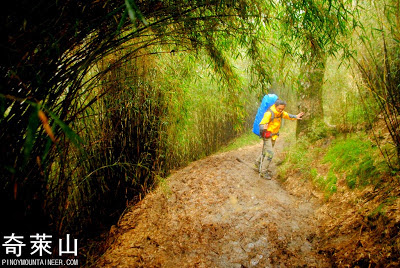 The trailhead is actually more than 3100 MASL, but this height is deceptive. Initially, the trail involved descending around 450 meters, before the steep ascent to the ridge. The necessity of ascending, instead of descending, the final leg of the hike would prove to be a difficult task the next day!


In any case, the 3.7 km descent to Heishuitang cabin (2710m) involved trekking through arrow bamboo slopes (similar to that of Pulag) and subalpine forests, with its refreshing mix of fir, spruce, maple, and conifers. Throughout the descent, the slope was gradual, with well-placed trail signs that characterize Taiwan's trails.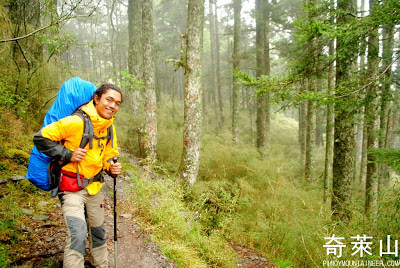 From Heishuitang cabin, Chenggong Cabin, where we planned to stay for the night, was just 1.1 kms away and involves the first part of the ascent. This time the trail was more forested, and steeper, but the steep sections were always supported by ropes. By this time, it had began to rain, making the trek a bit more challenging; we encountered some descending hikers who told us they didn't make it to the Main Peak because they had ran out of time.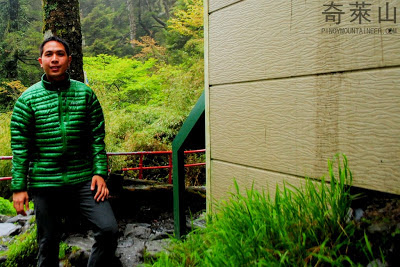 By 1700H, we reached Chenggong Cabin, 4.8 kilometers away from the trailhead. Though our hike for the day was brief, we knew that Day 2 would be a very long day and we decided to have early dinner so we could have plenty of sleep; we set our alarms to 0300H and went inside our sleeping bags. What would 'Black Cilai' bring for us the next day?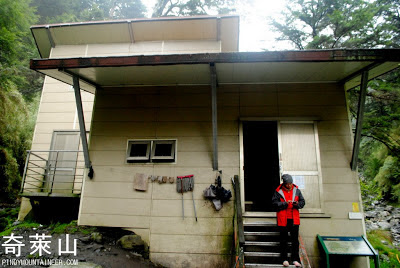 CILAI RIDGE (奇萊山) 2013
Hiking matters #340: Cilai Ridge Day 1
Hiking matters #341: Cilai Ridge Day 2
Hiking matters #342: Outdoor shops in Taiwan updates
Cilai Ridge Pictures on PM Facebook