Hiking matters #357: Mt. Elbrus basecamp – to the Barrels and beyond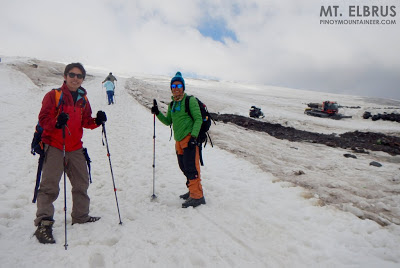 MT. ELBRUS BASECAMP (3915 MASL) – Today we commenced the expedition proper by taking three ski lifts – two cable cars and one chair lift – taking us from Terskol at 2057 MASL to around 3800 MASL. Then, we trekked our way through the snow to reach a bunkhouse complex at 3915 MASL, which will serve as our basecamp throughout the expedition. Finally from the bunkhouse we did a short acclimatization hike, surpassing 4100 MASL, and afterwards I did my own mini-hike, with crampons this time, reaching 4000 MASL.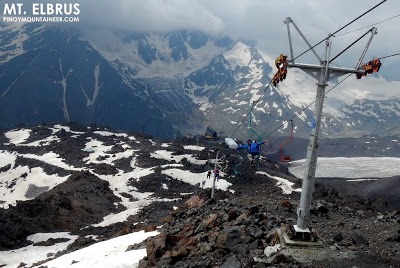 We experienced some light rain and snow – but the weather was altogether pleasant. The temperature did not go below freezing but the wind was moderate, so I'd say that it was, wind chill-wise, subzero. The hike itself is quite straightforward: just go up the slopes, follow the guide (or the footsteps)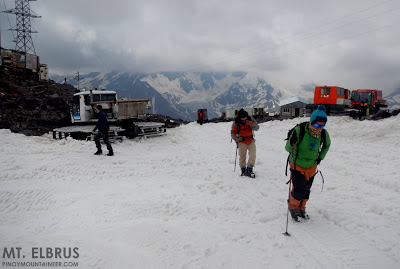 Here we are assigned rectangular bunkers with metal exteriors that each can house 8 persons. There is a latrine perched on a cliff, and there is also a special bunkhouse that serves as both kitchen and dining room. The food has been excellent so far – native dishes with a touch of customization: they served rice instead of pasta to go with the stuffed bell pepper. Yesterday we had curd for breakfast and there were some others.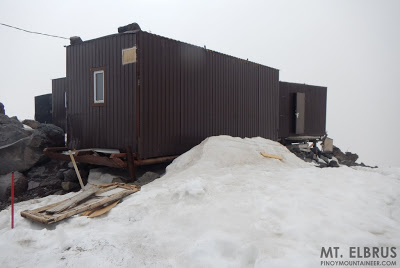 This day gave me an added boost of confidence, having done some hiking in Elbrus itself and seeing my gear work out just fine. Most of the gear I'm using now are those that I already tried in Kilimanjaro and Stok Kangri, including my trusted Columbia Bugaboo parka and a Columbia outer shell that I use all the time.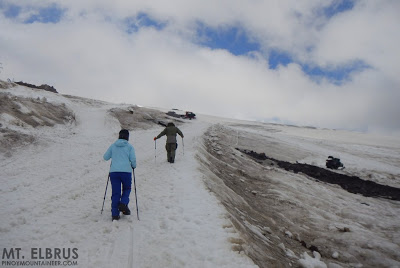 A significant addition is a pair of Asolo Granite GTX mountaineering boots that I am using for the first time. Ma On Shan in Hong Kong was my belated breaking-in hike but I know that ideally I should have done it much earlier – unfortunately it very hard to procure boots coming from the Philippines! Anyway there were some sore points in my feet when we walked in Moscow so I was a bit worried. Fortunately though, today it worked very well! My Camp crampons and ice axe also seem to be promising in terms of compatibility with me.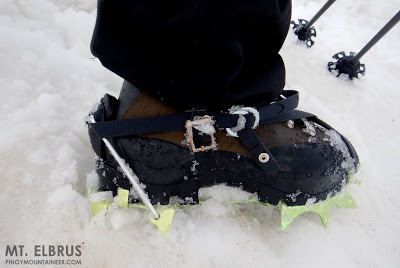 The complexity of all the gear required pose one or the initial challenges in high-altitude climbing. The financial aspect of it is daunting enough, but what I did was to do it bit by big, accumulating gear throughout the years. A sustained pursuit of the sport, I think, make the items worth buying, and I have high hopes for the Asolo as well as my other new climbing gear, including a Patagonia ultralight down jacket recommended to me by my American friend Chris, and black
What remains unclear now is whether my clothes can withstand the cold come summit day.
Of course a big determinant of that is the weather, and I have been concerned about it in the past few days because some people I know had a failed attempt because of the weather. Our guide refuses to answer my meteorological inquiries, instead giving a standard, laconic answer: "I don't know". The forecasts point to some gloom in the next two days, and some promise afterwards, but this is up to God and all I can do is do my very best and put all my heart in this climb.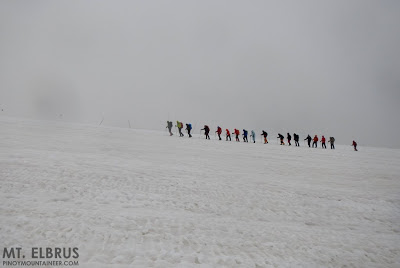 MT. ELBRUS EXPEDITION 2013
Hiking matters #354: Training climb – Ma On Shan in Hong Kong
Hiking matters #355: The start of our Mt. Elbrus climb
Hiking matters #356: First acclimatization hike – Mt. Terskol
Hiking matters #357: Mt. Elbrus basecamp and beyond
Hiking matters #358: To the Pastuchov rocks
Hiking matters #359: First summit attempt – Aborted!
Hiking matters #360: Successful and dramatic ascent of Mt. Elbrus