Mountaineer Joey Vergara missing, rescued in Malipunyo Range, Batangas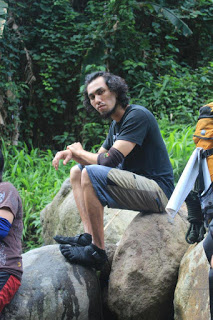 UPDATE 3: The rescue team should be in the jumpoff by now (15:30H, June 20).


UPDATE 2: I am very happy to hear and share the good news that mountaineeer Joey Vergara has been found and rescued in Mt. Malipunyo. He got injured by a hunter trap. Kudos to the rescuers for respondng!
UPDATE 1: According to mountaineer Sha Bedural, Joey Vergara was spotted yesterday by a local guide: "Sa mga magulang, kapamilya at kaibigan po ni Joey Vergara, natawagan ko po si Kuya Mario at mga kakilala ko sa barangay na may sakop sa Malipunyo at Manabu, wag na po kayo magworry. According to Kuya Mario, nakita nya si Joey kahapon around 12noon daw nagtraverse paManabu at lowbat na daw yung cellphone. Baka daw pabalik na sya ngayon."
BARCELONA – Mountaineer Jose "Joey" Vergara, from Calauan, Laguna, went missing in the Malipunyo Range from Sunday, June 16, 2013, until 12:25 PM of June 20 when he was found by rescuers injured from a shotgun trap by local hunters. "He had eight pellet wounds on his left leg. We had to carry him in a hammock," said Daryl Comagon, one of the responders/rescuers, as the team was descending from the mountain.
Joey Vergara hiked Mt. Malipunyo over the weekend with a group of hikers, but he has also indicated in his Facebook wall that he intended to traverse to Manabu Peak in Sto. Tomas, Batangas. He told the rest of his group to go ahead, while he set off to do an overnight Malipunyo-Manabu Traverse:

Three days later, his father, Mr. Jess Vergara, pleaded for help and information regarding his whereabouts on Joey's Facebook page. Search and rescue operations were mounted a day later.
The Malipunyo Range, with its many trails actively used by locals, is one of the most confusing mountains in the Philippines, with a number of incidents and/or rescues in the past several years, all of which ended with the missing hikers getting down safely.
Sha Bedural, a friend of Joey's who gave updates on the situation, acknowledged the following for their efforts (and we commend them too):" PCI Oliver B. Ebora (OIC) and his team. Talisay officials, SAR led by P/Insp Fernando, Possible SAR Team from Brgy. Sta. Cruz, Sto. Tomas, WISAR Team
Team PPSC 4th Maneuver Platoon led by PO2 Vandimer Hernandez, Aye Hedrosolo/Sheila, Daryl Comagon, Regie Paz, Bionic Sagabaen, @ John Paul Rodriguez, Frontline Mountaineers and those who are not mentioned (sorry ^^), Newscaster from GMA News Channel 7 (unnamed) and Mario Cabungcal (Malipunyo local guide)."