Mountain News: Nine missing mountaineeers rescued in Mt. Mariveles (Tarak Ridge), Bataan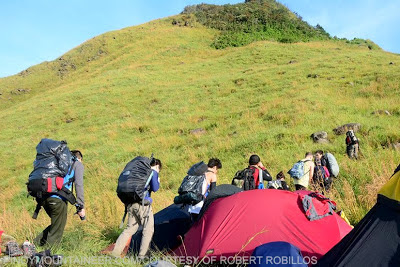 The missing hikers were last seen on Sunday morning heading up to Tarak Peak
and possibly on their way to attempt a traverse. (courtesy of R. Robillos)
UPDATED 9:42 PM, 08/14/13 – Nine hikers, seven male and two female, were reported missing in Mt. Mariveles, Bataan from Sunday, August 11, 2013 until noontime of August 13 when they were found by rescuers and accompanied on the way down. The group started the hike of Tarak Ridge on Saturday and were supposed to have returned the following day. Corroborating accounts indicate that they camped in Tarak Ridge on Saturday night and headed up to Tarak Peak the following day, possibly en route to Paniquian River for a Tarak Traverse.
An official report from Region III RDRRMC lists the rescued hikers' names as: Andrew Olivia, Michael Reyes, Vincent Lopez, Kevin Desiderio, Jerry Suwala, Bernard Bautista, Lester Comana, Mary Joy Coagin and Aleh Eteran. One of the hikers, commenting on this post, gave the following names: "Jerny Samala, Michael Reyes, Bernard Bautista, King Oliva, Lester Comoda, Bong Lopes, Kevin Desiderio, Mary Joy Gading, Tweet Etesam."
Rescue operations were mounted Monday and resumed on Tuesday until the mountaineers were located at around 1130H. Fortunately, the missing hikers were in touch by cellphone, which enabled rescuers to narrow down their possible location. As relayed by Bryan Ronquillo, one of the SMS from the group seem to suggest that they have reached some rivers, hinting at the possibility that they reached the other side of Tarak: "Andito Kami halos sa tuktok ng pang apat na bundok mula sa mt.tarak. pang apat na ilog po."
A GMA News report said that the hikers were brought to Bataan General Hospital where they were treated for injuries, none of which were serious.
The mountaineering community reacted with relief with the news that the nine have been found. Bhadz Badillo, a friend of one of the missing hikers, tweeted (@BhadzontheGo): ""Maraming salamat po sa mga concern at prayers. Nakita na daw po ang friend ko at mga kasama nya sa Mt. Tarak. They are just waiting for other group of rescuer spara maibaba na sila. Thanks po ulit sa lahat ng tumulong!"
Some reports and reactions referenced Typhoon Labuyo in connection to this incident. Based on testimonies of other mountaineers who were in Tarak Ridge over the weekend, the weather 'was not bad' from Saturday until Sunday afternoon. However, the rescued hikers said that the weather turned for the worse in the evening and they experienced the typhoon in a 'cliff'.